Rome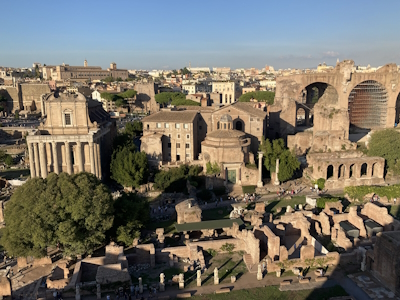 The Historic Centre of Rome, the Properties of the Holy See in that City Enjoying Extraterritorial Rights and San Paolo Fuori le Mura comprise major monuments of Roman antiquity and papal history.
The city of Rome exists since the 4th or 5th century BC, or - according to legend - was founded by Romulus and Remus in 753 B.C.
There are still several remains to be found in this modern city dating from the period of the Classical Roman Empire: The Forum Romanum (the former political center) still holds a central position in town. The Colosseum and a triumphal arch are around the corner.
Also, the Therms of Caracalla are not far away: a large public bath house where also restaurants, libraries and other forms of leisure activities could be performed. Except for the walls, now there are only some mosaics and wallpaintings left.
In 1990, the inscription was extended with properties of the Holy See which are located in the historic centre of Rome. Among them the Basilica of San Paolo fuori le Mura.
Visit June 1995
In my opinion, Rome is the most beautiful European capital. So much history in such a small area, without being turned into an amusement park ... where else in Europe can you still find that?
One of the lesser known sights is San Clemente, a pretty 11th century church. Stairs lead you down to the remains of a 4th century basilica, which was devastated by Northmanns. Via another pair of stairs you arrive at a Roman house from the 2th century, that served as a shrine for Mithras.
Community Reviews
---
---
---
---
---
---
---
---
---
---
---
---
---
Community Rating
Community Rating 4.93. Based on 46 votes.
Site Info
Full name: Historic Centre of Rome, the Properties of the Holy See in that City Enjoying Extraterritorial Rights and San Paolo Fuori le Mura
Unesco ID: 91
Inscribed: 1980
Type: Cultural
Criteria: 1 2 3 4 6
Site History
1990 - Extended

To include the "extraterritorial" properties Santa Maria Maggiore, St John Lateran and St. Paul's Outside the Wall

1980 - Inscribed

1979 - Deferred

Bureau - need more info
Site Links
Unesco Website
Official Website
Related
In the News
Locations
The site has 16 locations. Show all
Connections
The site has 157 connections. Show all
Visitors
738 community members have visited Rome. Show all