Blog: WHS #658: Land of Frankincense
The Land of Frankincense is a good reason to visit the Dhofar region in southern Oman. I flew from Muscat to its capital Salalah and stayed there for 3 nights. Date palms give way to coconut palms and sandy white beaches, which reminded me of Sri Lanka. It's not an uncommon sight here to see camels crossing the motorway or a camel caravan moving along through the desert. (Frank)incense is everywhere here in the south: stepping into the modern Salalah Garden Mall, the smell already comes to you. The local Al-Husn Souq only sells typical Omani hats and frankincense resin per kilo.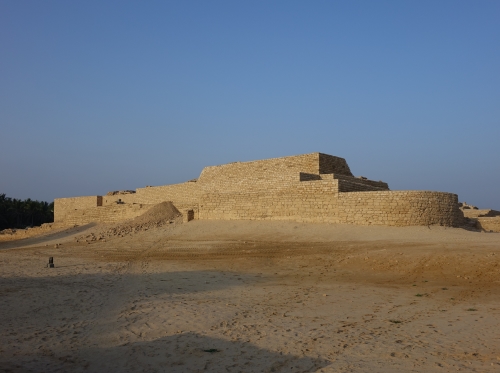 Al-Balid
In the outskirts of Salalah lies the Al-Balid Archaeological Park with its Land of Frankincense museum, 1 of the 4 locations that comprise this WHS. I spent 1.5 hour there in the late afternoon (it's open til 8 p.m.), a perfect time to enjoy its setting of ruins and birds via the walking trails. Al-Balid was a port, so its remains are located near the water. The archaeological site is quite extensive, with a citadel and a grand mosque.
The next day I drove to a second location, the 'incense forest' Wadi Dawkah, a 45-minute drive north of Salalah. Here incense has been cultivated since ancient times, and the forests are still in production. To make the place – which essentially is an agricultural field - more attractive for visitors, they have added a parking space, information panel and public toilets. I even wasn't the only tourist here: after me a couple with their guide made a quick stop.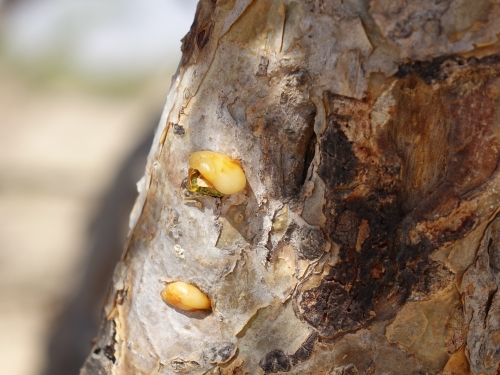 Bleeding frankincense tree at Wadi Dawkah
The incense is extracted in a similar way to rubber: by cutting slices into the trees, causing the resin to leak out and dry. Only after a number of cuts you get good quality incense resin. The name 'forest' suggests something natural, but it is more like a plantation where the trees are nicely planted in a row and watered by garden hoses. You can just walk among the trees. Only at a single tree I saw some resin. The trees were in a pretty light green blossom though. A visit takes half an hour at most, but I found it worthwhile.
On my last day in the south I drove the coastal route to the interesting town of Mirbat, including a stop at the lagoon of Khor Rori and the excavations of Sumhuram. Again this is a neatly laid out archaeological site, with paths and information panels. Especially the location here is very beautiful - from the higher ruins of the fortress you have a view of flamingos and the sea bank that cuts off the lagoon from the sea.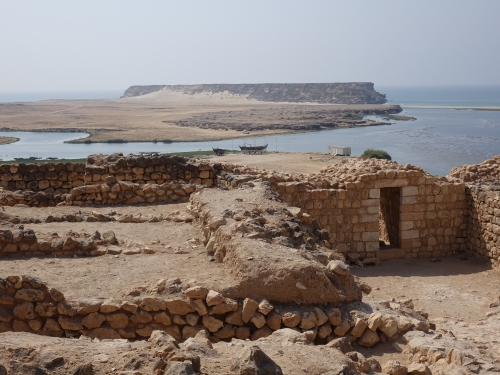 Sumaharam and Khor Rori
I skipped the 4th location (Shisr) because I didn't think the long drive would be worth it. The history of the cultivation of and trade in incense cannot be seen anywhere else in the world as easily as here in Dhofar, so it certainly is an educating WHS. Ethiopia and Somalia are the largest producers of fine resin nowadays, so maybe more intensive cultivation can be seen there. Fun bit of trivia: the latter provides the Roman Catholic Church with most of its stock.
Published 21 April 2018
Leave a comment
Responses to WHS #658: Land of Frankincense
Colvin (22 April 2018)
Nice to see the archaeological site of Al-Balid. That's one of the ports I read about in Ibn Battuta's memoirs of his travels. (Apparently the people there were very welcoming to strangers)
---
Blog: Sharjah: the Gate to Trucial States
Sharjah: the Gate to Trucial States probably will be the next nomination from the United Arab Emirates (UAE). A visit to Sharjah and the selected locations provides a great excuse to dive deeper into the history of the UAE. Between 1820 and 1971 they were known as the 'Trucial States' because of their treaties with Britain, which effectively made them a British protectorate. 'United' is an important word here: the main thoroughfare of the Dubai metro is called 'Union', and you may recognize 'Etihad' (Arabic for Union or United) from the Abu Dhabi airline.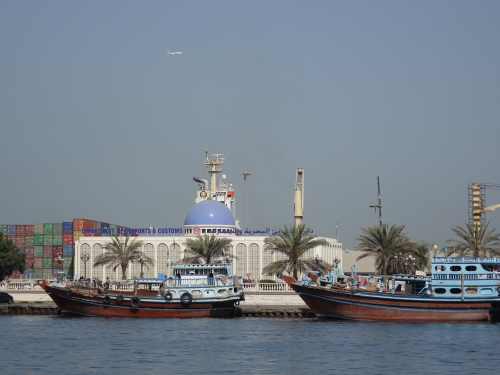 Sharjah creek
Sharjah is the third ranked Emirate within the UAE, after Abu Dhabi and Dubai. Politically, it has much less influence than the other two which emirs always act as the union's president and prime minister respectively. I went there by public bus E307A from Dubai's Abu Hail metro station, an easy 25 minute ride. The cities of Dubai and Sharjah have actually grown together, many people live in the cheaper Sharjah and work in Dubai. The TWHS consists of numerous (too many?) locations, most of them in the capital Sharjah City but some lie much deeper inland until as far as the Oman Gulf coast (such as the Khorfakkan Fort, 140km away).
From the Sharjah bus station, I walked on the Corniche along the Sharjah creek to the historic center. This 'Heart of Sharjah' is largely a reconstruction, and it is still being developed. It is intended to become a traditional style neighbourhood with museums, shops, hotels, cafes and restaurants. This must be finished in 2025. Now only one little street is open for business.
Around the corner lies the impressive Fort of Sharjah. In 1970 only one tower of it was left, but the authorities decided to save it and restore the whole fort (which was completed in 1997). It has a lot in common with the forts I saw in Oman: there is always a prison and a date storage room for example. Fortunately the rooms are all decorated here, and there is plenty of explanation in English and Arabic.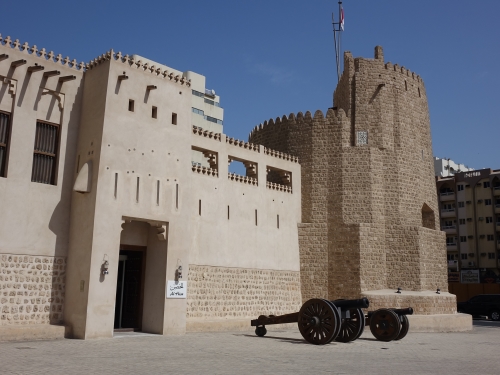 Sharjah Fort (Al Hisn Sharjah)
My next destination was the Mahatta aviation museum. Sharjah holds a special place in the history of intercontinental aviation. Before airplanes could cover long distances, such as the popular colonial route between England and India, they needed intermediate stations. In 1932 the British hired a piece of land in Sharjah on which they could build such a station. The stations were not only used for refuelling, but the passengers also stayed there because the planes did not fly at night. In the museum an interesting old British film is shown with a day out of the existence of this air station ('Air Outpost', 1937).
The hangar, traffic tower and the accommodation and office spaces are still completely intact. They lie within the limits of a modern fort. Only the runway was converted into a road. In the hangar a number of old aircraft are shown that have a relationship with flying to Sharjah. In the other rooms the history of this airport, which was functional until 1977, is told. It is a very nice and special museum, and to me worth the inscription on its own.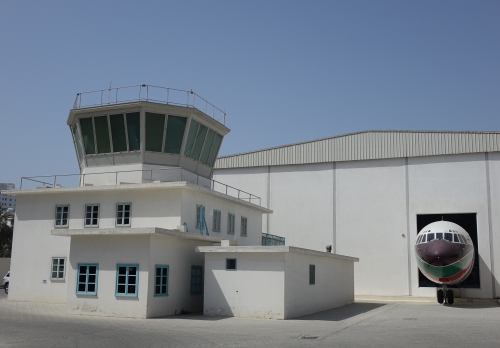 Al Mahatta Airport
All together I found Sharjah a pleasant and interesting place to visit. Besides the TWHS locations named above, I also went to the Museum of Islamic Civilization and did a Hop on Hop off-bustour through the more modern parts of the city. In 1970 this was still a modest fishing village. The oil money since has been invested mainly in gaudy buildings in a global type of Islamic style. All ministries, museums, the new souk - they look as if they were copied from Istanbul or Delhi.
Published 18 April 2018
Leave a comment
Blog: WHS #657: Bat and Al-Ayn
The Archaeological sites of Bat, Al-Khutm and Al-Ayn include a settlement and tombs in northern Oman, dating from the Bronze Age. This area was part of the Magan empire, which supplied raw materials such as copper to the Sumerians (in present-day Iraq). Although getting there has become easier over the years, it still is a nice off-the-beaten-track site seldom touched by non-WH travellers.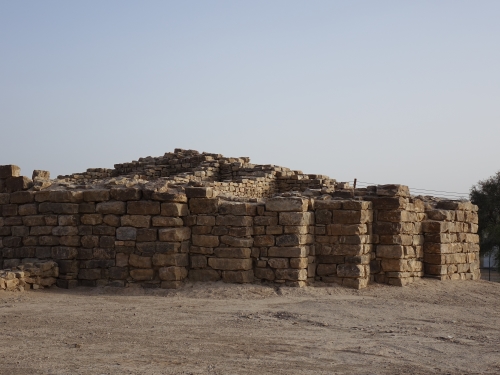 Qasr A'Rojoom tower at Bat
At 3 pm I hit the road from Nizwa, planning to be at Al-Ayn at the fabled 'golden hour' for good photos. I brought print-outs with me of the instructions given on this website to reach the locations of Bat and Al-Ayn. I skipped the even more obscure Al-Khutm in advance. Finding the excavations at Bat proved to be pretty straightforward. I used the approach via Ibri, where the biggest hurdle is avoiding the Pakistani/Bangladeshi men on bicycles riding against the traffic flow. Maps.me, which I used for navigating around Oman, knew a place called 'Bat. Village. Oman'. This is the modern town, the archaeological site lies just one left turn away right before it.
I found the site strictly fenced off, there was no way to get closer to the round structures on the hills or the ruins by the road. Apparently the site is still being excavated, and there seems to be no visitor policy. Earlier reviewers have reported getting behind the fences, but that seems not to be possible anymore. There is so little to see now that it was hardly worth it getting out of the car for. On the right side of the road an intriguing, somewhat larger building is being restored: the square tower Qasr A'Rojoom (castle 1145 on the map in the UNESCO site documentation).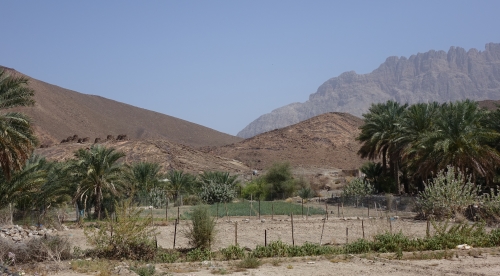 Al-Ayn surroundings
Getting to Bat had taken me more time than expected: I arrived at 5.15 pm. From here I had planned to continue directly to Al-Ayn, which lies 25km further along the same unpaved road. I tried it for one km, but did not dare to go on: the ground was sandy and uneven. It would take me at least another hour to get to Al-Ayn, permitted that I would not get stuck. That way I would not be able to make it before sunset at 6.22 pm. So I saw no other option to turn back to the main road via Ibri, and try again for Al-Ayn tomorrow.
The next day, after first having visited the entertaining goat market in Nizwa, I was back on track at 9 a.m. Thanks to the very detailed and spot on instructions by Brian Baum, I found the tombs at Al-Ayn easily this time (using the tarmac road exit from the Bahla-Ibri motorway). In true Omani fashion, there's no sign, no information and no one to bother you. There was a man working his field but he did not blink an eye while I was traipsing through the dry riverbeds and up to the hill.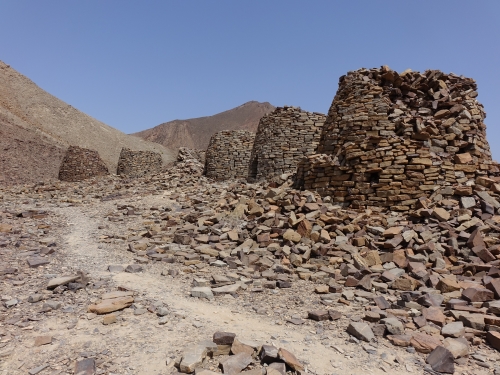 Beehive tombs of Al-Ayn
The tombs consist of 'dry' stacked flat stones. There are still piles of the same material lying around it, so perhaps there used to be more. They are in such a good condition that they appear to have been recently rebuilt. Each tomb has one small entrance. It's a bit hard to look inside, but they seem to be empty.
Published 14 April 2018
Leave a comment
Blog: WHS #656: Bahla Fort
Bahla Fort dates back to the late Middle Ages, and was the stronghold of a tribe that controlled this region and the trade in incense. The fort and its oasis (with date palms, old houses and a mosque, which also are in the core zone) are surrounded by a 12 km long wall. In Oman, that is densely covered by fortresses, this is said to be one of the largest and oldest.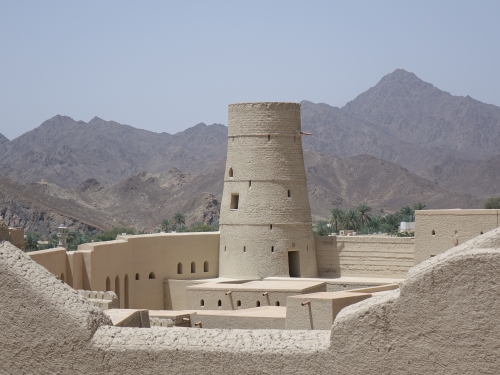 One of the wind towers
The fort can easily be reached in half an hour from Nizwa, Oman's second tourist capital behind Muscat. It lies along the main road and is so huge that it cannot be overlooked. Parking is at the far end (at the Souq side). When you read the previous reviews on this website, that steadily have been added since at least 2005, its slow development into a popular tourist attraction becomes clear. It has fully reopened in 2012 and is now open every day from 8-16, except Friday afternoon.
The story goes that the Omani's rebuilt parts of the fortress according to their own insights, because there were no drawings or photographs left of the whole structure. Six years after reopening, still no exhibits, labels or information panels have been added to the fort. I can do without exhibits like plastic mannequins dressed up in traditional clothing, but a bit more background information about what you are looking at would be nice. It seems they just don't know for sure as well: "... there are different opinions in locating these parts even in the best-published studies on the Castle" (according to the official website)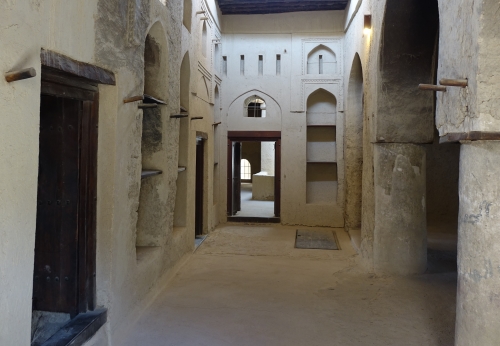 Corridor to the private rooms?
What I saw inside the fortress:
a mihrab
wind towers (photo 1 above in this review)
reception rooms of the "Bayt al-Hadith" (this one has a label above its door!)
rooms with many niches (photo 2): private rooms for family members as in other forts?
something like an altar or a bath?
What should be there as well, according to various sources:
horse stables (unesco website)
seven water wells (official website)
prisons (official website)
library (our connections)
bath house (our connections)
large date room, like a wine cellar
'Philistine altar'
former place of prayer which has a small opening pointing at Mecca (possibly this?)
The last 3 options come from this website, which has more detail than most but has no specific link between its photos and text (so you still don't know what you're looking at).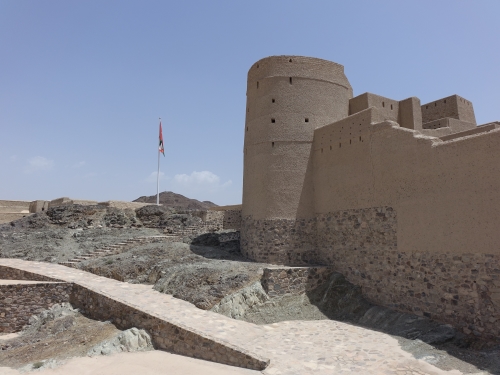 Al-Qasabah
The only ones that are happy about all those empty rooms and niches are the bats that have found their home in Al-Qasabah, the oldest part of the fort. In several of the rooms I saw them hanging against the walls in groups.
Published 11 April 2018
Leave a comment
Blog: WHS #655: Aflaj of Oman
The Aflaj are as typical of Oman as its fortresses. Nearly every village or town with roots older than Sultan Qaboos's reign has such a falaj irrigation system. A combination of 5 out of the more than 3,000 still functioning systems have been declared a World Heritage Site. Of these 5, I visited the ones in Birkat Al-Mouz (Falaj Al-Khatmeen) and Nizwa (Falaj Daris). To both there is no formal access, they just lie in public areas.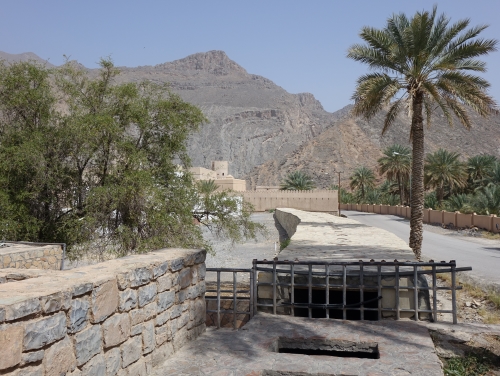 Falaj near Bait al Radidah fort
The town of Birkat Al-Mouz is conveniently located en route between Muscat and Nizwa. When I parked my rental car at the local fort, I was immediately approached by a man in a 4x4 who asked whether I wanted a tour to the nearby mountain Jebel Akhdar. The "green mountain" is rather dry at this time of year, so I let that opportunity pass me by. For most tourists however the mountain is a bigger attraction than a falaj.
The downhill stream of the Falaj Al-Khatmeen is easy to follow in Birkat Al-Mouz. It first appears above ground at the back of the Bait al Radidah fortress. Then it flows past the mosque, where there also are ablution spaces using the falaj (they look like dressing rooms or public toilets). Next to it is the WHS marker: a square column with the inscription text in 4 languages - Arabic, English, German and (I am not sure about this one) French. Later in the day I encountered the same style of marker at Falaj Daris.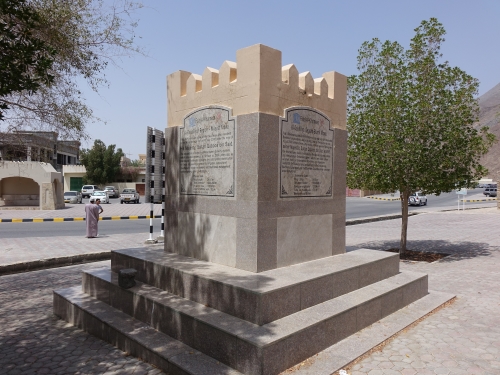 Falaj WHS marker in Birkat (4 languages)
The irrigation channel itself is not a spectacular sight, but coming closer to daily life in a village like Birkat is worth the visit in itself. Birkat's town center has some large trees that provide much appreciated shade. A group of older men were sitting underneath them on the sand, playing dominoes. Others used the stone edge of the falaj as a bench. The channel here splits into several branches to distribute the water around town.
I continued my walk along a field with date palms. Two men were busy trimming one of the palm trees at the top, so that the dates will have the space to grow. Following the advice from my Bradt Travel Guide, I went further into the village. Still the many branches of the irrigation canal were all around to see. After fifteen minutes I arrived at the gate of a cluster of wonderfully ramshackle mud houses. Most inhabitants have left this part of the village to settle in more modern houses elsewhere in Birkat Al-Mouz. But still some seem to be inhabited, at least I noticed laundry hanging outside to dry.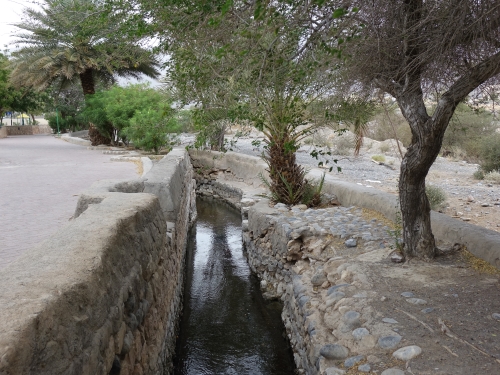 Falaj Daris
Later in the day I made my way to Falaj Daris, just north of Nizwa. It is signposted from the road to Bahla, just keep on going til you see the brown sign. Here they have designed a park around the old falaj. There were some children playing, and young guys noisily crossed the terrain with mopeds. People swim or even bathe in this falaj. It has plenty of water in it, and it is much broader than the one in Birkat Al-Mouz. Unfortunately there is only a short stretch of the falaj above the ground, so it is of limited interest. In Birkat Al-Mouz I spent almost one and a half hour, in Nizwa less than 5 minutes….
Published 7 April 2018
Leave a comment
Blog: Forts of Rostaq and al-Hazm
You'll easily end up with 'fortress fatigue' when travelling through Oman: in the past, local chiefs built them in high numbers to protect strategic positions and water sources. On my second day in the country I was still up for visiting some good forts though. Along what is called "the Rostaq loop" lie 3 worthwhile examples, of which those of Rostaq and Al-Hazm have a combined spot at Oman's Tentative List. The third fortress, that of Nakhal, has the prettiest setting of them all. However, the very brief tentative site description gives no clue why it could not join the other two to be part of a future WH nomination.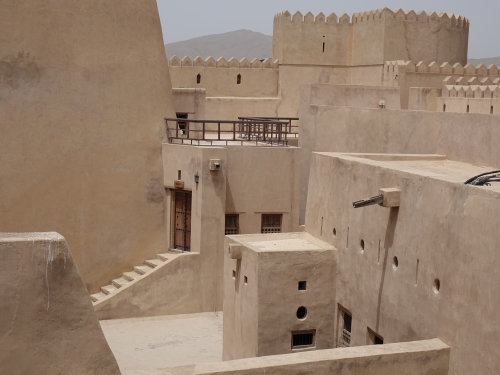 The many floors of Rostaq fort
Rostaq is a former capital of Oman, and it holds one of the oldest remaining forts in the country. It was built on top of pre-islamic fortifications. It's huge: while looking for a parking spot I drove for hundreds of meters all the way along its outer walls. Fortunately one can park right at the entrance.
The fort is not only large in surface, but also in height: it has 3 levels. These are connected by stairways that are not easy to find. There are great views from the roof and the towers over the surrounding countryside with its date palms. Cultivating dates was (and is) an important craft in Oman, and inside the fort there are date storage and date 'honey' production rooms as well. Large forts like this one in Rostaq were more like castles, where a ruling family lived and entertained guests. It also had its own mosque within the walls. The most splendid rooms are said to be those of the imam, but I found them closed except for one with indeed a very nicely decorated wooden ceiling.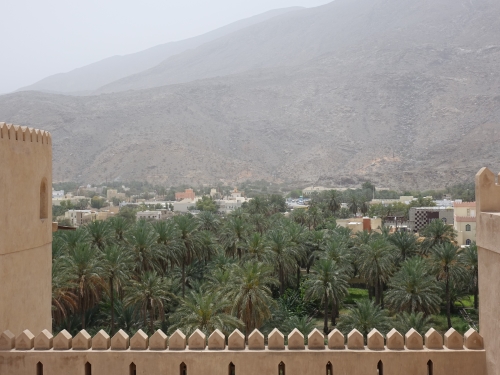 View from Rostaq fort on the date palm plantations
The 18th century fort of Al-Hazm lies some 20 km east of Rostaq. This is a much more compact building. After paying the same entry fee as I had at every fort this day (0.5 rial/1 EUR), I this time received an audioguide with my ticket. I must say that this was a bonus as the other forts that I visited earlier in the day came with little explanation. The audio tour also followed a numbered route, so you will not get lost here or miss an important part.
Al-Hazm has the best examples of decorated wooden doors among these forts. The masterpiece is the main entrance door made out of Indian wood from Surat. A number of the rooms are redecorated with furnishings and displays – they seem to have used the same textbook for this at all the 3 forts along the loop, resulting even in similarly coloured pillows in the meeting rooms. Here at Al-Hazm you will also see how they used to cool water by hanging pottery jars in front of the windows to catch some fresh air.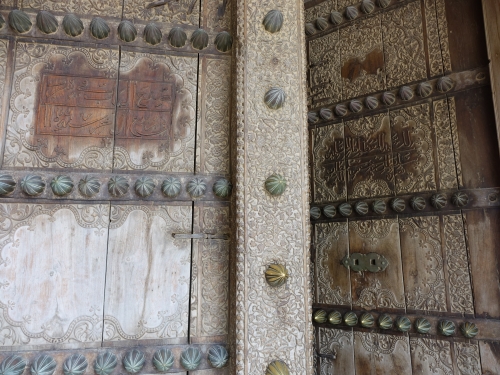 Wooden doors at al-Hazm fort
The Rostaq loop along 3 forts and with opportunities for some more historical detours is an often recommended day trip from Muscat. It starts and ends about an hour north of the capital at the main highway #1 to the United Arab Emirates, and follows secondary roads 13 and 11 in a 150km long circular route. Although I found the 3 fortresses worth visiting, I had expected the drive as a whole to be more scenic. Currently there are major roadworks going on especially at the first half of the stretch. There was also quite a lot of traffic. These forts lie in the foothills of the mountains, unfortunately it was too hazy on the day that I visited to see much of the scenery along the way.
Published 4 April 2018
Leave a comment
Blog: Kuwait Towers
The Kuwait Towers (Abraj Al-Kuwait in Arabic) is the most promising entry on Kuwait's Tentative List. A visit is a great excuse to immerse yourself in the recent history of Kuwait. Next to the brash United Arab Emirates and Qatar, Kuwait is often overlooked. But economically it has bounced back nicely after recovering from the Iraqi occupation during the Gulf War (1990-1991). It has the fourth highest per capita income in the world according to the World Bank, and it is considered the region's shining example on liberal achievements such as press freedom and gender equality.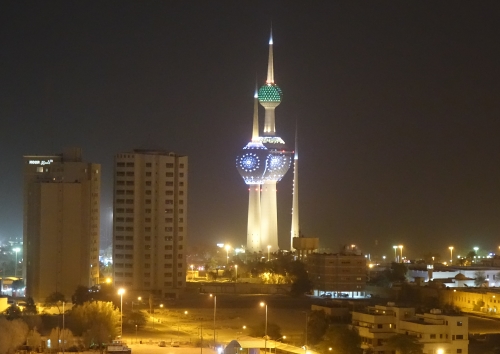 Kuwait Towers by night
The Towers are conveniently located in the heart of Kuwait City. They store water that is pumped from seawater distillation plants, and thus represent the network of modern water distribution among the population. The 3 that are known as the Kuwait Towers are the showpieces among the 34 water towers from the 1970s that lie scattered around Kuwait. Ironically only 1.5 out of these 3 provide the core function of storing water (the second one holds a viewing tower cum restaurant on top of the water reservoir and the third one only is there to illuminate the other two and for decoration I guess!).
The Kuwait Towers were damaged for 75% during the Iraqi occupation, but as the object of national identity they were rebuilt quickly and reopened in 1992. They date from the period that Kuwait enjoyed such a great oil-driven prosperity that it was equalled by few if any country around the world. Even I still remember reading in a magazine at school about all the free healthcare, education and money handouts the Kuwaiti citizens received. Oil still accounts for 90% of the government income. The current energy transition makes one think about which way a country like Kuwait is heading though.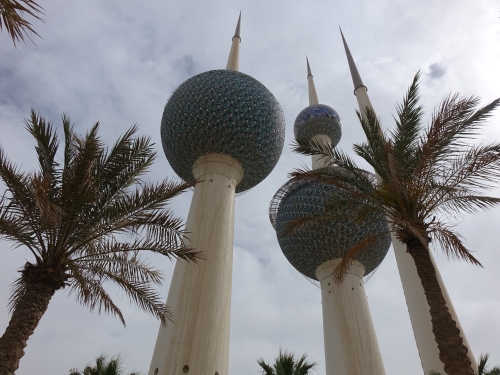 The 3 Kuwait Towers
After arriving in Kuwait late in the evening, I was pleased to have a very fine view of the illuminated towers from my 11th floor hotel room. They lighted up like Christmas ornaments, glittering and changing colours all the time. The colours used may also change for special occasions, as Martina & Ivan recently shot the Towers illuminated in the colours of the Kuwaiti national flag.
The next morning I walked towards them along the seafront. Kuwait City is surprisingly walkable, thanks to the wide pavements and low traffic. Up and close the towers proved to be attractive as well. I went up to the viewing platform of one of them (for 3 KWD – 8.3 EUR), from where you can have a look at the city through windows dusted with sand. There's no attempt at interpretation about what the value of these Towers is – surely there would be room in one of them for a small exhibition? They're an icon for sure, but also a bit of an empty shell.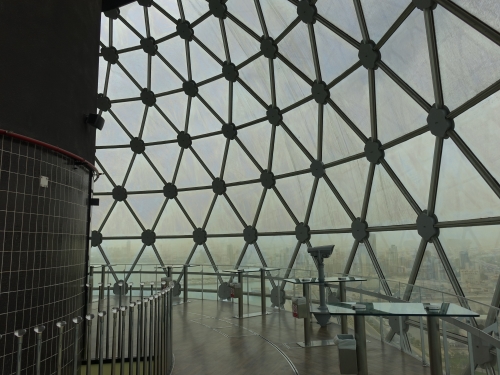 The Viewing Platform
I had the Kuwait Towers written down for nomination in 2019, but there is no clear info available whether Kuwait is really preparing a dossier. The latest news in this regard dates from January 2017 and indicates a visit by ICOMOS. Any future WH nomination of the Kuwait Towers will probably emphasize its "creative contribution to 20th century architecture". It already received the Aga Khan Prize for Islamic Architecture, and comparisons are made with the Sydney Opera House. I would find it a pity though when its role in water management would not be acknowledged. Therefore I would like to see the other 31 towers also included in this nomination. While driving towards Kuwait City from the airport you can see another cluster of them to your right. These ones are striped and mushroom shaped, constructed to provide shade to the areas underneath.
Published 31 March 2017
Leave a comment
Responses to Kuwait Towers
Solivagant (1 April 2018)
"probably difficult to wash because of the odd shape"
No - the upper sphere with the viewing platform has an external cradle which can travel around and up and down the sphere for cleaning and repair purposes - it is clearly visible in some of my photos according to direction taken. One wouldn't expect anything less from Swedish engineers!


---
Els Slots (1 April 2018)
Thanks for the link to the video, Solivagant. No, it certainly does not look like that. Although I have not been to the restaurant, maybe that is nicer than the viewing platform. I also like that the windows are really clean in the video, while in reality they are dusted with sand and probably difficult to wash because of the odd shape.
---
Solivagant (1 April 2018)
We visited the towers way back in 2005 so they may well have undergone further "improvement" as a visitor experience etc since then – but your description above would seem to indicate that they are probably still much as they then were. I have come across a couple of links which would indicate that a major "enhancement" to the interior and surroundings has been "recently" planned. Unfortunately neither of them includes a date. However, the fact that the representations are all CGI would seem to indicate that they are still "in the future". (???)

It appears that the Swedish engineering consultancy company Sweco ("active in the fields of construction, architecture and environmental engineering" - Wiki) was retained to "to investigate a design proposal for the reinvigoration of the Kuwait Tower. The purpose is to examine and redesign all services and functions of the Kuwait Tower and upgrade this landmark to the most modern standard while respecting its historic significance." An interesting aspect of this is that the company which actually designed and built the towers (and the entire Kuwaiti water system of which they are a part) between 1965 and 1977 was VBB - the predecessor company to Sweco.

Sweco wouldn't appear to be the sort of company which allows "old" material to remain on its Web site and this (apparently) current page titled "Kuwait tower reaching new heights" gives an indication of the sorts of things which emerged. Nb the reference to "During the development of the three proposals, Sweco has paid close attention to the potential UNESCO World Heritage Site classification". No indication is given however of which of the 3 proposals was/has been chosen -- http://www.sweco.se/en/our-offer/architecture/culture-leasure-and-sports/kuwait-tower-reaching-new-heights/

Elsewhere, however, this CGI video, created by Sweco. provides a mock up of at least one of the proposals. I assume, Els, that the interior doesn't yet like that??

IF an interior/environmental revamp of these proportions was to be envisaged, one would have thought that any WHS nomination would have been postponed until it had been carried out and also that ICOMOS would have been heavily involved in assessing it. Could that explain why the nomination appears to have "gone cold"? I am reminded very much of our visit last year to the Jested Tower in Czechia whose architecture is from a similar period. It too is undergoing an interior revamp but there seems to be an attempt to replicate the "period" feel of the original – whereas I get no sense whatsoever of that in the Sweco Video. I guess that, if Kuwait majors more on the entire "Water Management system" then the authenticity of a few interior spaces in one of the towers is of less importance. On which subject – the ICOMOS thematic Study into "The Cultural Heritages of Water in the Middle East and the Maghreb" from as recently as 2015 contains a section which provides an overview of the entire "water system" history of Kuwait – including, as a significant (but not primary) element, on the Towers and the system of which they are a part (The other sections are also of interest in providing a review of a number of current and possible future WHS on this subject).

It might be therefore that this points the way to a "wider" historical approach for any nomination in contrast to one in which the "Towers" are proposed solely as examples of "iconic" mid 20th Century architecture (which is how they are currently presented in Kuwaits T List description of them).
---
Blog: Value for money WH countries
Since 2011, I keep track of how much money I spend in a country on each of my longer trips. The list now includes 34 "countries" (including the not fully recognized Kosovo and Taiwan). And although my travel style certainly isn't the cheapest, I think the general insight can be of use to other World Heritage travellers as well as I have used a similar spending pattern in each country. This consists of conveniently located 3-4 star hotels/b&b's, public transport in the luxury classes when available (and the occasional car rental when necessary), eating out in restaurants 1-2 times a day and daily activities requiring entrance fees and sometimes a guided tour.
So here are my findings:
The super cheap
Albania and its cousin Kosovo were the cheapest overall. This did not impact the pleasure of visiting: you really get value for your money in these two places. Cuba worked out well for me in 2012, but it may have gotten more expensive over the past years. I only stayed and ate at casas particulares and there was not much available to spend your money on.
The backpacker favourites
The next group contains all the usual backpacker-friendly suspects such as India, Bolivia and Myanmar. Taiwan is a very inexpensive country to travel in compared to its level of prosperity. Except for Serbia, I covered all these countries by public transport.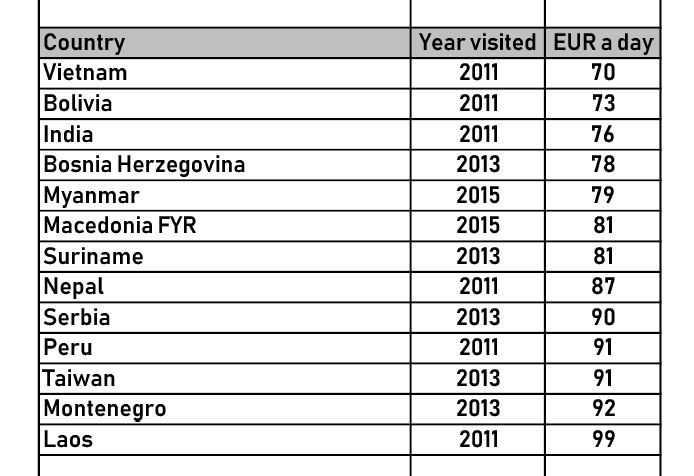 The mid-range
Costs in these countries are often similar to what I pay at home in the Netherlands, and in about half of the countries in this group I hired a car to get around. South Africa is inexpensive for sleeping & eating, but the necessary car rentals and a guided tour/safari once in a while adds up. Nicaragua is an odd one out: I feel it belongs more to the previous backpacker-friendly group, but for some psychological reason I ended up taking quite costly hotels there.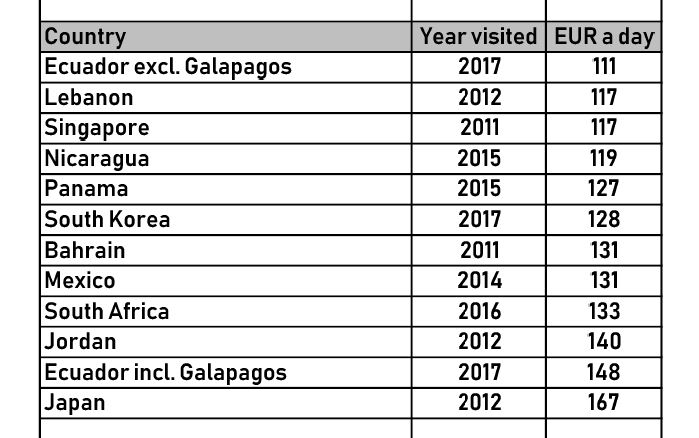 The absurdly expensive
There are three factors that made these trips very expensive: I took part in a group tour (Namibia, Guyana, Iraq), I visited countries with a general high cost of living (Canada, Australia) or I visited WHS with a very high cost to reach (Palau, Rwanda/Congo/Uganda).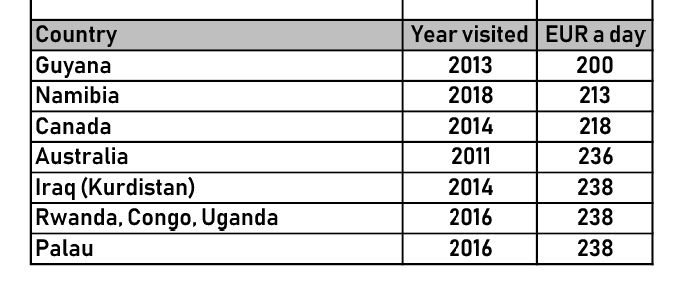 What were the least and most expensive countries that you visited during your WH travels?
Published 24 March 2018
Leave a comment
Responses to Value for money WH countries
Peter Lööv (13 April 2018)
I finally ended up with my account for my trip to Sri Lanka. I stayed most of my time in homestays, and I really enjoyed that ! Most of the time I traveled with bus or train, but I sometimes took a private transport to save time. This country is easy to travel in due to many understand and speak English. I really had a great time here and finally my spending ended at 60 Euro/day. I had excellent living, plenty of food and spended more on travel than necessary.
---
Wojciech Fedoruk (25 March 2018)
Wow, two people marked India as mid range. This is one of the cheapest in the world - my expenses were not higher than EUR 30 per day. For me the cheapest are countries where you can travel by train overnight - except India, I spent slightly less 40 EUR per day in Russia. In both I travelled alone.

It is hard to compare most of other trips, as we travelled as a family of four. So the cost per person per day would be as low as EUR 90 even for Palau, while in fact it was one of the most expensive. Counting this way, even Israel fell below EUR 40, including flights.

So far, the most expensive was Canada and Palau. Midrange - Jordan, Cabo Verde. The cheapest was India, South Eastern Asia (Vietnam, Cambodia, Malaysia, Indonesia) but also Morocco.

---
Solivagant (25 March 2018)
Our "per person" daily local holiday costs last year for self drive trips were
S Korea - £36 (c41 Eur)
Cro/Serb/Kos/Bos etc - £38 (c44 Eur)
Pol/Cz/Sk/Hu etc - £48 (c55 Eur)
Thailand - £34 (c39 Eur)
All really very similar - and hardly surprising as Car Rental, petrol and hotels make up the majority of the local daily cost. Travelling as "a pair" of course reduces the per person cost of these enormously. We found S Korea really rather cheap - low distances, good value hotels.

---
Clyde (24 March 2018)
Cheap: Cambodia, Vietnam, Laos, Thailand, Portugal, Myanmar, Cyprus, Macedonia, Morocco, Spain
Midrange : India, Costa Rica, Nepal, Seychelles, Italy, France, UAE, Turkey
Expensive : Australia, Canada, USA (cities), Polynesia, Maldives, New Caledonia, Norway,
---
Blog: Teylers
Teylers is an 18th century museum complex and former scientific institution in the centre of Haarlem. It has been on the Dutch Tentative List since 2011, and even already was brought up for nomination in 2013. However, ICOMOS advised a 'Rejection' and the nomination was subsequently withdrawn by The Netherlands before the WHC session. The nomination failed to convince of the building's scientific purpose (next to being 'just' a museum) and only small part of the complex was seen as exceptional. The Dutch still have hopes for a future renomination though, especially after several extensive renovation projects will be finished.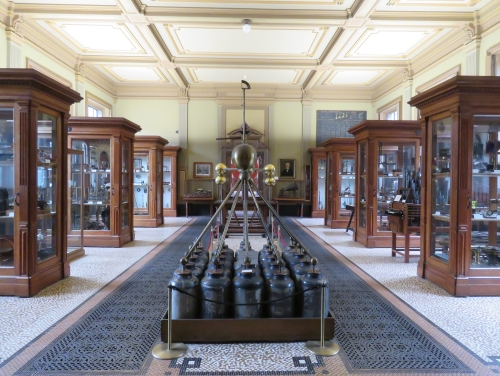 The First Room
I had visited Teylers before in 2010, but was very disappointed at the time because of its small size and presence of crowds of inexperienced museum visitors. Now, in 2018, they have finished one of their major projects: the Lorentz Lab. This shows the office and laboratory of physicist Hendrik Lorentz, winner of the Nobel Prize in 1902 and "leading spirit" in an international network of early theoretical physicists that also included Albert Einstein.
On a rainy Sunday in March I paid the quite hefty 13.5 EUR entrance fee plus 1 EUR extra for a tour of the recently opened Lorentz Laboratory. I was one of the first to enter the building and directly walked all the way to the end, to the Oval Room. This was the only part that ICOMOS deemed of exceptional value, although its value also is as much about the (moveable) exhibits as about the design of the room. It is here that scientific experiments were shown to the public. Visitors could look down upon that from a balcony (now unfortunately closed).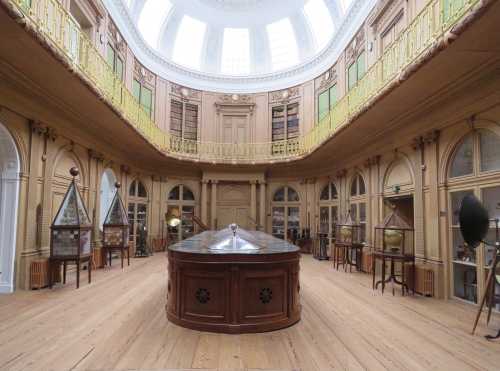 The Oval Room
The room is full of cabinets stuffed with scientific instruments. What they are is written on small accompanying notes in Dutch and English, but how they were used remains a mystery to the visitor. This is a handicap of the whole museum: there is so little space in the 3 original rooms and the entrance hall that there is no room for interpretation.
They've tried to solve this issue with the Lorentz laboratory. Access is only possible by a guided tour, a few times a day with a maximum capacity of 20 people. The tour is conducted by 2 actors, who tell about the life of Lorentz and reenact some experiments. It's totally in Dutch and mostly relies on the spoken word, so it's not worth it for foreign visitors I believe. The most spectacular 'experiment' takes place at the end of the 50 minute tour: a copy of the large electrostatic generator (the original from 1784 is in the museum upstairs) is put to work to generate electrical sparks.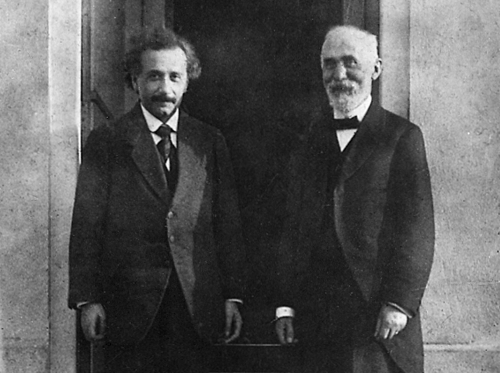 Lorentz and Einstein
With this exhibition, Teylers is adding the promotion of scientific knowledge to the general public again to its agenda. I doubt however that this will be enough to convince the WHC of a future inscription. To me they seem to strive just a little too hard for gaining WH status, while the visitor numbers are high already at the moment (127,000 in 2017) and there is little space for growth in the 18th century complex.
Published 17 March 2018
Leave a comment
Blog: One million or more
Since a couple of years we maintain a Connection at this website called One Million Visitors or More. It contains the sites - with entry regulations - that are visited by more than 1 million people yearly. The list currently sports 90 WHS; so some 8% of the sites on the List we can regard as highly visited. Over the past few days I have brushed up this Connection and tried to replace older visitor statistics with those from the past 2 or 3 years. Below are my findings.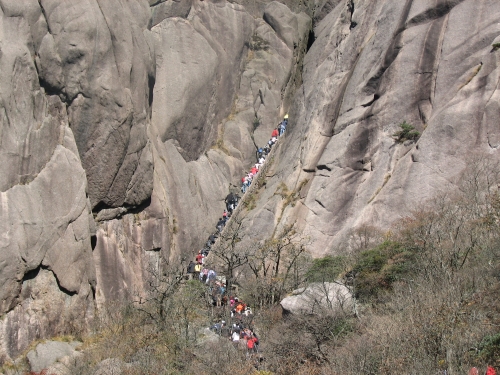 Huangshan: my worst crowd-related travel memory
I had to remove Mammoth Cave, Canterbury Cathedral, Museuminsel and the Tokyo Museum of Western Art (one of the Corbusier locations): they fell below the one million a year mark. Berlin's Museuminsel seems to suffer from the renovations that have been taking place since 2014 at the Pergamon room with the Altar in the Pergamonmuseum. Canterbury Cathedral had to deal with both the introduction of an entrance fee and fear of terrorism: "Our only problem has been a drop in continental school groups. Because we are on the way from Dover to London, about 25 per cent of our visits are school groups."
Other significant drops in visitor numbers include the Acropolis (almost half in from 2009-2017) , Istanbul's Hagia Sophia, Paris (a 15% drop blamed to terrorism, measured by the Louvre statistics) and the Tower of London. They all are well above the one million threshold though, and may rebound quickly with the increase of political stability in Greece/Turkey and the absence of terrorist acts.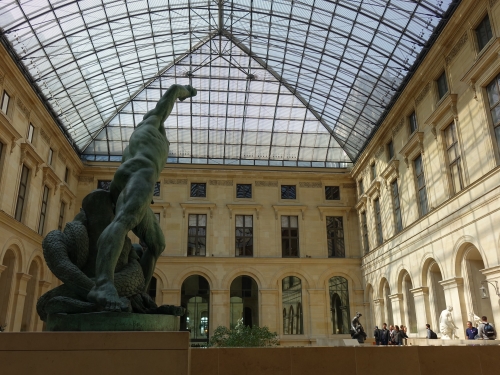 The Louvre in Paris on a quiet day
However, the visitor numbers of most in this already highly visited group of world class sights are on the rise. At least 13 WHS have risen significantly, adding another million yearly visitors or even doubling their figures. These include various sites in and around Rome (Colosseum, Vatican Museums) and Pompeii. St. Petersburg's Hermitage leapt from just over 3 million to 4 million in the years between 2014 and 2016. This is attributed to the increasingly easy and fast railway connections with Moscow and Helsinki. Iconic sites such as Chichen Itza, the Taj Mahal, Borobudur and Schönbrunn, and even Auschwitz, have seen sharp rises in visitor numbers as well.
Almost unbelievable numbers are coming from China. An essentially quite remote natural site such as Jiuzhaigou saw 5.14 million visitors in 2016. Huangshan had 3.3 million, a rise of almost 2 million since 2001.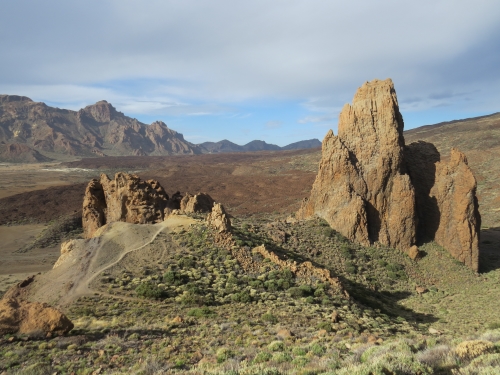 Teide National Park, over 4 million visitors
The growth of overseas travel by Chinese tourists is often seen as the main reason for these strong growth rates. At the Kremlin museum in Moscow (2.2 million people yearly), they report: "a huge wave of Chinese tourists has descended on the Kremlin, far outnumbering the previous flows of American visitors. The Chinese visits are usually organized by Communist labor unions. Most of these tourists are elderly, and still remember the period of Chinese-Soviet friendship. 'They always ask where Lenin and Stalin lived, and are disappointed when I tell them that the Lenin exhibit has been moved to his residence at Gorki Village near Moscow'".
Published 3 March 2018
Leave a comment
Responses to One million or more
Solivagant (3 March 2018)
The number and concentration of Chinese visitors in Thalland last December was just overwhelming - at 10 am a "never ending" stream walking down Atsadang Rd towards the Palace area. All led by their respective guides and the obligatory "Recognition flag". You can get advice on timing to minimize the crowds at Wat Pho etc but you won't escape! Guangdong - Bangkok is a mere 2hrs 40 mins for 1700 kms. In 2016 there were just under 9 million Chinese tourists into Bangkok - a 3 fold increase in 5 years and both Bangkok airports are operating at way over capacity. 10 million is forecast for 2018. Even if those numbers were evenly spread (which they are not - don't even think of going at the time of Chinese Holidays) that would mean 25000 visitors to the Palace each day! See -ttps://www.bloomberg.com/news/articles/2017-12-20/thai-airport-misery-may-last-years-as-chinese-overwhelm-upgrades
The vast numbers bring with them vast problems for the Thai authorities and the benefit to Thailand is minimised by such tourism-spend often going straight into the hands of Chinese, by-passing Thais and government taxes.! Look up - "Zero $ tourism" (everything paid "up front" and nothing to Thai businesses) and "forced shopping" (so the organisers make something at "their" shops and restaurants from under-priced packages!). Such numbers strain relationships,and Thai Newspapers contain reports of anger arising from cultural conflict between Thais and Chinese, See - http://packthailand.com/rude-chinese-tourists-behaviour/

---
Blog Index
Books
Connections
Countries
Exhibitions
TWHS Visits
WHS Visits
WHS website