Meetup 2017 Gibraltar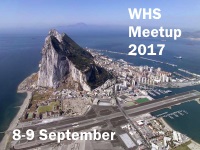 .
Date: 8 and 9 September 2017, place: Gibraltar.
Focus of this year's meetup was Gibraltar, where a select group of WH Travellers got access to Gorham's Cave via a tour organized by the Gibraltar Museum. We extended it with a day tour to a WHS on another continent: Tetouan. The Spanish lands around Gibraltar also provided ample opportunities for exploring WHS such as Antequera, Alhambra and Úbeda and Baeza.
Programme
Fri 8 Sept:

Meet at the viewing platform, at the 1st and 2nd Europa Advance Battery
Talk and Q&A by representative of the Gibraltar Museum at the viewing platform
Group 1 (max 10) goes to the entrance of the Cave with guide (a five minute walk up the hill; then more arduous down the 344 steps & back – say 90 minutes)
Group 2 goes back to Museum for guided visit and powerpoint presentation
Convene for lunch at the Waterfront restaurant

Sat 9 Sept

Ferry Algeciras – Ceuta
3h Guided tour in Tetouan
Moroccan lunch at the Blanco Riad and individual exploring time
Return Ferry to Algeciras
Enjoy this collection of photos taken during this meetup.
Participants: