Meetup 2016 Lithuania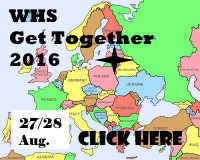 .
Date: late August 2016, place: Vilnius.
Focus of this year's meetup is Vilnius, the capital of Lithuania.
Sat 27 August - Guided visit to Trakai, historic city and island castle part of Lithuania's Tentative List. - Arrive at Kernavé. We will visit this medieval archaeological site together with a local guide. - Short photo stop at Purnuskes – one of the claimants for the title 'Geographic Center of Europe'. - Arrive at Meschkanzi, one of the locations of the Struve Geodetic Arc. Time for a celebratory drink and group photo.
Sun 28 August - Private guided Walking Tour of Vilnius. The tour takes 2.5 hours and includes both the historic city center and the Užupis neighbourhood.
Read a report of the day here.
<