Paris, Banks of the Seine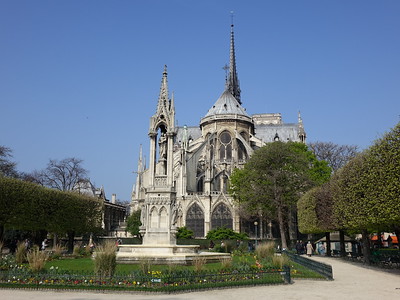 Paris on the banks of the Seine stretches from Saint-Chapelle and the Notre Dame in the east to the Eiffel Tower in the west. Along this kilometers long route one can find many of the main treasures of the French capital.
The Notre Dame is one of the eldest monuments: it's construction dates from the 12th century. Nearby Saint-Chapelle has the same age. Both are on the Ile de la Cité. This little island is linked with the rest of the city via many bridges, of which the Pont Neuf is the most famous.
In the middle of the route there are the two major museums: the Louvre and the Gare d'Orsay (a former train station). This is also the part where the spacious Place de la Concorde and the Egyptian Obelisk are situated.
The Eiffel Tower is at the end of the route. Built for the 1897 world fair, it still stands strong as the number one symbol for Paris.
Map of Paris, Banks of the Seine
Legend
Visit February 2002, April 2012
I started my first visit to Paris at the Notre Dame Cathedral. A real surprise when you pop your head up from underground, having used the subway to get to de Ile de la Cité. So this is Paris. I think I'm going to like it here!
To enter nearby Saint-Chapelle I had to queue for about 20 minutes. It's a lovely small chapel, but if it's worth the EUR 5,49 entrance fee and all the waiting?
In the afternoon I took a boat trip on the Seine. In the timespan of an hour you get to see several of the city's highlights from the water, for example the Pont Neuf, Gare d'Orsay and the Eiffel Tower. It was a cold experience (sitting on deck while it's nearly freezing), but not too be missed.
Ten years later, I was back in Paris for a second visit. I had some more time to spend: on Saturday I enjoyed two museums (d'Orsay and Guimet), and on Monday I walked the whole WHS-designated stretch along the Banks of the Seine.
It took me 3.5 hours, without getting inside any of the landmark sights I came across. I enjoyed it tremendously: around every corner there's something pretty or remarkable to see. I saw so many equestrian statues that I think a whole book could be written about them. I had a glimpse into the Grand Palais through an open side door, what an amazing iron/steel/glass construction. I have to come back and visit it properly. And I still haven't visited the Louvre yet.
Community Reviews
---
---
---
---
---
---
---
---
---
---
---
---
---
---
---
---
Community Rating
Community Rating 4.44. Based on 50 votes.
Site Info
Full name: Paris, Banks of the Seine
Unesco ID: 600
Inscribed: 1991
Type: Cultural
Criteria: 1 2 4
Site History
1991 - Revision

Includes former TWHS Hotel des Invalides de Paris, Tour Eiffel, Sainte-Chapelle de Paris (1981)

1991 - Inscribed
Site Links
Unesco Website
Official Website
Related
In the News
Connections
The site has 107 connections. Show all
Visitors
802 community members have visited Paris, Banks of the Seine. Show all