St. Petersburg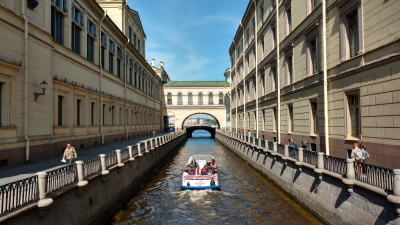 The Historic Centre of Saint Petersburg and Related Groups of Monuments has a planned urban design with many baroque and neo-classical monumental buildings.
The shape of the city was developed by Peter the Great during the 18th century. In communist times, it was officially renamed in Leningrad.
Among the "related group of monuments" mentioned above is the Peter and Paul Fortress. This was the first project taken up by Czar Peter, and he moulded it after architecture he had seen in the Netherlands.
The Hermitage (Winter Palace) is considered one of the best museums in the world, and the collection has both volume and quality.


Community Reviews
---
Sankt Petersburg is a great city, and I have been to two times: as 3-days visit of a friend in 1999, and a conference trip for a week in 2008. Besides, we went also to Peterhof, which is (as many other places) the part of this WHS. Well, St. Petersburg is built in European classicist style, but it has rather non-European size: even walking along the Nevsky Avenue takes quite a long time. Thus, one day visit is really not enough, and a week would be a minimum. Another aspect is the setting of St. Petersburg, where river Neva, its canals and bridges are the added value and make the city really outstanding. We joined the boat trip, which was pleasant but rather chilly experience. I would recommend going to St. Petersburg in June during so called white nights (PHOTO taken at midnight!).
As regards the monuments, I enjoyed my visit to Hermitage museum, but I cannot say it is related to the OUV of the site. Peterhof is also very nice and worth of visit, but I had a feeling that it is a tourist trap! It is possible to go there by train or by ferry from the city center.
I grew up in communists times of former Czechoslovakia, and I put it into the context during my visits of St. Petersburg. First, all the style and decorations in the hotel I was accommodated in 2008 - it remind me my childhood! Further, I realize how strong and awful communist propaganda was. The role of Leningrad (St. Petersburg) in bolshevik revolution in 1917, the attack to the Winter Palace, the Cruiser Aurora, all this was the crucial topic of my education from basic school! In contrast, this part of Russian history was not emphasized or it was almost ignored by tourist industry in 2008. However, I prefer Dostoevsky to Lenin, thus I refused visiting the Cruiser Aurora, and headed to Sennaya Sq. instead! The place had the important role in the relationship between Raskolnikov and Sonya in the novel Crime and Punishment. Obviously, there is nothing special there...
All in all, St Petersburg is really outstanding site, besides the monuments, I enjoyed simple walking in its never-ending streets, bridges, and islands exploring both stealthy yards and opulent exteriors.
---
The Historic Centre of Saint Petersburg and Related Groups of Monuments is easily my favorite of all World Heritage Sites I've seen in Russia. This 300-year-old city was wrested from swamps to become a capital, much like a city started later that century half a world away and much closer to home for me. Saint Petersburg is a feast for travelers, replete with history, culture, and architecture.
Saint Petersburg was a dream made manifest by Peter the Great, who envisioned a great European city built upon the Neva River delta looking westward. This city is a joy to explore on foot, from the broad avenue of Nevsky Prospekt to the grand square in front of the Winter Palace, home to the renowned Hermitage Museum; from Vasilievsky Island to the Peter and Paul Fortress; from St. Isaac's Cathedral and the Bronze Horseman statue, commemorating famed poet Alexander Pushkin's ode to the city founder, to the Church of the Saviour on Spilled Blood, built atop the site where assassins finally succeeded in killing Tsar Alexander II, a tsar who sought change too fast for some, but too slow for others. Change and revolution are common themes to Saint Petersburg. Palace Square may hold a column celebrating Russia's defeat of the French during Napoleon's unsuccessful 19th century invasion, but it was the site of significant scenes of internal revolt, such as Bloody Sunday in 1905, when demonstrators were fired upon by Tsar Nicholas II's guards, and the October Revolution in 1917, when the Bolsheviks came to power, overthrowing the monarchy and moving the capital to Moscow.
I spent a month in college in Saint Petersburg in the back half of the 1990's, and visited the city again in the early 2000's, and the city has left in indelible mark in my memories. I highly recommend visiting during summer, when the nights are long and visitors can stay up late strolling the Neva and watching the drawbridges over the river open and close. The city is rightly called the "Venice of the North", and it is well worth exploring the numerous canals on foot and by boat. A stroll down Nevsky Prospekt shows off exciting architecture like the Admiralty, Kazan Cathedral, and Dom Knigi (The House of Books), while side streets lead to the exquisite Church of the Savior on Spilled Blood (with its nearby Russian craft market) or to the Bank Bridge with its griffins. No visit to Saint Petersburg is complete without a stop at The Hermitage, but I also recommend spending time at the Russian Museum, to see works by Russian artists.
This World Heritage Site is all-encompassing enough to include many palaces outside the city. Not to be missed are Peterhof, also known as Petrodvorets, with its grand and gilded cascade of fountains that serves as centerpiece to Peter the Great's homage to Versailles, or Tsarskoye Selo, also known as Pushkin, where Catherine the Great commissioned a grand palace with a famed Amber Room looted by the Germans during World War II. A quieter palace outside the city is Pavlovsk, built by Catherine's son Paul I. Both Tsarskoye Selo and Pavlovsk offer extensive park grounds to wander through. The palaces also highlight another significant point in the history of Saint Petersburg, as German troops occupied each locale during their seige of the city during the Second World War.
There is far more that can be said about Saint Petersburg, but it really deserves a visit to fully appreciate it.
Logistics: Saint Petersburg is a great city to explore on foot, although there is an excellent metro and trolleybus system; I'd also recommend taking a boat trip through the canals. The palaces outside Saint Petersburg make fantastic day trips, and are all accessible by trains from the city.
---
UNique - 7/10
The second capital of Russia could not be more different from the official one. The commercial gloss and modernity of Moscow gives way to the historic tarnish and culture of Saint Petersburg. This is not to say that the city is not impressive or beautiful, quite the opposite, as the lack of a gleam allows for a certain charm and cosiness which money can't always provide. Despite having been designed as the imperial city with its many palaces, squares and avenues, Saint Petersburg is replete with a variety of lesser-known communal places, hidden in the courtyards, narrow alleyways and behind the deceptive storefronts.
ESsential - 8/10
Saint Petersburg is paramount to the development of the Russian history. The seat of Peter and Catherine (both the Greats, but each in their own individual way), the starting point of the Bolshevik revolution, the site of the most brutal siege during the Second World War, the city is a treasure trove of historical and cultural artifacts, as each new turn reveals a residence of a famous writer or a beautiful building or a shady waterway. There are simply too many places of interest to list them all, and one simply has to allow themselves time to comprehensively experience the city.
COst-effective - 4/10
Chances are that if time is not exactly a limit on your trip to Saint Petersburg, then the money will soon become. Saint Petersburg is not a cheap city to experience with accommodations, food and entrances to the museums quickly adding up. The regular 700-ruble ticket to Hermitage is almost not worth it, unless you are quite happy to spend several hours waiting in line. Instead, splash on the online ticket, catering to the impatient tourists, and skip the line.
Read more from Yuri Samozvanov here.
---
I visited Saint Petersburg for 4 days in September 2017. Having visited Moscow last year it was quite easy for me to compare both cities and both are interesting cities to visit. Both cities are in my top 200 WHS and they didn't disappoint.
It's easier to cover the historic centre of Saint Petersburg on foot and overall I felt it has a much more European feel with several churches, palaces, monasteries and cathedrals with European architecture and just a handful of onion-domed ones.
The baroque exterior of the hermitage/winter palace (photo) is as striking as it's never-ending interior and its location in the palace square and on the Neva river bank is exquisite. The canal, fairway and drawbridge boat tour is a very pleasant way to explore the historic centre and beyond.
A stroll to the Peter and Paul Fortress (incredible drone or Google Earth view) is a must and apart from the panoramic view of the Neva river and overall lack of high-rise buildings, here you will find the UNESCO inscription plaque. Vasilievsky Island is the maritime heart of the city.
The exterior of the Church of the Savior on Spilled Blood is less colourful and extravagant than St Basil's Cathedral in Moscow but its mosaic interior more than make up for this.
On separate half day bus/ferry trips I also visited the Peterhof Palace and Gardens often referred to as the Russian Versailles. My favourite highlights here were the Portrait Room and the lovely fountains with golden statuettes. In a way it reminded me more of Potsdam than Versailles. The rococo Catherine's Palace in Tsarskoye Selo, Pushkin is some 30km from St Petersburg and its interior is over-the-top with the highlight being the amber room. Even though I have visited several palaces worldwide, I'm glad I put some extra effort into visiting these two Russian palaces together with the hermitage.
I would recommend separate visits of St Petersburg and Moscow as they can be quite tiring and repetitive if taken in together. Moreover both cities have worthwhile nearby WHS which would be mere stopovers if both large cities are combined in one trip.
---
4.50 Netherlands - 20-Feb-12 -
Every time I met and talked to Russians, they always praised the beauty of St. Petersburg, and that really made me wanted to see this city which was once the capital of Russian Empire. In the late evening, by the long distance bus from Novgorod, the city of St. Petersburg welcomed me with heavy snow, after managed to take subway to city center, I still had to struck at the subway station entrance for two hours because it was almost impossible to go and find my hotel, so my first day in St. Petersburg was totally white. However in the next day morning all snow had gone, I decided to walk to the famous Hermitage. After walked through the ceremonial arch gate, the vast winter palace square was absolutely breathtaking. After see gorgeous collections of Hermitage, and its equally impressive interior design, I continued my trip to Saint Isaac Cathedral to see its imposing golden dome and then Peter and Paul Fortress which I was impressed with the scenery of the city from the fortress wall, before back to Church of the Savior of Blood which was the only Russian architecture in this very European town.
The next day I went to Peterhof Palace and Katherine Palace, there two palaces are located outside the city; I need to take train and bus to reach both places. The two palaces were unbelievable with theirs lavish decoration which easily made all European palaces in shame. I never saw too many chandeliers, fresco, golden baroque and rococo stucco, marble and amber crammed in such small rooms likes these places before. Also its gardens were impressive even in winter, sadly that I had no chance to see Peterhof's famous cascade in its glory as it was closed in winter. After palaces I spent my time in the famous Nevsky Prospect Street to see many city landmarks such as Kazan Cathedral which really made me feel that I was in Germany!
St. Petersburg turned out to be a very beautiful city with many grand buildings and impressive landmarks; I also enjoyed Russian food a lot from many lovely restaurants near Nevsky Prospect. However in my opinion St. Petersburg did not have a Russian charm liked Moscow or Novgorod, maybe the city was very European and lack of many fanciful of Russian unique architecture which was my ideal Russian style, but this was a true intention of the city founder, Tsar Peter the Great who want this city to be very European, and from my experience he did very well and his dream was still lingered in the air of this city. All in all, St. Petersburg was another must see World Heritage Site.
---
Larry Perkins
We enjoyed two days in S. Petersburg and wished we had more time. The museums have already been mentioned by other reviews we heartily agree with the positive comments about the Hermitage. We had a chance to travel by subway, which is a world all by itself, just don't try to take photos, the police do not allow it. We also visited the Kuznechny Market which was really fun. The vendors try to sell piles of unusual things and foods we had no name for. It was difficult to get rubles because there are few places to exchange currency. One of the most interesting places we saw was the Church of Our Savior on the Spilled Blood just a block off the Nevsky Prospekt. There is a great open air market on the square behind the cathedral where you can buy Russian "stuff". Just be aware that what looks like traditional Russian crafts are most likely mass produced someplace else. A walk along the Nevsky Prospekt was really fun. You will see the great train station, Kazan Cathedral, and other grand buildings. Our favorite thing aside from the museums was the canal boat ride through the city and along the river. We were warned not to get off the main streets as it was not safe for tourists and that people had no time for tourists. Our experience was that people were eager to try out their English and were helpful and friendly.
---
Emilia Bautista King
I agree that The Hermitage is one of the best museums in the world. If you are visiting St. Petersburg, put aside one day to visit it. On my last day in the city (then Leningrad), which was also my last day in the country, I got lost with 2 friends from my group. We were in a panic, as the rest of our group was waiting for us at our hotel, preparing to leave for the airport. I will never forget that a young Russian man helped us get back on the right bus back to our hotel. We were so grateful that we tried to offer him some money but he refused and was rather amused by how appreciative we were. We barely made it back to the hotel on time!
---
The town centre is a vison fulfilled by Tsar Peter. Sweden had to be cleared out from the north shore of Neva and then all rich people of Russia had to build a palace there in order to stay in the upper class. From nothing there, in the borderline between Russia and Sweden 1703, 100 years later it was a magnificent town, and continued to grow until 1917. Luckily, there is not much Soviet architecture present i centre. Not
The Neva is about 500 m wide and that sets the size of everything. I did not rent a cycle but that could be a good idea if you want to come out from the centre for a while.
Don't miss the Heremitage, Peterhof, Peter-Paul fortress and the artillery museum.
The canal boats gives nice wievs but it seems to be hard to find someone giving service in other languages than Russian. The hard problem to find service in other language than Russian is a general problem.
If you are in to military history, try to get out to Kronstadt which now can be visited by foreigners.
Be there in the summer! The streets does not seem to have lights except in the very centre. It is dark in the winter but lovely in the summer. The white nights are really existing.
---
Gatis
I have been living for two years there. Physically it is cold, and true - in a way also psychologically. But I learned to love this city -its enormous classicism ensemble, comparatively low ornate houses located along wide streets and channels. Huge, unbelievably rich museums - if you are fed up by art - visit the Zoological museum or the incredibly rich and ornate geological museum at Gornij Institut. Still many people there posess the specific intelligence, enlightement of this city - but for the bypasser from the very different West this may be invisible. And these enlightened people unfortunately do not dominate the streets of this city...
---
Site Info
Full Name

Historic Centre of Saint Petersburg and Related Groups of Monuments

Unesco ID

Country

Inscribed

Type

Cultural

Criteria

1

2

4

6

Categories

Link
Site Links
Unesco Website
Related
In the News
Plans for a 67-floor skyscraper that twists as it reaches for the sky, changing colour at different times of the day, has provoked outrage among Petersburgers, who are furious that the low-rise skyline of the city they consider to be one of the most beautiful in the world could be blighted by such a huge modern building. (2007.12.17)
Visitors
435 Community Members have visited.