Acropolis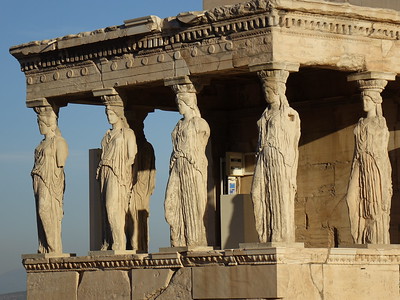 The Acropolis, Athens holds a group of monuments that have been influential from Antiquity to Neo-Classicism.
Acropolis means Upper City, although it hasn't been a city where people live since the 6th century BC. The monuments are situated on a 60 meter high rock that dominates Athens. Since the 5th century the Acropolis has city walls, turning it into a strong fortification.
On top of the rock, some of the best monuments of Classical Greece can be found. The much-photographed Parthenon for example. The current remains date from the 5th century BC, though 2 earlier temples have been discovered on the site. The Parthenon was built to honour Athena Parthenos (or Pallas). It's a Doric temple, with 8 columns at the narrow sides and 17 columns along the length of each of the two long sides. Inside there was a statue of Athena, made of gold and ivory by Pheidias. Unfortunately, this hasn't survived the ages.
Visit December 2001
The first glimpse of the Acropolis shows merely its high walls. The old city is built on top of a big mountain, that overshadows modern Athens. Both mountain and walls are more prominent than I had imagined.
I visited the site on an early Sunday morning. Entrance was free. The main gate was guarded by two stray dogs, who tried to scare the occasional visitor away by showing their teeth. Having decided to be brave, I walked past them, into the large complex of ancient buildings.
To emphasize this once more: the Acropolis was a city, not one building or a temple complex. It doesn't really look that way anymore. Only 3 landmarks remain: the Propylae (at the entrance), the famous Parthenon and last (and best) the magnificent Erechteion. I wonder why the Parthenon is so much better known than its neighbour, the Erechteion. It's the last building I marvelled at, at its unique shape and its pillars made out of women's statues. Wow, I hope my pictures will live up to the sight in reality.
Community Reviews
---
---
---
---
---
---
---
---
---
---
---
---
---
---
---
---
Community Rating
Community Rating 4.31. Based on 35 votes.
Site Info
Full name: Acropolis, Athens
Unesco ID: 404
Inscribed: 1987
Type: Cultural
Criteria: 1 2 3 4 6
Site History
1987 - Revision

Reduced from former TWHS Athens (1985)

1987 - Inscribed
Site Links
Unesco Website
Official Website
Related
In the News
Connections
The site has 34 connections. Show all
Visitors
460 community members have visited Acropolis. Show all