Mycenae and Tiryns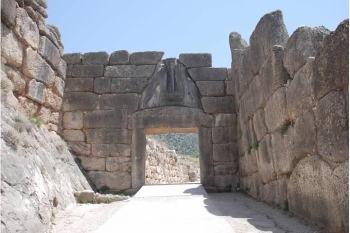 Photo provided by Michael Novins
Mycenae and Tiryns were the two greatest cities of the Mycenaean civilisation. Between 1600 and 1200 BC, its kingdom was the most powerful in Greece. Homer, in his Iliad and Odyssey, spoke of it as "rich in gold".
Mycenae consisted of a fortified citadel and surrounding settlement. Its walls were 13 meters high, and 7 meters thick. The walls of the city of Tiryns are even more immense: in parts they are 20 meters thick.
The Myceneans prospered through their trade with eastern mediterranean neighbours like the Hittites and Egyptians. Around 1200 this all came to an end, and the palaces were destroyed.
Map of Mycenae and Tiryns
Legend
Visit December 2001
I was in this area at St. Stephens Day, the day after Christmas. All archeological sites would be closed, but I decided to go there anyway (hoping to catch a glimpse from the outside).
First stop is at Tiryns. Walls, very thick walls, that's what you see. I park my car at the closed entrance and decide to take some pictures from different angles. All solid rock as far as I can see. When I walk away from my car, a little barking dog appears. Those stray dogs are a frequent sight in Greece, and I am not at all happy with that. Five minutes later the little barker is joined by a bigger friend, a German shepherd. They both stand barking and growling between me and my car. No other human being within sight, I walked away to regain courage. A few minutes later I try it again, coming from a different angle. The dogs seem to have forgotten about me so I can sprint to my car. But I got my pictures!
Ancient Mycenae is an hours drive away. Lovely surroundings this time: brown hills, green olive trees. And those walls again. But the outlayings of a city are recognizable this time. Here an old man keeps guard. A good look from the outside will have to do. The tholos-tombs can be seen from the road: there, in graves shaped like beehives, the Mycenean royalty was buried. I would have liked a closer look at Mycenae, but am not dissatisfied what I managed to see after all.
Community Reviews
---
---
---
---
---
---
---
---
---
---
Community Rating
Community Rating 3.61. Based on 14 votes.
Site Info
Full name: Archaeological Sites of Mycenae and Tiryns
Unesco ID: 941
Inscribed: 1999
Type: Cultural
Criteria: 1 2 3 4 6
Site Links
Unesco Website
Official Website
Locations
The site has 2 locations.
Connections
The site has 25 connections. Show all
Visitors
191 community members have visited Mycenae and Tiryns. Show all