Epidaurus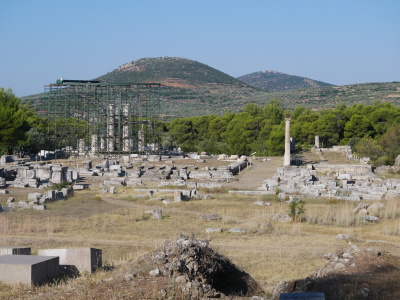 The Sanctuary of Asklepios at Epidaurus is renowned for its influential healing cult and Hellenic architecture, especially its theatre.
The site is situated on the Peloponnesus peninsula. To the ancient Greeks Asklepios was the God of Medicine. A son of Apollo, he was given the healing gift after his mother died at his birth.
From the 4th century BC, Epidauros became widely known as a sanctuary to Asclepius. There were temples and hospitals here, and people from as far as Rome to seek help. Treatments included licks from snakes.
Also, every four years the Festival of Asclepieia took place at Epidaurus. Dramas were staged and athletic competitions were held. Today's best preserved building - the theatre - links to this.
Visit December 2001
The site lies in a darkgreen pineforest, with air as healthy as you normally can only wish. There's a huge parking lot, but at the end of December I was one of only a few guests. I had the amphitheatre, that sits 14.000 people, to myself. It's like a football stadium, without the fences and the advertising. Unbelievably well preserved also.
Besides the theatre you can visit a museum with local findings (mainly statues), and the excavations. Not much is in place of the hospitals, hostels, bathrooms and what more was needed to serve the stream of visitors looking to improve their health.
The location of the site is its major drawingcard. It's like a retreat, like the secluded places where they construct monasteries in Japan or South-Korea.
Community Reviews
---
---
---
---
---
---
---
---
---
Community Rating
Community Rating 3.21. Based on 14 votes.
Site Info
Full name: Sanctuary of Asklepios at Epidaurus
Unesco ID: 491
Inscribed: 1988
Type: Cultural
Criteria: 1 2 3 4 6
Site History
2007 - Name change

From "Archaeological Site of Epidaurus" to "Sanctuary of Asklepios at Epidaurus"

1988 - Inscribed
Site Links
Unesco Website
Official Website
Related
Connections
The site has 11 connections. Show all
Visitors
183 community members have visited Epidaurus. Show all