Routes of Santiago de Compostela in France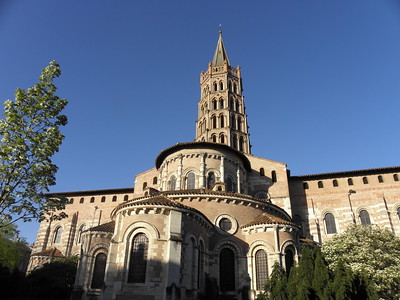 The Routes of Santiago de Compostela in France represent several sites related to the pilgrimage to Santiago de Compostela.
They comprise churches, bridges, hospitals and other wayside constructions along the four main and a number of subsidiary pilgrimage routes to Santiago.
Major monuments included are:
- The Romanesque church of Sainte-
Foy at Conques
- The church of Saint-Pierre
at Moissac
- The basilical church of Saint-Sernin in Toulouse
- The collegiate church of Neuvy-Saint-Sépulchre
- Village of Rocamadour
Map of Routes of Santiago de Compostela in France
Legend
Visit May 2006, October 2011, April 2012, April 2013
The Amiens Cathedral, a WHS in its own right, is also part of this Route in France. I wasn't aware of that when I visited. Thanks to Klaus Freisinger (see visitor reviews below) for pointing that out!
My second visit to this elaborate WHS also involved a site inscribed twice: the city center of Bordeaux. Three of its medieval churches are on the Route to Compostela. We visited Saint-Seurin and St. Andre Cathedral. Especially the latter is one of the highlights of Bordeaux. The Route is also widely displayed around Bordeaux, so I guess it receives numerous pilgrims although we didn't see any.
After a third visit, I know think that I safely can tick this one off. This time I went to the Tower of Saint-Jacques in Paris. As this is the starting point for the routes across France, this is a major site among the 78. The richly decorated tower can be seen from afar, but there's nothing left of the 16th century church. The site is located a bit north of the Seine banks. Although it looks in pretty good shape, I was surprised to find no pilgrims here. There's also no way to get in. I just had to make do with a stroll around it, there's a small garden where you can sit and enjoy the view.
Basilica Saint Sernin in Toulouse was my 4th visit. An enormous building in a scruffy neighbourhood, surrounded by a cheap market on the Sunday morning that I visited it. I even had to search for the entrance, and found it at the churches highlight: the Porte Miegeville.
Community Reviews
---
---
---
---
---
---
---
---
---
---
---
---
---
Share your experiences!
Have you been to Routes of Santiago de Compostela in France? Add your own review!
Community Rating
Community Rating 2.73. Based on 28 votes.
Site Info
Full name: Routes of Santiago de Compostela in France
Unesco ID: 868
Inscribed: 1998
Type: Cultural
Criteria: 2 4 6
Site History
1998 - Revision

Includes former TWHS Saint Sernin de Toulouse, Abbaye (et village) de Conques, Moissac (1981)

1998 - Inscribed
Site Links
Unesco Website
Official Website
Related
Locations
The site has 78 locations. Show all
Routes of Santiago de Compostela in France: basilique paléochrétienne, chapelle Saint-Julien Saint-Bertrand-de-Comminges
Routes of Santiago de Compostela in France: abbatiale Saint-Pierre et cloître Moissac, Tarn-et-Garonne
Routes of Santiago de Compostela in France: Abbaye Saint-Jean Sorde-l'Abbaye, Landes, Aquitaine, France
Routes of Santiago de Compostela in France: ancienne abbatiale Saint-Gilles-du-Gard, Gard, Languedoc-Roussillon, France
Routes of Santiago de Compostela in France: Ancienne abbaye Notre-Dame de la Sauve Majeure La Sauve, Gironde, Aquitaine, France
Routes of Santiago de Compostela in France: ancienne cathédrale et cloître, cathédrale Notre-Dame-de-la-Sède, palais épiscopal, rempart Saint-Lizier, Ariège,
Routes of Santiago de Compostela in France: ancienne cathédrale Notre-Dame Saint-Bertrand-de-Comminges
Routes of Santiago de Compostela in France: basilique Notre-Dame L'Epine, Marne, Champagne-Ardenne, France
Routes of Santiago de Compostela in France: Basilique Saint-Michel Bordeaux, Gironde, Aquitaine, France
Routes of Santiago de Compostela in France: Basilique Saint-Sauveur et crypte Saint-Amadour Rocamadour, Lot, Midi-Pyr
Routes of Santiago de Compostela in France: basilique Saint-Sernin Toulouse, Haute-Garonne, Midi-Pyr
Routes of Santiago de Compostela in France: Basilique Saint-Seurin Bordeaux, Gironde, Aquitaine, France
Routes of Santiago de Compostela in France: Chemin du Puy : de Saint-Côme-d'Olt à Estaing (17 km) Aveyron
Routes of Santiago de Compostela in France: collégiale Saint-Etienne (anciennement collégiale Saint-Jacques) Neuvy-Saint-Sépulchre
Routes of Santiago de Compostela in France: Eglise de Notre-Dame-de-la-Fin-des-Terres Soulac-sur-Mer, Gironde, Aquitaine, France
Routes of Santiago de Compostela in France: église paroissiale Saint-Jacques le Majeur et Saint-Jean-Baptiste Folleville
Routes of Santiago de Compostela in France: église prieurale Sainte-Croix-Notre-Dame La Charité-sur-Loire,
Routes of Santiago de Compostela in France: église Saint-Léonard Saint-Léonard-de-Noblat, Haute-Vienne
Routes of Santiago de Compostela in France: Eglise Saint-Pierre La Sauve, Gironde, Aquitaine, France
Routes of Santiago de Compostela in France: Eglise Sainte-Quitterie Aire-sur-l'Adour, Landes, Aquitaine, France
Routes of Santiago de Compostela in France: entre Nasbinals et Saint- Chély-d'Aubrac (17 km) Chemin du Puy, Lozère
Routes of Santiago de Compostela in France: hospice du Plan et chapelle Notre-Dame-de-l'Assomption, connue sous le nom de chapelle des Templiers Aragnouet, Hautes-Pyr
Routes of Santiago de Compostela in France: Le Mont-Saint-Michel* Le Mont-Saint-Michel, Ille-et-Vilaine, Basse-Normandie, France
Routes of Santiago de Compostela in France: Pont d'Artigues ou de Lartigues Beaumont-sur-l'Osse et Larressinge, Gers, Midi-Pyr
Routes of Santiago de Compostela in France: pont dit " des pèlerins " sur la Boralde Saint-Chély-d'Aubrac, Aveyron
Connections
The site has 48 connections. Show all
Visitors
223 community members have visited Routes of Santiago de Compostela in France. Show all