Versailles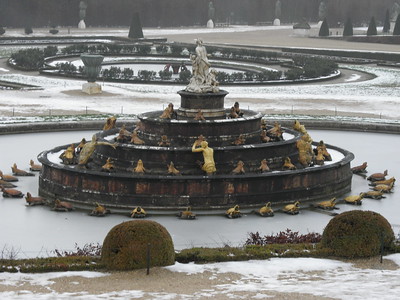 The Palace and Park of Versailles have had a large influence on the artistic form of other palaces and gardens in Europe. It is a symbol of the system of absolute monarchy and its court life of the Ancien Régime.
The Palace started out as a small royal hunting lodge. From 1661, King Louis XIV expanded into one of the largest palaces in the world, and moved his court and government to Versailles. Versailles became the unofficial capital where government affairs were conducted during the reigns of the Kings Louis XIV, XV en XVI. It was used intermittently between 1682 and 1789.
After the First World War, Versailles hosted the opening of the Paris Peace Conference in 1919. Germany was blamed for causing the First World War in the Treaty of Versailles which had to be signed in the same room on 28 June 1919.
Visit December 2010
I think I found the clues to beat the crowds here at Versailles:
- visit in the low season
- book your ticket beforehand on the internet and print it
- stay overnight in the pleasant town of Versailles
- be at the gate a little before opening time (9 a.m.)
- go fast at the first rooms (to shake off other early birds)
I just did all that on a Sunday morning in December. There were about 40 people waiting at the gate at 9 a.m., including a Chinese tour group. I beat them all at the start, was the first to go in that day and had the rooms almost to myself.
The gardens open already at 8 a.m., and I wandered around them a bit before visiting the interior. It was quite foggy, but that gave an extra mysterious touch to the surroundings. The grounds were still muddy and slippery from the heavy snowfall that had struck the Paris region last Wednesday (and even caused the Palace to close for half a day). A large golden sculpture by the Japanese artist Takashi Murakami attracts a lot of the attention at the moment. It is part of a temporary exhibition, his works are also in the interior of the palace.
What did I think of my visit? The bottom line of all the other reviews below I found to be true: the Hall of Mirrors and the Gardens are the most memorable parts. I had visited the Castle of Fontainebleau the day before, and I enjoyed its interior more than Versailles. The latter is better on the exterior and the gardens (it's quite a hike to get to the Grand Trianon for example). The walk through the apartments in Versailles gets a bit tedious, rooms aren't as bright and interesting as in Fontainebleau, and I found the audioguide too boring to listen to. But maybe 2 European castles in 2 days is too much to bear...
Click
here
to see more of my photos of Versailles
Community Reviews
---
---
---
---
---
---
---
---
---
---
---
---
Community Rating
Community Rating 4.20. Based on 37 votes.
Site Info
Full name: Palace and Park of Versailles
Unesco ID: 83
Inscribed: 1979
Type: Cultural
Criteria: 1 2 6
Site Links
Unesco Website
Official Website
Connections
The site has 40 connections. Show all
Visitors
592 community members have visited Versailles. Show all