Nice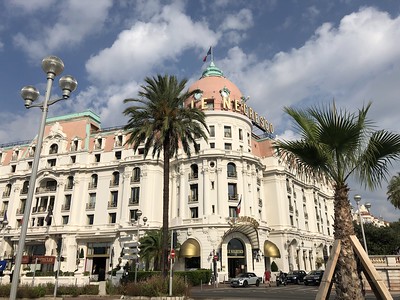 Nice is a city on the Côte d'Azur, also known as the French Riviera, whose urban development over two centuries was almost entirely the product of the tourist industry.
In the 18th century Nice became a popular winter destination for English aristocrats. At the end of the 19th century, tourism expanded to all wealthy classes and finally became a mass phenomenon in the 20th century. The earliest architectural evidence of this evolution to a tourist hotspot is the Vila Nova, including the Promenade de Anglais. Then, the city expanded westwards and onto the hills to the north, where villa quarters and luxury hotels were built in the 19th and early 20th centuries.
Community Reviews
---
Nice is a French city with 340,000 inhabitants. Tourism on the Riviera was born here, they say. And they want UNESCO recognition for that. I was there for 3 nights during a quiet September weekend. The tourist crowds had either returned home and back to work, or opted out because of the "Code Red" imposed by the French government on this region. However, urban life continued as usual and the anti-Covid measures were being followed in a half-hearted way. Obviously one cannot smoke and wear a face mask at the same time!
The city owes much of its monumental architecture to the arrival of wealthy foreigners who came to enjoy its pleasant climate. Many English and Russian aristocrats stayed here from the end of the 18th century on. Their villas can be found scattered around the current city. I started my exploration on foot in Rue Verdi, where there is some fine Art Deco and mosaics on the façades can be seen. Closeby lies the Museum of Fine Arts, located in the former Villa Kotchoubey. This orange palace is currently being renovated and has been closed to the public all summer.
I then walked down to the famous Promenade des Anglais - a coastal boulevard built in the 1920s on the initiative of the British. In 2016 this was the site of a terrorist attack with a truck, in which 87 people were killed. I don't know exactly where it happened, but I didn't see any blockages anymore or a monument. People nowadays jog, walk, cycle or skateboard up and down the long promenade again.
The most imposing buildings of Nice can be found along this sea boulevard. One to enter is the Musée Massena, which is an elegant early 20th century villa built in neoclassicist style by a Danish architect. It now houses an art collection and a city museum. It is worth a visit alone for its drawings of old Nice - for example, one where all the houses along the boulevard have the name of the (mostly foreign) owner written next to them.
The next day I focused on another part of Nice: Cimiez. This was built on the site of a former Roman town, on a hill northeast of the city center. Bus 5 will take you there. One of the attractions here is the Matisse museum - but I found it closed for 2 weeks to set up a new exhibition. I got off the bus there anyway, to have a quick look at the monastery of Cimiez and the monastery gardens. More interesting are the excavations of the Roman town Cemenelum. They can be accessed via the archaeological museum.
Half way down the hill lies the museum of another well-known French artist: Marc Chagall. Chagall is best known for his stained-glass windows, of which there are 3 exhibited here. But the museum also has 2 large mosaics by his hand and many colorful paintings and drawings. The museum is not that big but I found it very beautiful. Cimiez in general is a pleasant area to visit. It has a few grand buildings from the early 20th century too, such as the Ancien Excelsior Régina Palace and the Manoir Belgrano.
A bit out of the way, in the railway station area, lies the Russian Orthodox cathedral of Nice. This building too was created by foreign visitors to Nice: it was a gift from the Russian Tsar Alexander II to the local Russian community.
As other reviewers have remarked already, the impact of the "birth of tourism" on Nice is too fragmented to warrant a WH inscription for the whole city. I did enjoy Nice's vibe in general though – it has many pleasant cafés, palm trees and lots of greenery. It felt both a bit French and a bit Italian (Nice only became part of France in 1860). I also thought it was in better shape than many other cities in southern France.
Read more from Els Slots here.
---
The recently published ICOMOS working documents show that a big portion of Nice is to be included in this nomination and not only its waterfront promenade. Nice is a major tourist hub in France mostly catering for beach tourists. This can be regarded as a sign of continuity, perpetuating the historic function of Nice in the development of modern tourism. The most significant component, the renowned Promenade des Anglais, I did not find neither very scenic nor authentic. A lot of new buildings on the city side of the road do not allow for a unified cityscape. However, other parts of the city centre, which are all included, are very well preserved.
The mediaeval old town is a typical Ligurian city with dark little alleyways and colourful fronts. Although included in the perimeter, it had little to do with the birth of modern tourism. Its extension in the 19th century includes large avenues and a lot of historicist mansions. They constitute a nice ensemble, but I think it would be difficult to demonstrate their connection to Nice becoming a tourist centre. Cimiez, Nice's Roman antecedent is included too. It now houses two famous museums dedicated to Matisse and Chagall. Although Nice's artistic contribution is mentioned as a part of its OUV, these museums are new and, as with other components, I fail to see the connection to modern tourism.
The beaches of Nice are pebbly. For beach tourism other areas of the French Riviera are surely superior. Culturally, however, it offers a lot for a few days stay. I would especially recommend its comprehensive and high quality museum of contemporary art, one of the best in Europe and the second best in France after Centre Pompidour in Paris. Nice is a comfortable hub for day trips along the French Riviera (Grasse, Cannes, Antibes, Saint-Paul/Vence to the east, Eze, Menton, Monaco, Ventimiglia to the west) with many sites that are artistically important (Matisse, Picasso, Fragonard, Le Corbusier, Renoir). Although interesting, I fail to see a great potential of OUV. Moreover, I would highly advise against visiting Nice during peak season.
---
2.50 California - United States of America - 08-Mar-17 -
I visited Nice, France during the later part of October 2007. The holiday crowds were gone, the temperature required a light jacket, and the day I spent the most time by the Promenade, it was overcast and gray. There were however, a couple highlights.
Cathedral of Saint Nicholas, a beautiful Eastern Orthodox Church that was built for the Russian nobility who visited Nice during the Early 20th century. The nomination description includes a full section on "- Places of worship and cemeteries", which relates to foreigners who "Wintered" in Nice.
Another highlight was the National Museum of Marc Chagall, which is a wonderful small gallery dedicated to an artist who lived just outside Nice for decades. Its worth noting the nomination includes justification for criteria vi, "The city is thus directly associated with artistic and literary works of outstanding universal significance. This is particularly true for painting with Henri Matisse, Marc Chagall, Raoul Dufy, Max Beckmann and Edvard Munch, who lived in Nice and represented the city in major works."
I was not overly impressed or awed by Nice. I appreciate the creativity and the persistent ability of France to pursue new nominations. Perhaps Nice has a shot.
Read more from Kyle Magnuson here.
---
Site Info
Full Name

Nice, Winter Resort Town of the Riviera

Unesco ID

Country

Inscribed

Type

Cultural

Criteria

2

Categories

Link
Site History
2021

Name change

From "Nice, capital of Riviera tourism" to "Nice, Winter Resort Town of the Riviera" upon inscription (as suggested by ICOMOS)
2021

Advisory Body overruled

ICOMOS advised a Referral
Site Links
Unesco Website
Official Website
Visitors
144 Community Members have visited.