Aachen Cathedral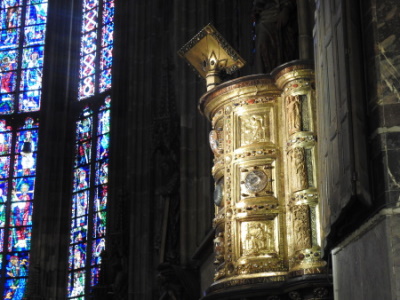 The Aachen Cathedral with its Palatine Chapel is the oldest in Northern Europe and has high symbolic value. It dates from about 800 AD.
The Emperor Charlemagne himself had overseen the construction work, until it finally complied with his wishes. What they actually had built was a palace for him, of which now only the church remains.
During the 14th and 15th centuries new features as the choir were added to the church, in the then fashionable Gothic style. More additions followed in the following centuries, the 74 meters high tower as recent as 1884. Obviously this permanent (re)construction of the Cathedral lead to a mixture of styles.
Charlemagne died in 814, and was buried in his own Cathedral. His bones are still preserved in the Shrine of Charles.
Visit August 2001
4.0
The Cathedral (or Dom) isn't the landmark you would have expected. Compared to its counterpart in Cologne the one in Aachen is no more than a "regular" church. The building is also in very bad repair, large reconstruction works are on the way.
There was a marriage going on in the Cathedral when I was there, so entrance for regular visitors was closed for a few hours. I spent those in the "Schatzkammer" (Treasury), a nearby museum that houses valuable treasures belonging or connected to the Cathedral and its founder Charlemagne. The extreme wealth that is displayed there I found a bit unnerving: Charlemagne thought he was God (or at least closely connected to His Son), and his followers through the ages agreed with him. In the museum you can for example see a golden arm and hand, with 2 real bones in it of Charlemagne.
In the afternoon I finally could enter the Dom itself. Focus point of attention is the octagonal chapel, with the large 12th century chandelier. The inside looked much better than the outside I must say, so it was half-a-day well-spent.
---
---
---
---
---
---
---
---
---
---
---
---
---
---
---
---
---
---
---
---
---
Site Info
Site Links
Unesco Website
Official Website
Visitors
355 Community Members have visited.