Longobards in Italy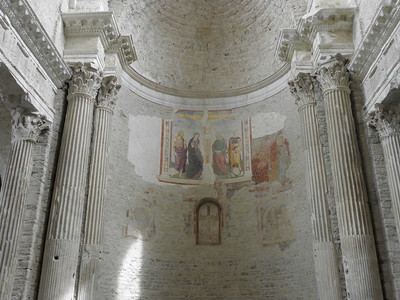 "The Longobards in Italy, Places of Power, 568 - 774 A.D." comprises seven groups of monuments built by the Longobard / Lombard elite. They are considered a unique and exceptional testimony to the transition between antiquity and the European Middle Ages.
The included sites are:
- Cividale del Friuli
- Brescia
- Castelseprio-Torba
- Spoleto
- Clitunno Tempietto
- Benevento
- Monte Sant'Angelo
Map of Longobards in Italy
Legend
Visit September 2012, December 2013
I visited the two inscribed sites in the former Longobard Duchy of Spoleto: the Clitunno Tempietto and the Basilica San Salvatore in Spoleto. They both were almost impossible to find. I relied on my car navigation to get me there, thinking that the sites would be posted from the main road also. But I had to search for quite a while: these are really minor sites, far off the beaten track.
I started at Clitunno, a small town in the mountains north of Spoleto. Some kind of market was going on, and both sides of the main street were littered with parked cars. The Tempietto is situated outside the center, actually along the main road but not visible from there. A tiny sign points to its location. Normally you can get there by car, but the road was blocked now due to the festivities. So I just walked there, and had to ask once again for directions (as one sign really isn't enough). It turned out to be a cute little temple. Looked pre-Romanesque to my untrained eye, a bit similar to the Asturian monuments. The iron gates around it were closed unfortunately: opening hours seem to be only in the afternoons. So I just took some pictures from behind the fence.
Then I went back to Spoleto, about 20 minutes away. Spoleto is a touristy city, with lots of history and an enormous castle as the main point of attraction. The San Salvatore Basilica isn't in the city center however, it lies on the other side of the main road. It took a while for me to find it, signs are only visible when you're almost there.
The church looked deserted when I arrived, and I was afraid that it would be closed too. But the main door was open, although no one was around. The main focus of the church interior is the re-use of Ancient Roman pillars in the church choir. They look well-preserved. The rest of the church is simple early Romanesque. It does have a certain charm however. Next to it is a huge modern cemetery.
P.S.: in December 2013, I visited two of the other locations. Castelseprio-Torba is spread out over a lovely hill location. Unfortunately the main highlights (church, antiquarium) were closed, but I could walk around the archeological site.
Better luck I had with Brescia: there the zone with the Roman remains and what is now the Sta. Giulia museum is included. The museum is excellent, it covers so much (Roman, Longobard, Renaissance) - I had 1.5 hours to see it before it closed, and was warned already at the start to manage my time well. Sometimes it's like walking in a "normal" museum, but just around the corner some surprise awaits such as the brilliant Renaissance nunnery choir, the fresco-highlight of San Salvatore or the church room with the Cross of Desiderius. Well worth the 10 EUR entrance fee.
Click
here
to see more of my photos of Longobards in Italy
Community Reviews
---
---
---
---
---
---
---
---
---
---
Community Rating
Community Rating 2.73. Based on 20 votes.
Site Info
Full name: The Longobards in Italy, Places of Power, 568 - 774 A.D.
Unesco ID: 1318
Inscribed: 2011
Type: Cultural
Criteria: 2 3 6
Site History
2011 - Revision

Includes the former TWHS Monte Sant'Angelo (2006), Santa Giulia-San Salvatore (1979), Santuario Rupestre of Olevano sul Tusciano, Castelseprio (1982) and part of Spoleto and Tempietto sul Clitunno (1996)

2011 - Inscribed

1981 - Deferred

As former TWHS Convent of Santa Giulia-San Salvatore: To be discused next year now Italy has submitted a T List

1980 - Deferred

As former TWHS Convent of Santa Giulia-San Salvatore

1979 - Deferred

As former TWHS Convent of Santa Giulia-San Salvatore: Concern that property not presented in the general context of cultural heritage of country as a whole. Italy to indicate properties it was to nominate
Site Links
Unesco Website
Official Website
Related
Locations
The site has 7 locations.
Connections
The site has 29 connections. Show all
Visitors
138 community members have visited Longobards in Italy. Show all