Hildesheim Cathedral and Church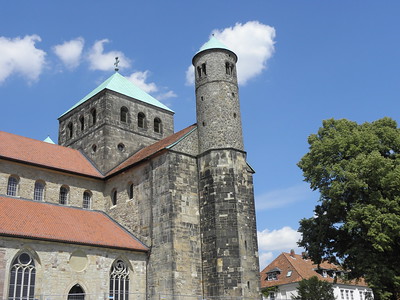 St. Mary's Cathedral and St. Michael's Church at Hildesheim are two inseparable monuments that are an exceptional testimony to the religious art of the Holy Roman Empire.
St. Mary's Cathedral was built between 1010 and 1020 in Romanesque style. It follows a symmetrical plan with two apses, that is characteristic of Ottonic Romanesque architecture in Old Saxony. The cathedral is famous for its many works of art. These include: the bronze doors, commissioned by Bishop Bernward (1015) and with reliefs from the history of Adam and of Jesus Christ, and a bronze column 15 ft. high (dating from 1020) adorned with reliefs from the life of Christ.
The Church of St. Michael also is an early-Romanesque church. It was founded ca. 1010 by Bishop Bernward. The church has a famous painted ceiling, with 1300 pieces of wood, and was the original location of the bronze Bernward doors (now in the Cathedral).
Map of Hildesheim Cathedral and Church
Legend
Visit January 2006, July 2011
My first visit in 2006 I should probably count as a half-visit: I did go and see both churches, but wasn't able to admire the art which has earned them their recognition as WHS. The Dom (St. Mary's Cathedral) was closed because of Mass, and the St. Michael's was undergoing restorations. Viewed from the outside, both churches are very much alike. St. Michael's setting is a bit more impressive, on a hill just outside the city center.
In July 2011, while on my way back from the nearby Fagus Factory, I decided to stop in Hildesheim again. They still are very busy restoring these 2 Christian monuments: the Cathedral now is closed (until 2014 or 2015), and the St. Michael's Church is partly hidden under scaffolding.
Fortunately, they have finished working on the interior. The church is open to the public again. As Ian Cade has stated below, it looks almost too clean and fresh to be true. There's not much decoration inside, no miracle since this is a protestant church nowadays. But it holds some major works of art: the elaborate and colourful wooden ceiling, and two 11th century bronze objects "on loan" from the Cathedral: its very fine baptismal font and the Easter column. Just realizing how very old these objects are, their state of preservation is amazing.
Click
here
to see more of my photos of Hildesheim Cathedral and Church
Community Reviews
---
---
---
---
---
---
---
Community Rating
Community Rating 2.56. Based on 18 votes.
Your Rating
Site Info
Full name: St. Mary's Cathedral and St. Michael's Church at Hildesheim
Unesco ID: 187
Inscribed: 1985
Type: Cultural
Criteria: 1 2 3
Site History
1985 - Inscribed

1982 - Rejected

Church of St Michael Hildesheim: st Bureau - no reason given
Site Links
Unesco Website
Official Website
Related
Locations
The site has 2 locations.
Connections
The site has 18 connections. Show all
Visitors
148 community members have visited Hildesheim Cathedral and Church. Show all