Ravenna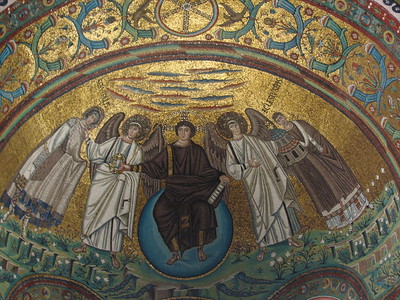 The Early Christian Monuments of Ravenna are a unique collection of mosaics and monuments from the 5th and 6th centuries.
Ravenna, an important port, was known under the Romans and Byzantines as Classis. It developed into a major centre of Christian art and culture on the instigation of Galla Placidia, the wife of Western Roman Emperor Constantius III (and regent of that empire herself for a few years). She was a fervant Christian and was involved in the building and restoration of various churches throughout her period of influence.
The 8 inscribed monuments are:
- Neonian Baptistery (c. 430)
- Mausoleum of Galla Placidia (c. 430)
- Arian Baptistry (c. 500)
- Archiepiscopal Chapel (c. 500)
- Basilica of Sant'Apollinare Nuovo (c. 500)
- Mausoleum of Theodoric (520)
- Basilica of San Vitale (548)
- Basilica of Sant' Apollinare in Classe (549)
Visit February 2009
Ravenna is a fairly large city, and the monuments that contain the mosaics are spread out over several locations. One is even in another town, in Classe. I had some trouble orientating myself at first, though there are signposts to the churches. And I had to take care where I was walking, because Ravenna appeared to be a town of cyclists, passing the pedestrians on all sides.
First I arrived at the Basilica of San Vitale. Here I paid the entrance fee of 8.5 EUR that is valid for 5 of the major monuments. What to say about the Basilica? It is an octagonal building, somewhere between Roman and Byzantine in style. Its interior has to be seen to be believed: there are mosaics everywhere, on the floor, at the walls, at the ceiling. Lots of gold, and clear Christian symbols.
At the back of the Basilica lies the Mausoleum of Galla Placidia. This is a tiny building. Access is limited to 5 minutes, so I had to wait with a couple of others for our time slot. Certainly worth waiting for - the mosaics here seem a little older and less refined. But what a brilliant blue mosaic that covers the hallway!
Another cluster of these monuments is located about 15 minutes away by foot. Next to the giant Duomo lies the Neonian Baptistery. As small as the Mausoleum, but worthy in its own right. The floor and baptismal font (a former Roman bath) are made of marble and have lots of ornaments. The mosaics here cover part of the walls and the ceiling, completing the very fine overall interior.
The Archiepiscopal Chapel is closed at the moment, and I didn't have time to go to the Basilica in Classe. However, the mosaics and monuments I have seen I can recommend to anyone.
Community Reviews
---
---
---
---
---
---
---
---
Community Rating
Community Rating 4.33. Based on 20 votes.
Site Info
Full name: Early Christian Monuments of Ravenna
Unesco ID: 788
Inscribed: 1996
Type: Cultural
Criteria: 1 2 3 4
Site History
1996 - Revision

Formerly on T-List as Ravenna e Pomposa

1996 - Inscribed
Site Links
Unesco Website
Official Website
Related
Locations
The site has 8 locations.
Connections
The site has 21 connections. Show all
Visitors
223 community members have visited Ravenna. Show all