Ferrara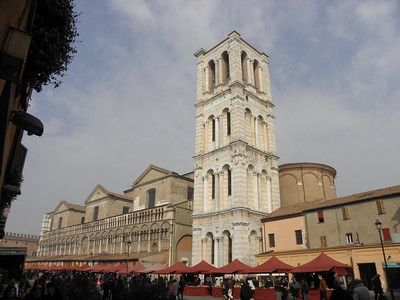 Ferrara, City of the Renaissance, and its Po Delta are the first example of Italian Renaissance town planning and its influence on the landscape.
In 1492, the plan of the city was redesigned on the order of the ruling Ercole d'Este I. Biagio Rossetti designed the new lay-out, introduced new streets linking the Renaissance city with the medieval heart and adding fortifications.
Ercole d'Este I was one of the most significant patrons of the arts in late 15th and early 16th century Italy. Ferrara at that time grew into a cultural center, renowned for music as well as for visual arts.
Ferrara is situated 50 km north-northeast of Bologna, on the Po di Volano, a branch channel of the main stream of the Po River. The associated sites in the Po Delta include (among others): Este ducal residences in Diamantina, Voghiera and Schifanoia, the Villa della Mensa and the towns of Cento and Comacchio.
Visit February 2012
Ferrara has a certain charm and calmness, but I found it not up to par with great Italian cities like Verona, let alone Venice or Rome. The Michelin Green Guide gives it 2 stars ("worth a detour"), and that is about right. I stayed there for 2 nights, using it as a base for a day trip to Mantua also.
The various sights are scattered around the city center, showing the town's various stages of development which are so crucial in its OUV of "Renaissance town plannig". To the east lie several small palaces, built by wealthy relatives and supporters of the ruling d'Este family. The Palazzina Marfisa d'Este for example is a villa with a garden that could be lovely if well-attended to (I was visiting in winter so maybe it is nicer in spring or summer). There's a loggia at the back, and the house's interior has many decorated ceilings and period (or later) furniture. The nearby Casa di Romei is bigger, has two stories and houses a small museum.
At the heart of the city are the Cathedral and the Castle. Both have striking exteriors. In the interior of the Cathedral dark grey colours stand out – I was not too impressed with it. The Castle's interior is quite barren too, but is surely worth visiting. At the lower levels the history of the city and the d'Este family is told via displays, and in another part the frescoed ceilings are shown up-and-close via mirrors on the ground. There are some particularly gloomy dungeons too.
North of here starts the Renaissance extension of the town, with straight streets and monumental houses. The famous Palazzo dei Diamanti lies here. By then it had started to rain, so after a few quick photos I cut my visit short.
Click
here
to see more of my photos of Ferrara
Community Reviews
---
---
---
---
---
---
---
---
Community Rating
Community Rating 3.23. Based on 20 votes.
Site Info
Full name: Ferrara, City of the Renaissance, and its Po Delta
Unesco ID: 733
Inscribed: 1995
Type: Cultural
Criteria: 2 3 4 5 6
Site History
1999 - Extended

1999 - Name change

From "City of Ferrara" to "Ferrara, City of the Renaissance and its Po Delta"

1999 - Revision

Includes former TWHS Pomposa Abbey (1984)

1999 - Revision

Includes former TWHS the Po Delta (1982)

1995 - Inscribed
Site Links
Unesco Website
Official Website
Related
Connections
The site has 31 connections. Show all
Visitors
177 community members have visited Ferrara. Show all