Mexico City and Xochimilco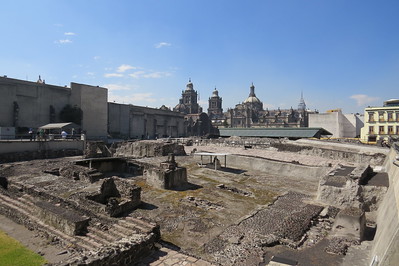 The Historic Centre of Mexico City and Xochimilco represents the historical continuity from the city as Aztec capital to the capital of New Spain.
The area in the Centro Historico includes an Aztec archeological site, Spanish colonial constructions and 19th and 20th century public buildings.
One of the biggest cities in the world today, Mexico City was built in the 16th century by the Spanish. They did so on top of the ruins of an old Aztec capital, Tenochtitlan. They added their own colonial churches and public buildings on a checkerboard street plan.
The major remaining Aztec monument is the Templo Mayor, its foundations dating from the 14th century. The temple was dedicated simultaneously to two gods, Huitzilopochtli, god of war, and Tlaloc, god of rain and agriculture, each of which had a shrine at the top of the pyramid with separate staircases. The site was only rediscovered in 1978.
Xochimolco is a city 28 kilometers to the South of Mexico City. There a network of canals and artificial islands can be found, built by the Aztecs.
Map of Mexico City and Xochimilco
Legend
Visit September 1997, January 2014
Although I had been there before, I count my trip of 2014 as my first proper visit to Mexico City. From my earlier trip I only remembered the Zocalo and some unremarkable grey buildings. This time I wanted to taste something from each period: the Aztec Templo Mayor, the Spanish-colonial Cathedral and the 20th century Palace of Fine Arts and Diego Riviera murals. I started my day of sightseeing at the Zocalo. It was the scene of a demonstration, as on most of its days. To my surprise though the middle of the square had been turned into a Winter Wonderland, where Mexicans rode sleighs from an artificial snow slope and (even more funny when you're Dutch) tried to master an ice skating rink.
The Cathedral provided a much needed place of quietude. I liked its facade (and that of its neighbour Sagrario Metropolitano), which is a text book example of the Churrigueresque style. The interior is extremely baroque too, with lots of gold and bleeding Christ statues. It's worth a look, but both Cathedral and Zocalo would not get my vote for WH status. The historic center is 'just' a working city with many modern buildings too. I think it has more Starbucks cafes than there are in the Netherlands in total.
I could not remember whether I had visited the Templo Mayor on my previous visit. But after I entered its gate I was sure that I mysteriously had missed out on that in 1997. To me it is THE highlight of the city, and worthy of WH status by itself. Somehow I had always thought that the remains were just some piles of archeological rubble. But several original statues, reliefs and temple constructions can be seen in situ, some even in their original colours. All have information panels in both Spanish and English. It's a lovely site with an entrance fee of a mere 3 EUR, which includes the excellent adjacent museum. The museum probably is even better than the archeological site itself: in bright and modern presentations, it shows the found objects of the Templo Mayor in 8 exhibition rooms. I don't think there's a single uninteresting object among them.
I had a good day already, but I wanted to finish it with some of the famous murals. First I went to the Palace of Fine Arts. Although it was possible to enter the main (art nouveau) hall, the rest was off-limits to me. The murals are not on display at the moment and covered by plastic. Fortunately I got another chance nearby: at the Museo Mural Diego Riveira his 'Dream of a Sunday Afternoon in the Alameda Central', portraying figures from Mexican history, is shown. I had the masterpiece all to myself, and spent some time checking out 'Who is Who'.
Click
here
to see more of my photos of Mexico City and Xochimilco
Community Reviews
---
---
---
---
---
Community Rating
Community Rating 4.08. Based on 20 votes.
Site Info
Full name: Historic Centre of Mexico City and Xochimilco
Unesco ID: 412
Inscribed: 1987
Type: Cultural
Criteria: 2 3 4 5
Site History
2008 - Not approved

Name change to "Historical Centre of Mexico City and the cultural landscape of Chinanpero de Xochimilco, Tlahuac and Milpa Alta" because of introduction of new elements

1987 - Inscribed
Site Links
Unesco Website
Official Website
Related
In the News
Locations
The site has 3 locations.
Connections
The site has 57 connections. Show all
Visitors
258 community members have visited Mexico City and Xochimilco. Show all