Siena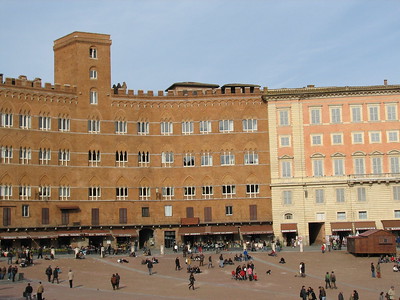 The Historic Centre of Siena has been well preserved since the 12th and 13rd century. Its urban fabric, size and artistic identity distinguish Siena from other medieval urban centres in Italy.
The city derived its wealth from banking activities - streets named Banchi di Sopra and Banchi di Sotto are a reminder of this. Siena also was the main rival of Florence, with which it disputed over territorial expansion.
The city had gained independence in 1189. The period that followed was to be crucial in shaping the Siena we know today. It was during the early 1200s that the majority of the construction of the Siena Cathedral (Duomo) was completed. It was also during this period that the Piazza del Campo, now regarded as one of the most beautiful civic spaces in Europe, grew in importance as the centre of secular life. New streets were constructed leading to it and it served as the site of the market, and the location of various sporting events.
Visit February 2009
With over 50,000 inhabitants, Siena is quite a bit larger than the other medieval towns in Tuscany. Although it also has been preserved well, I found it a lot harder to like (even tacky in some parts). I had to walk for about 20 minutes from one of the parking lots that surround the city center and are aimed at handling loads of tourists (and their buses) in the summer time. Parking at the Stadium is much closer, though not free.
My first glimpse of something grand was at the Baptistry, an enormous white-and-black marble building. It is adjacent to the splendid Duomo. This cathedral has an overly decorated gothic facade, and a striped bell tower almost like a minaret. Its dome is under construction at the moment and covered up. The colours black and white are used all over the design of the Duomo, as they are the colours of Siena's coat of arms.
The shell-shaped Piazza del Campo undoubtedly is the highlight of Siena. The square houses several monumental buildings, like the Palazzo Pubblico. It is also the place where the Palio horse race is run twice a year. I've watched that spectacle on TV once, and it is hard to imagine the crowds and the nervous horses at this so gentle public square. A sight not to be missed there is the 15th century Fonte Gaia, a fountain that is adorned on three sides with bas-reliefs.
Community Reviews
---
---
---
---
---
---
---
---
Community Rating
Community Rating 4.20. Based on 28 votes.
Site Info
Full name: Historic Centre of Siena
Unesco ID: 717
Inscribed: 1995
Type: Cultural
Criteria: 1 2 4
Site Links
Unesco Website
Official Website
Related
In the News
Connections
The site has 38 connections. Show all
Visitors
401 community members have visited Siena. Show all