Frontiers of the Roman Empire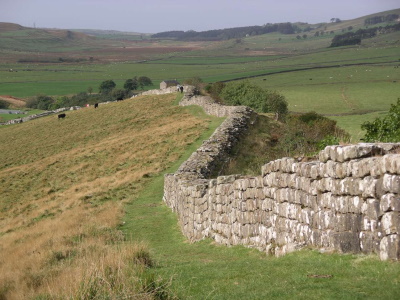 The Frontiers of the Roman Empire is a serial site that comprises parts of the Limes Romanus, a border defense or delimiting system of Ancient Rome.
The two sections of the Upper German-Raetian Limes in Germany cover a length of 550 km from the north-west of the country to the Danube in the south-east.
The Hadrian's Wall was built under the orders of the Roman Emperor Hadrian in AD 122. It took soldiers six years to build a wall 80 Roman miles long (117km) on the border of what is now England and Scotland. Emperor Hadrian built this wall "to separate Romans from Barbarians": it formed the most northern border of his empire. Later, there was some Roman expansion further north, resulting in the Antonine Wall.
Map of Frontiers of the Roman Empire
Legend
Visit August 2004
I toured the eastern part of Hadrian's Wall by bus from Newcastle, in the appropriately named AD122. This public bus stops at all things worth seeing along the way, so you can hop off and catch a later bus after you've visited the site. A good service I think.
My first stop was at Housesteads, the remains of a fort just at the wall. Because it was built on a hill, there are fine views over the countryside here.
Vindolanda is a bigger complex, somewhat inland from the wall. This Roman site is actually older than Hadrian's wall itself. Archeological excavations are still under way here, and some reconstruction has been done so it is easier to imagine how it has looked like in ancient times. It's also the finding place of the historically quite spectacular Roman writing tablets, that tell about daily life in this area in Roman times.
Community Reviews
---
---
---
---
---
---
---
---
---
---
---
---
---
---
---
Community Rating
Community Rating 2.87. Based on 23 votes.
Site Info
Full name: Frontiers of the Roman Empire
Unesco ID: 430
Inscribed: 1987
Type: Cultural
Criteria: 2 3 4
Site History
2008 - Extended

To include the Antonine Wall

2005 - Extended

To include two sections of the Limes in Germany

1987 - Inscribed
Site Links
Unesco Website
Official Website
Related
In the News
Locations
The site has 439 locations. Show all
Frontiers of the Roman Empire: Bank Mill tower 15a, 250m north west of Belmont House, part of the Roman frontier defences along the Cumbrian coast
Frontiers of the Roman Empire: Beaumont motte castle and section of Hadrian's Wall in wall mile 70 including turret 70a
Frontiers of the Roman Empire: Bewcastle Roman fort, high cross shaft in St Cuthbert's churchyard, and Bew Castle medieval shell keep castle
Frontiers of the Roman Empire: Biglands House (milefortlet 1) and associated parallel ditches, part of the Roman frontier defences along the Cumbrian coast
Frontiers of the Roman Empire: Birdoswald Roman fort and the section of Hadrian's Wall and vallum between the River Irthing and the field boundaries east of milecastle 50
Frontiers of the Roman Empire: Blitterlees (milefortlet 12), part of the Roman frontier defences along the Cumbrian coast
Frontiers of the Roman Empire: Brownrigg milefortlet 22, 800m north east of the Cemetery Chapel, part of the Roman frontier defences along the Cumbrian coast
Frontiers of the Roman Empire: Brownrigg North tower 21b, 830m north west of Canonby Hall, part of the Roman frontier defences along the Cumbrian coast
Frontiers of the Roman Empire: Building remains north of G
Frontiers of the Roman Empire: Building remains of south of Pfahlheim
Frontiers of the Roman Empire: Building remains south of G
Frontiers of the Roman Empire: Building remains south of the watchtower WP 9/67
Frontiers of the Roman Empire: Building remains southwest of Saalburg
Frontiers of the Roman Empire: Burgh by Sands Roman fort, Beaumont camp, Burgh Castle & Hadrian's Wall from boundary west of churchyard, Beaumont to Burgh Head in wall miles 70 and
Frontiers of the Roman Empire: Campfield (tower 2b) & associated parallel ditches & Roman road, 350m south west of Campfield Farm part of Roman frontier defences along Cumbrian coas
Frontiers of the Roman Empire: Cardurnock (tower 4b) and earlier ditch system and patrol road, part of the Roman frontier defences along the Cumbrian coast
Frontiers of the Roman Empire: Carrawburgh Roman fort & Hadrian's Wall & vallum between the field boundary east of the fort & the field boundary west of Coventina's Well in wall mil
Frontiers of the Roman Empire: Carvoran Roman fort and Hadrian's Wall and vallum between the unclassified road to Old Shield & the field boundary west of the fort in wall miles 45 &
Frontiers of the Roman Empire: Castlesteads Roman fort and the vallum between the track to the east of Castlesteads fort and the Cam Beck in the west
Frontiers of the Roman Empire: Civil settlement of Niedernberg northern part
Frontiers of the Roman Empire: Civil settlement of Saalburg east of B 456 including watchtowers WP 3/67 to 3/69
Frontiers of the Roman Empire: Defended settlement and Roman signal station 410m south of West Crindledikes
Frontiers of the Roman Empire: Drumburgh Roman fort and Hadrian's Wall between Burgh Marsh and Westfield House in wall miles 76 and 77
Frontiers of the Roman Empire: Dubmill Point milefortlet 17, 560m WNW of Hill House, part of the Roman frontier defences along the Cumbrian coast
Frontiers of the Roman Empire: Eight Roman inscriptions in the Roman quarry in Combcrag Wood, 350m south of Hadrian's Wall
Frontiers of the Roman Empire: Fell End Roman temporary camp and section of the Stanegate Roman road
Frontiers of the Roman Empire: Fort Altheimer Strasse
Frontiers of the Roman Empire: Fort Schrenzer
Frontiers of the Roman Empire: Fort site and civil settlement of Butzbach eastern part
Frontiers of the Roman Empire: Fort site and civil settlement of Butzbach western part
Frontiers of the Roman Empire: Fort site and civil settlement of Ellingen south of Road 2389
Frontiers of the Roman Empire: Fort site and civil settlement of Jagsthausen central and eastern part
Frontiers of the Roman Empire: Fort site and civil settlement of Jagsthausen eastern part
Frontiers of the Roman Empire: Fort site and civil settlement of Jagsthausen northern and eastern part
Frontiers of the Roman Empire: Fort site and civil settlement of Jagsthausen south-western part
Frontiers of the Roman Empire: Fort site and civil settlement of Jagsthausen western part
Frontiers of the Roman Empire: Fort site and civil settlement of K
Frontiers of the Roman Empire: Fort site and civil settlement of Miltenberg-Altstadt north-eastern part
Frontiers of the Roman Empire: Fort site and civil settlement of Miltenberg-Altstadt western part
Frontiers of the Roman Empire: Fort site and civil settlement of R
Frontiers of the Roman Empire: Fort site and civil settlement of R
Frontiers of the Roman Empire: Fort site and civil settlement of Saalburg west of B 456 including watchtowers WP 3/56, 3/66, fortlets Heidenstock and Altes Jagdhaus
Frontiers of the Roman Empire: Fort site and civil settlement of Weissenburg eastern part
Frontiers of the Roman Empire: Fortlet Adolfseck
Frontiers of the Roman Empire: Fortlet Dicker Wald 1
Frontiers of the Roman Empire: Fortlet Eichkopf
Frontiers of the Roman Empire: Fortlet Ferbach
Frontiers of the Roman Empire: Fortlet Holderbusch
Frontiers of the Roman Empire: Fortlet Lehnenwiesen
Frontiers of the Roman Empire: Fortlet Lochm
Frontiers of the Roman Empire: Fortlet Mainhardt-Herrenwiesen
Frontiers of the Roman Empire: Fortlet of Freim
Frontiers of the Roman Empire: Fortlet of Pfarrhofen
Frontiers of the Roman Empire: Fortlet Rheinbohl
Frontiers of the Roman Empire: Fortlet Wingertsberg
Frontiers of the Roman Empire: Fortsite of Holzhausen and civil settlement western part including watchtowers WP 2/31a to 2/34
Frontiers of the Roman Empire: Great Chesters Roman fort and Hadrian's Wall between the Caw Burn and the track to Cockmount Hill farm in wall miles 42 and 43
Frontiers of the Roman Empire: Hadrian's Wall & vallum between field boundary east of milecastle 24 & field boundary west of the site of turret 25b in wall miles 24-25
Frontiers of the Roman Empire: Hadrian's Wall & vallum from A6071 to The Cottage in the case of the Wall, & to the road to Oldwall, for the vallum, in wall miles 57, 58 & 59
Frontiers of the Roman Empire: Hadrian's Wall and associated features between the boundary east of turret 34a and the field boundary west of milecastle 36 in wall miles 34, 35 and 3
Frontiers of the Roman Empire: Hadrian's Wall and associated features between the field boundary west of turret 37a and the road to Steel Rigg car park in wall miles 37, 38 and 39
Frontiers of the Roman Empire: Hadrian's Wall and vallum and their associated features between Poltross Burn and the River Irthing in wall mile 48
Frontiers of the Roman Empire: Hadrian's Wall and vallum between Banks Green Cottage and the road to Lanercost at Banks and the road to Garthside in wall miles 52, 53 and 54
Frontiers of the Roman Empire: Hadrian's Wall and vallum between Baron's Dike and Birky Lane at Walby, in wall miles 60, 61 and 62.
Frontiers of the Roman Empire: Hadrian's Wall and vallum between Birky Lane at Walby and the east side of the M6 in wall miles 62 and 63
Frontiers of the Roman Empire: Hadrian's Wall and vallum between Chesters and the road to Simonburn in wall miles 27, 28 and 29
Frontiers of the Roman Empire: Hadrian's Wall and vallum between St Oswald's Cottages, east of Brunton Gate and the North Tyne in wall miles 25, 26 and 27
Frontiers of the Roman Empire: Hadrian's Wall and vallum between Sunnybrae at Halton Shields and Haltonchesters Roman fort in wall miles 20 and 21
Frontiers of the Roman Empire: Hadrian's Wall and vallum between the access road to Glendale caravan park and the track south of Kirkland House in wall miles 77 and 78
Frontiers of the Roman Empire: Hadrian's Wall and vallum between the B6309 and the B6321 in wall miles 16, 17 and 18
Frontiers of the Roman Empire: Hadrian's Wall and vallum between the B6321 and Sunnybrae at Halton Shields, in wall miles 18 and 19
Frontiers of the Roman Empire: Hadrian's Wall and vallum between the Fence Burn and the track to Portgate Cottage in wall miles 21 and 22
Frontiers of the Roman Empire: Hadrian's Wall and vallum between the field boundaries east of milecastle 50 and the boundary west of Coombe Crag in wall miles 50 and 51
Frontiers of the Roman Empire: Hadrian's Wall and vallum between the field boundary at Brown Dikes and the field boundary east of turret 34a in wall miles 32, 33 and 34
Frontiers of the Roman Empire: Hadrian's Wall and vallum between the field boundary west of Carvoran Roman fort and the west side of the B6318 road in wall mile 46
Frontiers of the Roman Empire: Hadrian's Wall and vallum between the field boundary west of Coombe Crag and Banks Green Cottage and the road to Lanercost at Banks in wall miles 51 &
Frontiers of the Roman Empire: Hadrian's Wall and vallum between the field boundary west of Coventina's Well and the field boundary at Brown Dikes in wall miles 31 and 32
Frontiers of the Roman Empire: Hadrian's Wall and vallum between the field boundary west of Wall Knowe and Scotland Road including the Roman fort at Stanwix in wall mile 65
Frontiers of the Roman Empire: Hadrian's Wall and vallum between the March Burn and Oatens Bank, Harlow Hill in wall miles 13,14 and 15
Frontiers of the Roman Empire: Hadrian's Wall and vallum between the road to Caw Gap and the Caw Burn in wall miles 41 and 42
Frontiers of the Roman Empire: Hadrian's Wall and vallum between the road to Simonburn and the field boundary east of Carrawburgh car park in wall miles 29, 30 and 31
Frontiers of the Roman Empire: Hadrian's Wall and vallum between the track to Portgate Cottage and the field boundary east of milecastle 24 in wall miles 22 and 23
Frontiers of the Roman Empire: Hadrian's Wall and vallum from East Town House, Heddon-on-the-Wall to the A69 trunk road in wall mile 12
Frontiers of the Roman Empire: Hadrian's Wall and vallum in wall mile 10 from Dene House to Throckley Bank Top
Frontiers of the Roman Empire: Hadrian's Wall and vallum in wall mile 7, Denton section of Hadrian's Wall, Denton Turret and Hadrian's Wall at West Denton
Frontiers of the Roman Empire: Hadrian's Wall and vallum in wall mile 7, Scotswood section from Denton Road to Denton Dene
Frontiers of the Roman Empire: Hadrian's Wall and vallum in wall mile 7, Scotswood section of vallum 75m long at Denton Dene
Frontiers of the Roman Empire: Hadrian's Wall between Apple Garth, Westfield, and the dismantled railway in wall mile 77
Frontiers of the Roman Empire: Hadrian's Wall between Eden Vale house and the Cam Beck in wall mile 56
Frontiers of the Roman Empire: Hadrian's Wall between Fulwood House at Burgh by Sands and Burgh Marsh in wall miles 72 and 73
Frontiers of the Roman Empire: Hadrian's Wall between Grinsdale and the field boundary south of the site of St Andrew's Church, Kirkandrews on Eden in wall miles 68 and 69
Frontiers of the Roman Empire: Hadrian's Wall between Port Carlisle and Bowness-on-Solway in wall miles 78 & 79
Frontiers of the Roman Empire: Hadrian's Wall between Tarraby and Beech Grove, Knowefield in wall miles 64 and 65
Frontiers of the Roman Empire: Hadrian's Wall between the Cam Beck and Newtown Farm in wall miles 56 and 57
Frontiers of the Roman Empire: Hadrian's Wall between the dismantled railway and the access road to Glendale caravan park in wall mile 77
Frontiers of the Roman Empire: Hadrian's Wall between the east end of Davidson's Banks & road to Grinsdale & vallum between Davidson's Banks & dismantled railway in wall miles 67 &
Frontiers of the Roman Empire: Hadrian's Wall between the field boundary to the south of the site of St Andrew's Church and Eden Bank at Beaumont in wall miles 69 and 70
Frontiers of the Roman Empire: Hadrian's Wall between the M6 motorway and the property boundaries to the east of Houghton Road in wall mile 64
Frontiers of the Roman Empire: Hadrian's Wall between the road to Garthside and The Centurion Inn, Walton, in wall miles 54 and 55
Frontiers of the Roman Empire: Hadrian's Wall between the road to Laversdale at Oldwall and Baron's Dike in wall miles 59 and 60
Frontiers of the Roman Empire: Hadrian's Wall between the track to Cockmount Hill and Walltown Quarry East in wall miles 43, 44 and 45
Frontiers of the Roman Empire: Hadrian's Wall between Walltown Quarry East and Walltown Quarry West in wall mile 45
Frontiers of the Roman Empire: Hadrian's Wall from Oatens Bank, Harlow Hill, to Whittle Dene Watercourse in wall mile 16
Frontiers of the Roman Empire: Hadrian's Wall in wall mile 0, section between Eastfield Avenue and Tumulus Avenue
Frontiers of the Roman Empire: Hadrian's Wall in wall mile 0, two sections of Hadrian's Wall between Sharpe Road and The Avenue
Frontiers of the Roman Empire: Hadrian's Wall in wall mile 1, three sections between Stotts Road and Vauxhall Road
Frontiers of the Roman Empire: Hadrian's Wall in wall mile 2, Byker section of Hadrian's Wall and presumed site of milecastle 3 at Shields Road West
Frontiers of the Roman Empire: Hadrian's Wall in wall mile 2, Walker section of Hadrian's Wall 171m long across Millers Dene playing field
Frontiers of the Roman Empire: Hadrian's Wall in wall mile 2, Walker section of Hadrian's Wall near the junction of Fossway and Shields Road
Frontiers of the Roman Empire: Hadrian's Wall in wall mile 2, Walker section of Hadrian's Wall under the forecourt of the Fosse public house
Frontiers of the Roman Empire: Hadrian's Wall in wall mile 4, sections of wall between Crawhall Road and Jubilee Road
Frontiers of the Roman Empire: Hadrian's Wall in wall mile 5, sections of wall in playing field of Rutherford School
Frontiers of the Roman Empire: Hadrian's Wall in wall mile 7, Benwell length of vallum of Hadrian's Wall in the grounds of Benwell Hill Cricket Club
Frontiers of the Roman Empire: Hadrian's Wall in wall mile 7, Scotswood section of Hadrian's Wall in garden of West Road Methodist Chapel
Frontiers of the Roman Empire: Hadrian's Wall in wall mile 7, Scotswood section of Hadrian's Wall in the grounds of Benwell Hill Cricket Club
Frontiers of the Roman Empire: Hadrian's Wall north of Kirkland House, Port Carlisle in wall mile 78
Frontiers of the Roman Empire: Hadrian's Wall vallum between Drawdykes Castle and Whiteclosegate in wall mile 64
Frontiers of the Roman Empire: Hadrian's Wall vallum between east side of road at Burgh Head, & boundary south of Ash Tree Square, Burgh-by-Sands in wall miles 71 & 72
Frontiers of the Roman Empire: Hadrian's Wall vallum between Mill Beck and the field boundary east of Kirkandrews Farm in wall mile 69
Frontiers of the Roman Empire: Hadrian's Wall vallum between Mill Beck and the field boundary east of Kirkandrews Farm in wall mile 69
Frontiers of the Roman Empire: Hadrian's Wall vallum between the boundaries north of the properties on Whiteclosegate and the field boundary west of Wall Knowe in wall miles 64 and
Frontiers of the Roman Empire: Hadrian's Wall vallum between the dismantled railway north of Knockupworth Cottage and the dismantled railway south of Boomby Gill in wall mile 67
Frontiers of the Roman Empire: Hadrian's Wall vallum between the dismantled railway south of Boomby Gill and the field boundary south east of Mill Beck in wall mile 68
Frontiers of the Roman Empire: Hadrian's Wall vallum between the dismantled railway west of Kirkandrews Farm & the dismantled railway south east of Burgh by Sands in wall miles 70 &
Frontiers of the Roman Empire: Hadrian's Wall vallum between the M6 motorway and Drawdykes Castle in wall mile 64
Frontiers of the Roman Empire: Hadrian's Wall vallum between the track south of Kirkland House and Bowness-on-Solway in wall miles 78 & 79
Frontiers of the Roman Empire: Hadrian's Wall vallum between the watercourse 400m south east of Glasson and the access road to Glendale caravan park in wall miles 76 and 77
Frontiers of the Roman Empire: Hadrian's Wall vallum between West End, Burgh By Sands and the track to Dykesfield in wall miles 72 and 73
Frontiers of the Roman Empire: Hadrian's Wall vallum in wall mile 6, Benwell length of vallum of Hadrian's Wall in grounds of St Cuthbert's School
Frontiers of the Roman Empire: Hadrian's Wall, associated features & a Romano-British settlement between the road to Steel Rigg car park & the road through Caw Gap in wall miles 39
Frontiers of the Roman Empire: Hadrian's Wall, vallum, section of the Stanegate Roman road and a Roman temporary camp between the B6318 road and Poltross Burn in wall miles 46 and 4
Frontiers of the Roman Empire: Haltonchesters Roman fort, settlement & Hadrian's Wall & vallum between the field boundary east of Haltonchesters fort & the Fence Burn in wall mile 2
Frontiers of the Roman Empire: Haltwhistle Burn 1 Roman temporary camp, fortlet and section of the Stanegate
Frontiers of the Roman Empire: Haltwhistle Burn Roman temporary camps 2 and 3 and area of cord rig cultivation
Frontiers of the Roman Empire: Herd Hill (milefortlet 4) and associated parallel banks and ditches, part of the Roman frontier defences along the Cumbrian coast
Frontiers of the Roman Empire: Herd Hill North (tower 3b), 175m north east of the sheep wash, part of the Roman frontier defences along the Cumbrian coast
Frontiers of the Roman Empire: Housesteads fort, section of Wall & vallum between the field boundary west of milecastle 36 & the field boundary west of turret 37a in wall miles 36 &
Frontiers of the Roman Empire: Kirkbride Roman fort, part of associated vicus and length of Roman road around, 370m south east of Whitrigg Bridge
Frontiers of the Roman Empire: Limessection between watchtower WP 1/87 and 1/88
Frontiers of the Roman Empire: Limessection between watchtowers WP 1/2 and 1/3
Frontiers of the Roman Empire: Limessection between watchtowers WP 1/39 and 1/40
Frontiers of the Roman Empire: Limessection between watchtowers WP 1/60 and 1/61
Frontiers of the Roman Empire: Limessection between watchtowers WP 1/67 and 1/69
Frontiers of the Roman Empire: Limessection between watchtowers WP 1/88 and 1/89
Frontiers of the Roman Empire: Limessection between watchtowers WP 1/93 and 2/13 including fort site and civil settlement of Bad Ems southern part
Frontiers of the Roman Empire: Limessection between watchtowers WP 13/40 and 13/41
Frontiers of the Roman Empire: Limessection between watchtowers WP 13/40 and 13/41
Frontiers of the Roman Empire: Limessection between Watchtowers WP 13/5 and 13/6
Frontiers of the Roman Empire: Limessection between watchtowers WP 2/13 and 2/14
Frontiers of the Roman Empire: Limessection between watchtowers WP 9/68 and 9/70
Frontiers of the Roman Empire: Limessection between watchtowers WP/ 1/34 and 1/35
Frontiers of the Roman Empire: Limessection between watchtowzers WP 1/30 and 1/31
Frontiers of the Roman Empire: Limessection between WP 4/36 and 4/37
Frontiers of the Roman Empire: Limessection between WP 4/37 and 4/39
Frontiers of the Roman Empire: Limessection between WP 4/81 and 4/82
Frontiers of the Roman Empire: Limessection north of Arzbach
Frontiers of the Roman Empire: Low Mire (milefortlet 20) 50m north of Heather Bank, part of the Roman frontier defences along the Cumbrian coast
Frontiers of the Roman Empire: Low Mire (milefortlet 20) 50m north of Heather Bank, part of the Roman frontier defences along the Cumbrian coast
Frontiers of the Roman Empire: Maiden Way Roman road from B6318 to 450m SW of High House, Gillalees Beacon signal station and Beacon Pasture early post-medieval dispersed settlement
Frontiers of the Roman Empire: Markham Cottage Roman temporary camps 1 and 2, a section of the Stanegate Roman road, a length of Roman road and two Roman cemeteries
Frontiers of the Roman Empire: Maryport (Alavna) Roman fort, part of the Roman frontier defences along the Cumbrian coast, its associated vicus and a length of Roman road
Frontiers of the Roman Empire: Maryport Golf Course tower 22a, 350m north of the Cemetery Chapel, part of the Roman frontier defences along the Cumbrian coast
Frontiers of the Roman Empire: Mawbray Sandpit tower 16b, 680m WSW of Hailforth, part of the Roman frontier defences along the Cumbrian coast
Frontiers of the Roman Empire: Milestone House Roman temporary camp and section of the Stanegate Roman road
Frontiers of the Roman Empire: Nether Denton Roman fort, associated vicus and length of Stanegate Roman road
Frontiers of the Roman Empire: Palisade ditches, part of Roman frontier defences along Cumbrian coast, Roman camp & road & part of Romano-British field system,250m north of Silloth
Frontiers of the Roman Empire: Pasture House (milefortlet 3), part of the Roman frontier defences along the Cumbrian coast
Frontiers of the Roman Empire: Rise How tower 25a, part of the Roman frontier defences along the Cumbrian coast including remains of prehistoric burial mound and early medieval kil
Frontiers of the Roman Empire: Roman fort, Anglo-Saxon cemetery, motte and bailey castle and tower keep castle
Frontiers of the Roman Empire: Roman quarry inscription on Queen's Crags, 680m south east of East Hotbank
Frontiers of the Roman Empire: Rudchester Roman fort, associated civil settlement and a section of Hadrian's Wall and vallum from the A69 to the March Burn in wall mile 13
Frontiers of the Roman Empire: Sea Brows (milefortlet 23), 500m south west of Bank End part of the Roman frontier defences along the Cumbrian coast
Frontiers of the Roman Empire: Seatsides 1 Roman temporary camp and section of the Stanegate Roman road from the west side of the road from Once Brewed to the south side of the B631
Frontiers of the Roman Empire: Signaltower Johannisberg
Frontiers of the Roman Empire: Signaltower W
Frontiers of the Roman Empire: Silloth Golf Course tower 12a, 670m WNW of Blitterlees Farm, part of the Roman frontier defences along the Cumbrian coast
Frontiers of the Roman Empire: Silloth Golf Course tower 12b, 410m north west of Heatherbank, part of the Roman frontier defences along the Cumbrian coast
Frontiers of the Roman Empire: Skinburness (milefortlet 9), part of the Roman frontier defences along the Cumbrian coast, and earlier Roman camp
Frontiers of the Roman Empire: Stone circle, defended settlement, Romano-British farmstead & field system, Roman camp & group of shielings immediately south of Greenlee Lough
Frontiers of the Roman Empire: Swarthy Hill North tower 20b, 460m south west of Blue Dial, part of the Roman frontier defences along the Cumbrian coast
Frontiers of the Roman Empire: The Roman bath house to the north east of Castlesteads Roman fort in wall mile 56
Frontiers of the Roman Empire: The Roman fort and associated civil settlement and a medieval tower house at Bowness on Solway at the west end of Hadrian's Wall in wall mile 80
Frontiers of the Roman Empire: The Roman fort, vicus, bridge abutments and associated remains of Hadrian's Wall at Chesters in wall mile 27
Frontiers of the Roman Empire: The section of Stanegate Roman road from Fell End Roman temporary camp to the track to Old Shield, and the Roman cemetery adjacent to Carvoran Roman f
Frontiers of the Roman Empire: The vallum and a British settlement between the field boundary west of turret 37a & the road to Steel Rigg car park, in wall miles 37, 38 & 39
Frontiers of the Roman Empire: The vallum and early Roman road between the field boundary east of turret 34a and the field boundary west of milecastle 36 in wall miles 34, 35 and 36
Frontiers of the Roman Empire: The vallum between Cockmount Hill and Walltown Quarry West in wall miles 43, 44 and 45
Frontiers of the Roman Empire: The vallum between Oatens Bank, Harlow Hill, and Whittle Dene Watercourse in wall mile 16
Frontiers of the Roman Empire: The vallum between the field boundary south east of Heads Wood and the A6071 road in wall mile 57
Frontiers of the Roman Empire: The vallum between the road to Garthside and the track east of Castlesteads in wall miles 54, 55 and 56
Frontiers of the Roman Empire: The vallum between the road to Laversdale at Oldwall and Baron's Dike in wall miles 59 and 60
Frontiers of the Roman Empire: The vallum between the road to Steel Rigg car park and the road in Caw Gap in wall miles 39, 40 and 41
Frontiers of the Roman Empire: Vindolanda (Chesterholm) Roman forts, civil settlement and cemeteries, adjacent length of the Stanegate Roman road and two milestones
Frontiers of the Roman Empire: Watchtoers WP 2/26 to 2/30
Frontiers of the Roman Empire: Watchtower SP 3/5*
Frontiers of the Roman Empire: Watchtower WP 1/31
Frontiers of the Roman Empire: Watchtower WP 1/39
Frontiers of the Roman Empire: Watchtower WP 1/51
Frontiers of the Roman Empire: Watchtower WP 1/52
Frontiers of the Roman Empire: Watchtower WP 1/60
Frontiers of the Roman Empire: Watchtower WP 1/61
Frontiers of the Roman Empire: Watchtower WP 1/62
Frontiers of the Roman Empire: Watchtower WP 1/64
Frontiers of the Roman Empire: Watchtower WP 1/65
Frontiers of the Roman Empire: Watchtower WP 1/73
Frontiers of the Roman Empire: Watchtower WP 1/77
Frontiers of the Roman Empire: Watchtower WP 1/84
Frontiers of the Roman Empire: Watchtower WP 1/87
Frontiers of the Roman Empire: Watchtower WP 1/88
Frontiers of the Roman Empire: Watchtower WP 1/93
Frontiers of the Roman Empire: Watchtower WP 13/40
Frontiers of the Roman Empire: Watchtower WP 13/50
Frontiers of the Roman Empire: Watchtower WP 13/54
Frontiers of the Roman Empire: Watchtower WP 14/28
Frontiers of the Roman Empire: Watchtower WP 2/1 including fortlet Bad Ems Auf der Schanz
Frontiers of the Roman Empire: Watchtower WP 2/31
Frontiers of the Roman Empire: Watchtower WP 3/1 to 3/14 including the civil settlement of Zugmantel western part
Frontiers of the Roman Empire: Watchtower WP 3/19* to 3/21*
Frontiers of the Roman Empire: Watchtower WP 3/23*
Frontiers of the Roman Empire: Watchtower WP 3/38*
Frontiers of the Roman Empire: Watchtower WP 3/4*
Frontiers of the Roman Empire: Watchtower WP 3/42*
Frontiers of the Roman Empire: Watchtower WP 3/49*
Frontiers of the Roman Empire: Watchtower WP 4/17*
Frontiers of the Roman Empire: Watchtower WP 4/37*
Frontiers of the Roman Empire: Watchtower WP 4/39*
Frontiers of the Roman Empire: Watchtower WP 4/81
Frontiers of the Roman Empire: Watchtower WP 7/37
Frontiers of the Roman Empire: Watchtowers WP 1/1 to 1/2
Frontiers of the Roman Empire: Watchtowers WP 1/11 to 1/20 including the fortlet Am Forsthausweg
Frontiers of the Roman Empire: Watchtowers WP 1/21 to 1/22
Frontiers of the Roman Empire: Watchtowers WP 1/23 to 1/24
Frontiers of the Roman Empire: Watchtowers WP 1/24 to 1/26
Frontiers of the Roman Empire: Watchtowers WP 1/27 to 1/29
Frontiers of the Roman Empire: Watchtowers WP 1/3 to 1/10
Frontiers of the Roman Empire: Watchtowers WP 1/30
Frontiers of the Roman Empire: Watchtowers WP 1/32 to 1/34
Frontiers of the Roman Empire: Watchtowers WP 1/35 and 1/35a
Frontiers of the Roman Empire: Watchtowers WP 1/36*
Frontiers of the Roman Empire: Watchtowers WP 1/37 to 1/38
Frontiers of the Roman Empire: Watchtowers WP 1/41 to 1/50 including the fortlet Anhausen
Frontiers of the Roman Empire: Watchtowers WP 1/53 to 1/57
Frontiers of the Roman Empire: Watchtowers WP 1/58 to 1/59
Frontiers of the Roman Empire: Watchtowers WP 1/67 to 1/66
Frontiers of the Roman Empire: Watchtowers WP 1/69 to 1/72 including the fortlet Hillscheid
Frontiers of the Roman Empire: Watchtowers WP 1/74 to 1/76
Frontiers of the Roman Empire: Watchtowers WP 1/78 to 1/81
Frontiers of the Roman Empire: Watchtowers WP 1/83 to 1/86
Frontiers of the Roman Empire: Watchtowers WP 1/89 to 1/92
Frontiers of the Roman Empire: Watchtowers WP 12/39
Frontiers of the Roman Empire: Watchtowers WP 12/40 to 12/59
Frontiers of the Roman Empire: Watchtowers WP 12/60 to 12/68
Frontiers of the Roman Empire: Watchtowers WP 12/69 to 12/85
Frontiers of the Roman Empire: Watchtowers WP 12/86 to 13/5 including fort site and civil settlement of Halheim
Frontiers of the Roman Empire: Watchtowers WP 13/13 to 13/15
Frontiers of the Roman Empire: Watchtowers WP 13/16 to 13/36 including fort site and civil setllement of Dambach
Frontiers of the Roman Empire: Watchtowers WP 13/37 to 13/40
Frontiers of the Roman Empire: Watchtowers WP 13/40
Frontiers of the Roman Empire: Watchtowers WP 13/41 to 13/45
Frontiers of the Roman Empire: Watchtowers WP 13/46 to 13/49
Frontiers of the Roman Empire: Watchtowers WP 13/51 to 13/53
Frontiers of the Roman Empire: Watchtowers WP 13/6 to 13/12
Frontiers of the Roman Empire: Watchtowers WP 14/1 to 14/27 including the fortlets of G
Frontiers of the Roman Empire: Watchtowers WP 14/29 to 14/62 including fortlets Kaldorf and Raitenbuch
Frontiers of the Roman Empire: Watchtowers WP 14/63 to 14/78 including fortlets Hegelohe and Biebig
Frontiers of the Roman Empire: Watchtowers WP 15/1 to 15/7
Frontiers of the Roman Empire: Watchtowers WP 15/11 to 15/26 and fortlets Hinterer Seegraben and G
Frontiers of the Roman Empire: Watchtowers WP 15/8 to 15/10
Frontiers of the Roman Empire: Watchtowers WP 2/14 to 2/16
Frontiers of the Roman Empire: Watchtowers WP 2/17 to 2/19 including fort and civil settlement of Hunzel
Frontiers of the Roman Empire: Watchtowers WP 2/2 to 2/4
Frontiers of the Roman Empire: Watchtowers WP 2/20 to 2/22
Frontiers of the Roman Empire: Watchtowers WP 2/35 to 2/48 including the fortlet D
Frontiers of the Roman Empire: Watchtowers WP 2/5 to 2/6
Frontiers of the Roman Empire: Watchtowers WP 2/50 to 2/55 including Justinius Rock
Frontiers of the Roman Empire: Watchtowers WP 2/7 and 2/13 including fortlet Becheln
Frontiers of the Roman Empire: Watchtowers WP 3/15 to 3/19 including the fort site of Zugmantel and civil settlement eastern part
Frontiers of the Roman Empire: Watchtowers WP 3/20 to 3/22
Frontiers of the Roman Empire: Watchtowers WP 3/23
Frontiers of the Roman Empire: Watchtowers WP 3/24 to 3/40Watchtowers WP 3/24 to 3/40 including the fortlet Maisel, fort and civil settlement Alteburg-Heftrich, fortlet Eichelgarten
Frontiers of the Roman Empire: Watchtowers WP 3/41 to 3/44
Frontiers of the Roman Empire: Watchtowers WP 3/45 to 3/52 including the fort site and civil settlement of Feldberg
Frontiers of the Roman Empire: Watchtowers WP 4/1 to 4/19a including fortlets Kaisergrube, Ockstadter Wald, Kapersburg, Rittergraber
Frontiers of the Roman Empire: Watchtowers WP 4/20 to 4/36 including the fortlets Hunnenkirchhof 1 and Hunnenkirchhof 2
Frontiers of the Roman Empire: Watchtowers WP 4/40 to 4/44 including the fortlet Dicker Wald 2
Frontiers of the Roman Empire: Watchtowers WP 4/45 to 4/52 including the fortlets Hainhaus and Holzheimer Unterwald
Frontiers of the Roman Empire: Watchtowers WP 4/53 to 4/57
Frontiers of the Roman Empire: Watchtowers WP 4/59 to 4/71 including the fortlets Feldheimer Wald and Langsdorf
Frontiers of the Roman Empire: Watchtowers WP 4/72 to 4/73
Frontiers of the Roman Empire: Watchtowers WP 4/76 to 4/80 including the fortlets Unterwiddersheim and Masohi
Frontiers of the Roman Empire: Watchtowers WP 4/82 to 5/8 including fortlets Langendiebach, Buchkopf, Stammheim, Staden, Lochberg, Haselheck, Altenstadt
Frontiers of the Roman Empire: Watchtowers WP 5/11 to 5/12
Frontiers of the Roman Empire: Watchtowers WP 5/13 to 5/14 including the fortlet Neuwirtshaus
Frontiers of the Roman Empire: Watchtowers WP 5/15 to 5/16
Frontiers of the Roman Empire: Watchtowers WP 5/9 to 5/10
Frontiers of the Roman Empire: Watchtowers WP 7/1 to 7/36 including fortlets Haselburg,Buergstadt and fort site and civil settlement of Miltenberg-Ost
Frontiers of the Roman Empire: Watchtowers WP 7/38 to 8/10 including fortlet Rehberg
Frontiers of the Roman Empire: Watchtowers WP 8/11 to 8/28 including fortlet Hintere Kalbe
Frontiers of the Roman Empire: Watchtowers WP 8/29 to 8/30
Frontiers of the Roman Empire: Watchtowers WP 8/31 to 8/41
Frontiers of the Roman Empire: Watchtowers WP 8/44 to 9/2
Frontiers of the Roman Empire: Watchtowers WP 9/100
Frontiers of the Roman Empire: Watchtowers WP 9/101 to 9/131 including the fortlets of R
Frontiers of the Roman Empire: Watchtowers WP 9/132 to 12/38 including fortlet Klein-Deinbach
Frontiers of the Roman Empire: Watchtowers WP 9/2* to 9/13
Frontiers of the Roman Empire: Watchtowers WP 9/33 to 9/35
Frontiers of the Roman Empire: Watchtowers WP 9/36 to 9/68
Frontiers of the Roman Empire: Watchtowers WP 9/70 to 9/99a including the fortlet Hankertsm
Frontiers of the Roman Empire: Watchtowers WP WP 2/23 to 2/26 including fortlet Pohl
Frontiers of the Roman Empire: Welzheim-Ost civil settlement northern part
Frontiers of the Roman Empire: Wolsty North tower 13a, 500m south west of Wolsty Farm, part of the Roman frontier defences along the Cumbrian coast
Frontiers of the Roman Empire: Wolsty South tower 13b, 200m WNW of New House, part of the Roman frontier defences along the Cumbrian coast
Connections
The site has 41 connections. Show all
Visitors
299 community members have visited Frontiers of the Roman Empire. Show all