City of Bath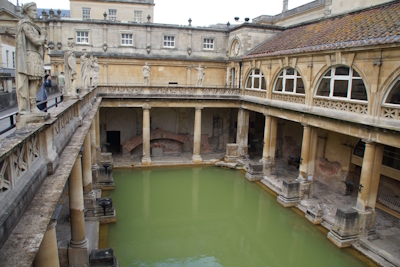 The City of Bath comprises a Roman and Georgian spa destination renowned for its Neo-classical Palladian architecture.
The city, centered around natural hot springs, was founded by the Romans as Aquae Sulis. The remains of their bath complex have been well-preserved. In the 18th century, monumental Neo-classical buildings were added to a new urban design to create a beautiful cityscape and strengthen Bath's role as a spa city.
Community Perspective: The often-renovated Roman Baths require a high entrance fee (£28 in 2023) and are crowded, but are the highlight. The Georgian features can best be enjoyed when you visit on a sunny day when the warm creamy stone seems to glow.


Community Reviews
---
We've been to Bath, England twice, once in 2016 and again earlier this year. Each visit (once in winter and once in summer) made a significant impression on us. I'd wanted to visit Bath for over two decades, having heard about this cool town from a local girl at a summer camp years ago. Bath did not disappoint.
In many ways, there's really two Baths…and we loved both of them. There's the town's history as Aque Sulis, a Roman outpost built on the banks of the Avon River. The town was founded at the spot of a naturally occurring hot springs. Even today, visitors (like us!) enjoy bathing in the warm Bath springs waters. No matter how much time you have in Bath, a dip in the healing waters is essential!
But there's another Bath here. The city is jam packed with incredible examples of Georgian architecture. Georgian architecture being the period of British history when the country was ruled by the first four kings all named George (from 1714-1830). We love Georgian architecture and felt we were right at home here in Bath!
The town is charming, the hot springs are wonderful, the culinary scene is exceptional, so it's easy to see why over four million people a year come to this university town to see it for themselves. A pro tip: stay overnight. Many people come to Bath on a day-trip from London, Bristol, or Cardiff. But the magic of Bath is at night when the day trippers leave and the buildings are beautifully illuminated!
Read more from Travel Addicts here.
---
Again, just as with the Tower of London, I visited Bath on a school trip with a language school so had a little less freedom than I would have liked to explore Bath with its Georgian architecture and famous Roman baths.

The Circus and The Royal Crescent are the best examples of the architecture Bath has to offer, all built in the local Bath stone which is a beautiful sandy colour and makes the city very distinctive. I was surprised to learn that The Royal Crescent is actually just a facade and that the houses behind are of varying heights and sizes. There's a popular green area in front of the crescent that's very popular for picnics and photos.

The main draw for visitors to Bath is of course the Roman baths. However, in fact not much about the Roman baths as we see it today is Roman. The baths were seemingly destroyed in the 6th century by Anglo-Saxons and subsequent renovations have given us the 'Roman' baths that we see today. Only the rough parts of the lower walls, some steps, and the bath itself remain from Roman days. The Romans used this place as a religious shrine dedicated to the goddess Sulis Minerva and as a spa complex, however it was Bladud, a legendary king of the Britons, who is supposed to have discovered the curing properties of Bath's waters as a result of his leprosy disappearing while in the area. The water itself comes from rain in the nearby Mendip Hills where it descends thousands of metres below the earth and is warmed to temperatures pushing 100 degrees celsius by geothermal energy before rising through fissures and faults in the limestone to the surface where it emerges at a rate of over a million gallons a day at a temperature of 46 degrees. Nowadays of course, bathing isn't permitted (I had brought my swimming shorts and everything…) but visitors are curious to touch the water with their hands just to check that, yes, it is indeed water.

There are audio guides included in the £20 weekday admission price (£22 on weekends - 10% discount if booked online) and these were excellently done, with options to select a normal tour, a child-friendly tour, and thirdly the option to listen to Bill Bryson's perspective on various parts of the baths. I'm a huge admirer of Bryson's writing and so to have him accompany me as it were around the baths added an extra special element to the experience. I would even go as far as encouraging every heritage site in the UK to hire Bill Bryson to provide an audio tour. These audio guides do have their drawbacks though; they can often be heard as you pass other people and they force everyone to walk around as if they're on the phone, but generally they're great and a fountain of information if the site hasn't chosen the lazy option of just recording an actor reading the information boards. The ones at the Roman baths are superb.

There's plenty to see around the central bath with loads of museum rooms exhibiting Roman artefacts and everything you need to know about the history of the site. I went in August at a weekend so it was heaving with other tourists, but I imagine it's probably always pretty busy so get used to passing by dawdling groups to read the information boards.

Overall, Bath is a very good day trip or could offer a relaxing weekend stay. The city is very pleasant, one of the nicest to walk around in the UK and is well connected by train as it's just a stone's throw from Bristol.
Read more from 27for27 here.
---
March 2018 - We had another night in our camper, this time in Exmoor NP. In the morning we wanted to have some Cheddar and went straight through the Name giving Gorge. Unfortunaley beside some tourist traps, there wasnt much for cheese lovers.
We arrived in Bath around 10 am. The city was already crowded with touristst and visiting school classes. We found a parking lot just at the Circus and walked for about two hous throught the Victorian city landscape. We also visited the roman bath but didnt enter. Lots of money for a reconstruction?! Interesting was also the bridge, when standing on it you dont even have the impression you are on a bridge. A little bit like Ponte Vecchio in Florence with all these shops.
The city is very intact and planned well. Nice to visit and take a step back in history. We enjoyed it very much and it was very realxing before we eventually went to Bristol.
---
Visited October 2016. You can visit the city of Bath as a day trip from Bristol or even London. The train station Bath Spa is located just few hundred meters from the main attractions of the city.
Of course the most important monument is the museum located at the sites of ancient Roman baths. I can hardly imagine visiting these baths during summer weekends: even in October the place was so crowded and the line for the tickets so long – it took us almost one hour to get in! But when you're inside, just enjoy the underground labyrinth of alleys. They have audio guides in many languages. After visiting the museum it is good to have a cup of tea in the Pump Room.
The medieval part of Bath is the Abbey Church of Saint Peter and Saint Paul, commonly known as Bath Abbey. Don't miss the the sculptures of angels climb Jacob's Ladder on the west front and some very interesting memorials; one of them belonging to Sir William Baker, director of the East India Company (camel) and the governor of Hudson's Bay Company (beaver).
The city is full of Georgian architecture: Royal Crescent, Circus, Gay Street, Pulteney Bridge.
---
The City of Bath – my nearest WHS – is really two significant cities, one on top of the other (perhaps a bit like Aquileia). It have been there several times, including in May 2014 and July 2015. Bath is notable as both a Roman town "amongst the most famous and important Roman remains north of the Alps" and as a triumph of Georgian town planning.
Among the artifacts discovered in Bath is a fierce-looking carving that stood over the entrance. Archaeologists don't agree on whom it is meant to depict – with snakes for hair it resembles a gorgon, except for the fact that gorgons were always female, and this face is clearly a man's.
In addition to the bathhouse, Bath is famed for its consistent and extensive Georgian architectural style. This was the pet project of three 18th century architects under George III who set out to create in England one of the most beautiful cities in Europe. We crossed the river Avon, where a boat appeared to have taken a wrong turning, and walked up the impressive Great Pulteney Street toward Sydney Gardens.
I returned Bath the following summer. This time we went inside the preserved house, Number 1 Royal Crescent. It is a well-kept Georgian house with three stories and a prime position on the crescent, giving it an enviable view.
---
I visited Bath on a short day trip in June 2013. It definitely deserves at least a long weekend but hopefully I'll visit again sometime. The Roman Baths and Pump Room are in very good condition and the audio guide or live guide tours are very informative and not at all boring. The sheer size of the baths is mindboggling. Pulteney Bridge is no Ponte Vecchio but still I enjoyed a quick stroll round the nearby gardens. All the buildings are very well kept and did not suffer any major damage during the Wars. The Royal Crescent and Circus are a work of art and worth a visit too. The locals are really friendly and very welcoming, so I next time I'll allow a longer visit to enjoy all the sights at a slower pace.
---
Dr. Klaus Baum
I made the same experience as Josh from the USA. I attented an English Language Course in Bath and found the City very stunning. Because I lived in a house of London Road, I had to bear heavy traffic every day on my way to school, so I decided to take some pictures of the traffic, especially of the buses in the City Center: a small documentation of one of the main sources of air pollution in Bath.
http://www.fotogemeinschaft.de/v/fotografen/Klaus-Baum/bath/
---
Josh
I found that Bath itself is quite a visually stunning city.It's large cathedral is somewhat stunning,particually so at the night time.I believe that it is best experienced at winter time.The only disappointment i found with bath is the ever-growing pollution and the large ammount of rubbish and litter.Even though, Bath is a nice place to live and visit with many things to do.
---
3.00 The Netherlands - 12-Jun-02 -
Arriving from Cardiff by train, Bath presents itself as a clean, quiet and green city. The railway station even is called Bath Spa, a double hint to the town's claim to fame.
The Roman Baths lie in the city center, amidst the 21st century shops and restaurants. The baths are now 6 meters below street level: amazing to think how many building generations have passed to add so many new layers of bricks.
Descending to the ground floor where the actual baths are, you pass the elegant Pump Room. This has been the place to taste water from the spa for ages (I didn't). Further down, the museum proudly displays its topclass exhibits, as the almost intact bronze head of Minerva. Finally arriving at the baths you can sit and relax, imagening yourself to be a real Roman.
---
I have to say that I was somewhat disappointed by Bath. The Roman Baths are very impressive, very well preserved, and definitely worth a visit despite the price, but the rest of the city was a bit of a let-down. The cathedral is nice, but not really special, and the 18th-century buildings like the Royal Crescent are small and somehow inconspicuous. Go to Bath if you are in the area, but it's not really a must-see sight. Actually I liked nearby Bristol much more - a lively city with plenty to see and do.
---
I have visited Bath on several occasions now and it is a really lovely city to visit, quintessentially English, but famous for its Roman roots. The whole city is made of local sandstone and it looks very impressive, especially if you manage to visit on a sunny day when the warm creamy stone seems to glow and liven up the whole centre. The interior of the Abbey is well worth a look as it has some impressive fan vaulting.
Perhaps one of the most impressive features and the most famous are the Roman baths, and I would strongly recommend paying the high entrance fee to see them, they really add to the whole experience and there is a lot more to see than just the central pool, the remains of the roman temple, which lie underneath the main square are particularly impressive.
Much of Bath's lay out and current architectural features are from the Neo-Classical Georgian period, which had a huge impact on the design of a huge number towns in Britain as well as further abroad (Edinburgh and Monticello/ University of Virginia are other WH sites where you can see this). Two of the most impressive examples of this style are the Circus and the Crescent which are a little further up through the town, providing a nice walk.
Bath is very easy to get to, it is on the main train-line from London to Wales easy to get to from the south as well, if you have a car it is just off of the M4 which runs from London, (just off of this road is Avebury which is part of the Stonehenge World Heritage site as well near Swindon). Bath is a nice day trip from London, and is impressive due to its uniformity.
---
GeorgeP
I spent 6 months in 2003 at City of Bath as a Socrates-Erasmus student. This wonderful city created an lovely impression at me.
Its clean green parks, street entertainers, helpful people and Abbey Churchyard are forever written in my mind. Daily Bath is quite busy and full of tourists but City Centre at night is such a silent, amazingly lit and romantic place!
It is worth visiting for everyone!
---
Site Info
Full Name

City of Bath

Unesco ID

Country

Inscribed

Type

Cultural

Criteria

1

2

4

Categories

Link
Site Links
Unesco Website
Official Website
In the News
Visitors
715 Community Members have visited.