Kew Gardens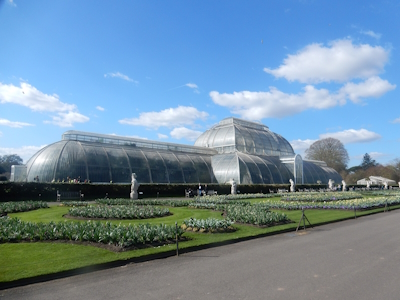 The Royal Botanic Gardens, Kew, were added to the list because of their role in the history of botany and their landscape gardens. They are located in the London suburb of Richmond
The Botanic Gardens at Kew were formally established in 1759. The sponsor of the project was Princess Augusta. It aimed to create a garden which would "..contain all the plants known on Earth".
William Aiton was hired as gardener, and he devoted the gardens mainly to medicinal plants. International fame was brought upon Kew by Joseph Banks (1743-1820), who changed its direction to serious scientific and economic botanical purposes.
The architect William Chambers constructed a number of (oriental) decorative buildings at the site.
Visit May 1987, January 2004
2.0
First visited it on the same schooltrip as Westminster. Some 17 years later I went back, mainly to add some better pictures to this site.
My second visit was cold and very slippery, and I was almost the only tourist around. From my previous visit I remembered the palm trees and cactuses. Probably that was the dry area in the Princess of Wales Conservatory: still interesting, but when you've just been to Northern Ethiopia like I have, you prefer the real thing.
After an hour or so I began to notice something else than nature: the neverending stream of planes that fly over Kew Gardens from or to Heathrow Airport.
Click
here
to see more of my photos of Kew Gardens
Community Reviews
---
I should apologize to Kew Gardens that I ever associated it with The Avengers movie (not that one -- the other one you've tried to forget); apparently filming was done at nearby Syon House. Now that I have disassociated the fine Kew greenhouses and grounds with any ridiculous plots to control the world's weather, I can look back at my visit to the gardens with newly-appreciated gravitas. And, in all seriousness, I fully enjoyed my visit to the gardens in the spring of 2009. The gardens claim to have the largest and most diverse botanical collection in the world, and these are on fine display throughout the grounds. I arrived in April, just in time to see great swaths of bluebells showcased throughout the woods. Cherry blossoms and other flowering trees were also in bloom. Within the greenhouses were orchids, water lilies, and a range of plants from alpine to desert climates. I particularly appreciated the engineering of the vast Palm House, with its wide array of palm trees on display. I enjoy wandering around gardens in my travels, and Kew Gardens is among the best I have visited.
Logistics: Kew Gardens, west of central London, is easily accessible by the Underground via the Kew Gardens station on the District Line. There is also bus and train access, as well as a car park for drivers.
---
Kew holds a special place for me because it was the first WHS I visited once I decided to embark on this esoteric hobby. It is also, now I live in London, my local WHS - being only 1.5 miles from my house. I've been a number of times since my first visit, in June 2013, and am now a member (entry is very pricey if you pay the normal entry fee).
I'm no herbiphile but it's always nice to enjoy the tropical environment of some of the glasshouses. Look out for the nine Water Dragons that live in the Princess of Wales Conservatory!
---
Tony Hunt
I revisited Kew in April 2014.
My advice to first-time visitors is a) don't be put off by the airliners every 2 minutes - you'll get used to them: b) don't miss Kew Palace - it's tiny compared to WHS palaces like Versailles or Caserta but that's the point, George III lived frugally unlike autocratic monarchs elsewhere (Palace and kitchens now included in the entry price for the gardens); c) avoid the White Peaks café area - the historic Orangery does snacks as well as meals and is quiet and airy.
One of the big historic glass-houses - the Temperate House - is empty awaiting repairs to be completed 2018, but the other, the Palm House has been repaired and is open. The Pagoda may disappoint - there is no access and it lost its 80 gilded dragons long ago. The new Alpine House is a tiny gem and the Princess of Wales Conservatory should not be missed. Easily overlooked but one of my favourite buildings is the Marianne North Gallery built in C19 specifically to display the life work of a maiden lady who travelled the world painting plants and landscapes rather well.
Finally, of course the plants, trees and landscaping at Kew are wonderful - best to allow a whole day to see it all.
---
There is not much more to add to the other reviews about Kew Gardens - it makes for a very nice half-day excursion from the hustle and bustle of central London (after a while you even forget the planes flying directly overhead). Even if you are not that much into plants and horticulture, this is the one botanic garden in the world that you shouldn't miss. I went there on a warm and pleasant summer afternoon, and it was really nice to take a leisurely stroll through the garden and see the various greenhouses and other attractions. My highlight was the Princess of Wales Conservatory, which includes 10 climate zones from around the world. I also liked the huge Palm House, the Waterlily House, the Alpine House, the Japanese Garden, and the former royal palace with the Queen's Garden. Before leaving, I also enjoyed the views from the Treetop Walkway, 18 metres above ground (even though I cheated and took the lift to reach it...).
---
I visited this WHS in June 2013. The ironwork is still intact and well preserved. Obviously this is just the cherry on the cake, since Kew Gardens are world famous for the collection of plants and flowers. My personal favourites were the lily pads and the carnivorous pitcher plants. The cacti were very interesting but I felt that the cacti in YSL's Majorelle Gardens in Marrakech were better kept. Only negative point about this WHS is that it is en route to Heathrow which means that every minute 2-3 planes fly over it. Very annoying if you like peace and quiet ... bring your earphones and listen to some music and it'll do the trick :)
---
I have to say that I am extremely skeptical with historic botanical garden, after I have a very disappointing experience with the UNESCO's listed Orto Botanico of Padua in Italy; as a result, before I decided to include Kew in my plan I had to ask many people who had been to this place to confirm my misrepresentation toward the site. At the end Kew turned out to be one of the top sites in my England Tour with many surprisingly reasons. When I entered the garden the first thing I saw was not a tree or flower but a peacock! This creature welcomed me at the gate, my mind was in great curiosity that "Am I entering Maharaja's Garden?"
Liked a spell I followed that lovely peacock until I saw the landmark of this garden, the conservatory building, a masterpiece of Victorian Age. When I entered the building while I was wandered with many beautiful plants, I was upset with the moist that covered my camera lens and my glasses. Then I walked around the garden to see other attractions, I was surprised with the quality of landscape garden, in my opinion, Kew was equally impressive with many royal parks in Europe. There were Chinese pagoda, Chinese lions, Roman temple, bridges and even modern structure to bring me to the tree top observation. It was a great sight to see the sea of violet crocus in almost every corners of the forest garden in early spring with modern art sculptures by David Nash that located in the garden as an exhibition.
Another surprised for me was the souvenir shop; Kew had many unique types of merchandise that were perfect for gifts from toiletries like soap, lotion, balm made from lavender, rose and other flower from the garden to kitchenware and stationary. I really enjoyed browsing these products and end up with many gifts to my family and friend. At the end Kew turn out to change my idea on visiting botanical garden. I really enjoyed the visit and after discovered the high quality of the product I bought, I really want to visit Kew to see that peacock and souvenir shop again.
---
The highlights at Kew Gardens are the two greenhouses from the Victorian period, the Temperate House and the Palm House. Both are marvellous examples of glass and iron structures. The sheer size of the Temperate House is impressive and the diversity of plants is incredible. I liked best to climb the spiral stairs and to walk around the galleries (photo). I visited Kew Gardens together with a biologist, which was a double-edged experience. She knew almost all the plants and it was interesting to hear a lot of details about all these exotic species, their habitats and characteristics. On the other hand, it was often exhausting to go just a few steps forwards to the next plant. And now I have hundreds of photos of plants and details of plants on my computer, in addition to the many pictures of the buildings themselves, which I took.
Also worth visiting is the modern Princess of Wales Conservatory, which houses plants from ten different climatic zones. It was opened in the 1980s, and it is interesting to compare its modern architecture with the Victorian greenhouses. Not to be missed are the beautiful Waterlily House and the small Alpine House. And I was very impressed by the old giant trees that are everywhere throughout the park. There is also a Royal Palace, the Kew Palace, but we decided not to visit - plants were clearly the topic of the day. For the way back, we took a boat to Westminster. That was very relaxing and a wonderful end of an exhausting day trip.
---
Fiona
Kew Gardens is one my favourite places in the whole, wide world. I love the plethora of plants, the fabulous flowers, the walks through the different houses that give me different views of different places. I love the Rhodedendron Walk and the huge trees, the panoramas, the bamboo groves, the swaths of daffodils in spring, the Alpine House with all those miniature plants and flowers, including Edelweiss, if you like "The Sound Of Music" and ever wondered, like me, what the edelweiss actually looks like. The Palm House is an extraordinary piece of architecture. I was lucky enough to go to Kew when they had just finished renovating the House but before they put all the plants back, and was able to sneak in there and take some pictures of those lovely spiral stairs. The Princess of Wales House has 10 different ecosystems in it, and I think it is fascinating...I don't know that I will ever get to the high desert in the Andes, but I know what some of the plants there look like! And of course, the tropical rainforest is lush and magical - what a great place to go to when London is grey and dank and cold! Kew Gardens is a magical place, and PBS recently showed an intriguing series: A Year At Kew, that showed some of the things that go on in the background, what it takes to maintain Kew and have it stay viable as a resource. I think well worth going to, and I always visit at least once when I go to London.
---
I visited this site back in June 2005 and I didn't know then that it is WHS. I wanted visit this site because it's the best place to spot wild parrots in London. The garden was beautiful and peaceful place (after you get used to noises from planes), tube station is located near it and I spotted parrots (and many other bird species)! I spent the whole day walking around the park. My favourite part was the pagoda. I felt like I was in China or Japan.
---
Rita
A longtime dream turning true: visiting Kew gardens. One day is not enough for an amateur botanist but what can a tourist do? Memories in a couple of words: the royal home is worth a visit, well shows what life was like for the elite way back in time, the exhibition area has always something new to offer, the palm house which is incredibly huge with all the plants you will never see in the wild. The most surprising feature? The airplanes flying low (with the noise which accompanies such a sight) to reach Heathrow.
---
I visited the Kew Gardens in septembre 2009. I particularly liked the glass houses. I loved walking through these old Victorian creations. The temperate house even contained plants from the Lord Howe Island world heritage site. I expected more flowers in the park itself but nonetheless I enjoyed seeing this site. It's a very nice place to walk through and to enjoy the scenery.
---
I have been to Kew Gardens twice, once in summertime and once in wintertime. As I come from a country which enjoys exceptionally mild winters I couldn't have really imagined that seasonal differences would be so extreme. But they were indeed. Behold - Do not visit Kew Gardens in the winter! It is a relatively long ride from central London, costly tickets and in the winter, a dreary atmosphere and a vacant expression. Not very rewarding, to say the least. Conversely, a summer visit is a lovely experience! For the merits of the gardens do read other comments.
---
Over the years Kew has been one of the World Heritage Sites I have visited most regularly. Moving from a place I enjoyed for chasing ducks as a child, through to a pleasant garden and on to a site where it is clear to see its role in the development of scientific research.
In 2003 Kew became London's 4th (and largest) World Heritage Site. It is set next to the river Thames upriver from central London. The grounds themselves are actually quite expansive and could easily fill a whole day if you wanted to really get into them. The plants are actually rather interesting (even if you are not a keen horticulturalist), and there was enough to see to satisfy me.
For me though the main point of interest was the architectural ensemble of the main greenhouses with the magnificent Palm House being my highlight. You will be hard pressed to find better examples of Iron and glass architecture than this, the detailing, especially on the spiral staircases, is magnificent.
The other glass houses house some great exhibits, carnivorous plants and the largest flower in the world being two examples and there is plenty here to keep you entertained. Then there are other small little things around, such as a Japanese Garden and a large Pagoda all set in well kept gardens.
In the last decade the opening of the wonderful tree top walk has added another interesting element, one that shouldn't be missed. It has helped focus on the arboreal collection as well.
Kew has also become great place for Londoners to visit in the Christmas period when the grounds are magnificently lit, though if you are interested you will need a separate night ticket to see them and these are popular so you may have to book in advance.
It is very simple to get there from Central London as it has a tube and mainline station nearby and its location on the river means it is also served by Thames ferry service. Additionally it is close to Heathrow Airport, so could be visited if you have a layover there.
(You can even, like me, use it as a start or end point of a run that takes in all four of London's WHS, if you have a handful of hours to spare and some shoes that will carry you over the 16 miles between here and Greenwich).
It is well worth a visit if you have some spare time and is the sort of place that makes living in and around London so exceptionally rewarding.
---
Site Info
Full Name

Royal Botanic Gardens, Kew

Unesco ID

Country

Inscribed

Type

Cultural

Criteria

2

3

4

Categories

Link
Site Links
Unesco Website
Official Website
In the News
Visitors
340 Community Members have visited.