Blog: Teylers
Teylers is an 18th century museum complex and former scientific institution in the centre of Haarlem. It has been on the Dutch Tentative List since 2011, and even already was brought up for nomination in 2013. However, ICOMOS advised a 'Rejection' and the nomination was subsequently withdrawn by The Netherlands before the WHC session. The nomination failed to convince of the building's scientific purpose (next to being 'just' a museum) and only small part of the complex was seen as exceptional. The Dutch still have hopes for a future renomination though, especially after several extensive renovation projects will be finished.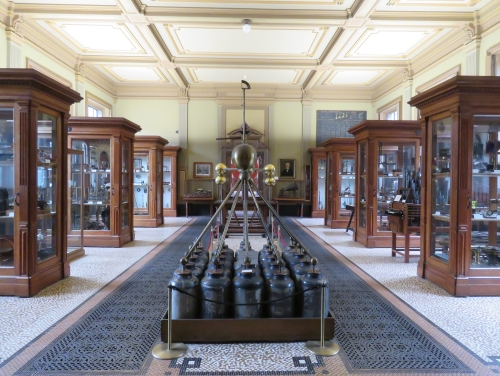 The First Room
I had visited Teylers before in 2010, but was very disappointed at the time because of its small size and presence of crowds of inexperienced museum visitors. Now, in 2018, they have finished one of their major projects: the Lorentz Lab. This shows the office and laboratory of physicist Hendrik Lorentz, winner of the Nobel Prize in 1902 and "leading spirit" in an international network of early theoretical physicists that also included Albert Einstein.
On a rainy Sunday in March I paid the quite hefty 13.5 EUR entrance fee plus 1 EUR extra for a tour of the recently opened Lorentz Laboratory. I was one of the first to enter the building and directly walked all the way to the end, to the Oval Room. This was the only part that ICOMOS deemed of exceptional value, although its value also is as much about the (moveable) exhibits as about the design of the room. It is here that scientific experiments were shown to the public. Visitors could look down upon that from a balcony (now unfortunately closed).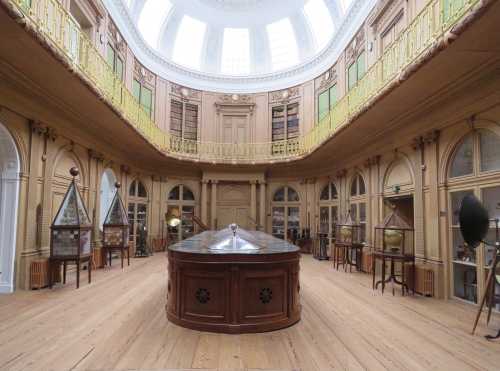 The Oval Room
The room is full of cabinets stuffed with scientific instruments. What they are is written on small accompanying notes in Dutch and English, but how they were used remains a mystery to the visitor. This is a handicap of the whole museum: there is so little space in the 3 original rooms and the entrance hall that there is no room for interpretation.
They've tried to solve this issue with the Lorentz laboratory. Access is only possible by a guided tour, a few times a day with a maximum capacity of 20 people. The tour is conducted by 2 actors, who tell about the life of Lorentz and reenact some experiments. It's totally in Dutch and mostly relies on the spoken word, so it's not worth it for foreign visitors I believe. The most spectacular 'experiment' takes place at the end of the 50 minute tour: a copy of the large electrostatic generator (the original from 1784 is in the museum upstairs) is put to work to generate electrical sparks.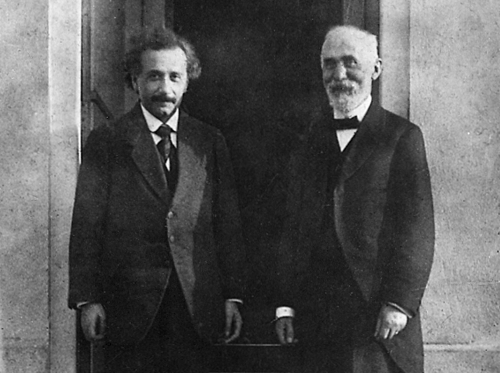 Lorentz and Einstein
With this exhibition, Teylers is adding the promotion of scientific knowledge to the general public again to its agenda. I doubt however that this will be enough to convince the WHC of a future inscription. To me they seem to strive just a little too hard for gaining WH status, while the visitor numbers are high already at the moment (127,000 in 2017) and there is little space for growth in the 18th century complex.
Published 17 March 2018
Leave a comment
Blog: One million or more
Since a couple of years we maintain a Connection at this website called One Million Visitors or More. It contains the sites - with entry regulations - that are visited by more than 1 million people yearly. The list currently sports 90 WHS; so some 8% of the sites on the List we can regard as highly visited. Over the past few days I have brushed up this Connection and tried to replace older visitor statistics with those from the past 2 or 3 years. Below are my findings.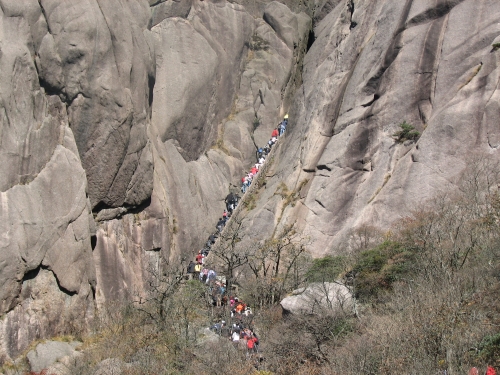 Huangshan: my worst crowd-related travel memory
I had to remove Mammoth Cave, Canterbury Cathedral, Museuminsel and the Tokyo Museum of Western Art (one of the Corbusier locations): they fell below the one million a year mark. Berlin's Museuminsel seems to suffer from the renovations that have been taking place since 2014 at the Pergamon room with the Altar in the Pergamonmuseum. Canterbury Cathedral had to deal with both the introduction of an entrance fee and fear of terrorism: "Our only problem has been a drop in continental school groups. Because we are on the way from Dover to London, about 25 per cent of our visits are school groups."
Other significant drops in visitor numbers include the Acropolis (almost half in from 2009-2017) , Istanbul's Hagia Sophia, Paris (a 15% drop blamed to terrorism, measured by the Louvre statistics) and the Tower of London. They all are well above the one million threshold though, and may rebound quickly with the increase of political stability in Greece/Turkey and the absence of terrorist acts.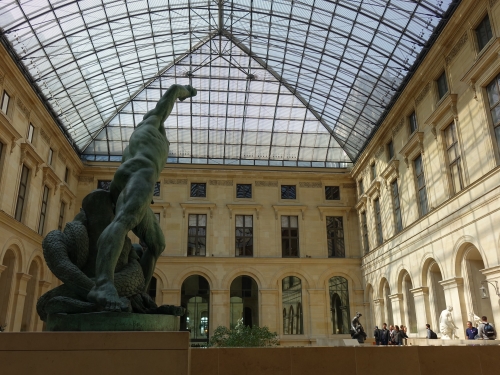 The Louvre in Paris on a quiet day
However, the visitor numbers of most in this already highly visited group of world class sights are on the rise. At least 13 WHS have risen significantly, adding another million yearly visitors or even doubling their figures. These include various sites in and around Rome (Colosseum, Vatican Museums) and Pompeii. St. Petersburg's Hermitage leapt from just over 3 million to 4 million in the years between 2014 and 2016. This is attributed to the increasingly easy and fast railway connections with Moscow and Helsinki. Iconic sites such as Chichen Itza, the Taj Mahal, Borobudur and Schönbrunn, and even Auschwitz, have seen sharp rises in visitor numbers as well.
Almost unbelievable numbers are coming from China. An essentially quite remote natural site such as Jiuzhaigou saw 5.14 million visitors in 2016. Huangshan had 3.3 million, a rise of almost 2 million since 2001.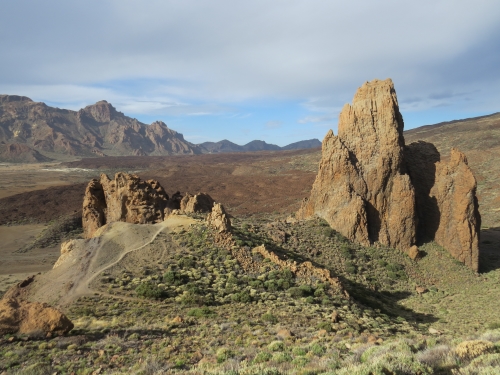 Teide National Park, over 4 million visitors
The growth of overseas travel by Chinese tourists is often seen as the main reason for these strong growth rates. At the Kremlin museum in Moscow (2.2 million people yearly), they report: "a huge wave of Chinese tourists has descended on the Kremlin, far outnumbering the previous flows of American visitors. The Chinese visits are usually organized by Communist labor unions. Most of these tourists are elderly, and still remember the period of Chinese-Soviet friendship. 'They always ask where Lenin and Stalin lived, and are disappointed when I tell them that the Lenin exhibit has been moved to his residence at Gorki Village near Moscow'".
Published 3 March 2018
Leave a comment
Responses to One million or more
Solivagant (3 March 2018)
The number and concentration of Chinese visitors in Thalland last December was just overwhelming - at 10 am a "never ending" stream walking down Atsadang Rd towards the Palace area. All led by their respective guides and the obligatory "Recognition flag". You can get advice on timing to minimize the crowds at Wat Pho etc but you won't escape! Guangdong - Bangkok is a mere 2hrs 40 mins for 1700 kms. In 2016 there were just under 9 million Chinese tourists into Bangkok - a 3 fold increase in 5 years and both Bangkok airports are operating at way over capacity. 10 million is forecast for 2018. Even if those numbers were evenly spread (which they are not - don't even think of going at the time of Chinese Holidays) that would mean 25000 visitors to the Palace each day! See -ttps://www.bloomberg.com/news/articles/2017-12-20/thai-airport-misery-may-last-years-as-chinese-overwhelm-upgrades
The vast numbers bring with them vast problems for the Thai authorities and the benefit to Thailand is minimised by such tourism-spend often going straight into the hands of Chinese, by-passing Thais and government taxes.! Look up - "Zero $ tourism" (everything paid "up front" and nothing to Thai businesses) and "forced shopping" (so the organisers make something at "their" shops and restaurants from under-priced packages!). Such numbers strain relationships,and Thai Newspapers contain reports of anger arising from cultural conflict between Thais and Chinese, See - http://packthailand.com/rude-chinese-tourists-behaviour/

---
Blog: WHS #654: Ibiza
Ibiza, Biodiversity and Culture is one of the most eclectic WHS on the list. It includes seagrass beds, salt lakes, Phoenician ruins and 16th century military fortifications. As far as I am aware, there is no common link between these features besides their geographical proximity. Previous visitors rated this WHS a meagre 2.08 out of 5 stars on average, so my expectations were not high when I flew out to Ibiza for a weekend in late February. But at least I would enjoy 2 days in the sun while it was freezing severely at home.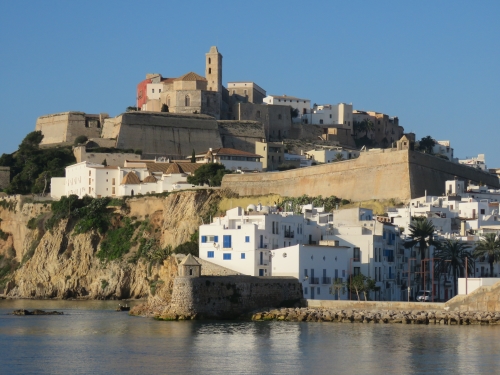 Dalt Vila
Saturday I spent on Formentera, Ibiza's small sister island that lies half an hour away by ferry. It is much more unspoilt, and features 32 'green routes' of hiking and bike paths. The northern tip of Formentera is also part of the core zone of this WHS. It is known for two things: the salt flats, where flamingos and other birds nestle in winter. And for the ecosystem of the Posidonia seagrass – possibly the most unknown part of the site's OUV.
By following the trails #1, #19 and #2 from the harbour of Formentera, I created a nice 14km hike through Parque natural de Ses Salines. I was looking out mostly for the seagrass, and was expecting to see long, flat strips of green leaves underwater near the shoreline. I had no luck until I entered the beach of Ses Illetes ('the best beach in Europe', and a nudist beach too!). It is renowned for its very blue water and soft sand – both effects of the seagrass prairies that act as natural barriers. While walking on that beach I saw tons of brown strips that could be nothing else than dead seagrass. Next to it were hundreds of hairy balls, similar to kiwifruits: these are balls of fibrous material from the Posidonia seagrass foliage. A really odd sight.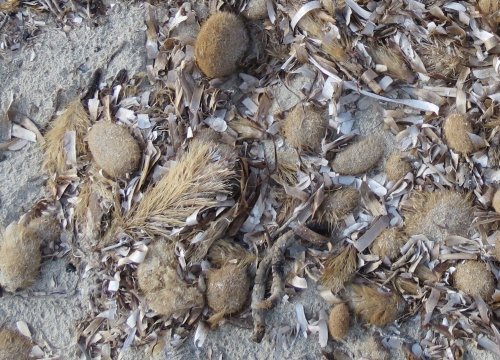 Hairy seagrass balls
On Sunday I started out at the Puig des Molins museum. It is located in a residential area in the center of Ibiza-City. Entry is free on Sundays, and this is a site well worth visiting. The museum has 5 display rooms full of Punic, Phoenician and Roman findings from the cemetery that was present at this location. The remains of the dead were buried together with numerous objects, of which the painted ostrich eggs stand out most. Lots of Egyptian-style figurines were also found. The only downside of the museum is that all texts accompanying the objects are in Catalan and Spanish only. Afterwards one can also have a look into one of the hypogea (or rather: a network of connected hypogea), which lies in a field next door.
Finally I made my way uphill to Dalt Vila, the fortified upper city towering above modern Ibiza-City or Eivissa. On a Sunday it is totally devoid of any action. There are some viewpoints from where you can have a look at the fortifications or the harbour, but that's about it. I was pretty disappointed by it all.
Bust of the Punic goddess Tanit
In the end, my first hunch that allocating one day for the whole Ibiza WHS was already enough turned out to be true. I spent Sunday afternoon reading and enjoying the sun in the harbour. I had no idea what else to do. The excursion to Formentera and the pleasant hiking over there will remain as my best memory of this weekend trip.
Published 25 February 2018
Leave a comment
Blog: WHC 2019: Plečnik in Ljubljana
Slovenia's Tentative List features The timeless, humanistic architecture of Jože Plečnik in Ljubljana and Prague. As the title already implies, this was meant to be a serial transnational nomination by Slovenia and Czechia. Last December however, after consulting ICOMOS, Slovenia decided to continue with the efforts alone: "the transnational bid was assessed as having little chance of success". It is unclear yet whether they made the 1 February 2018 deadline for submitting the dossiers to be nominated for the WHC 2019, but we can safely assume that Slovenia will put this site forward within the next couple of years.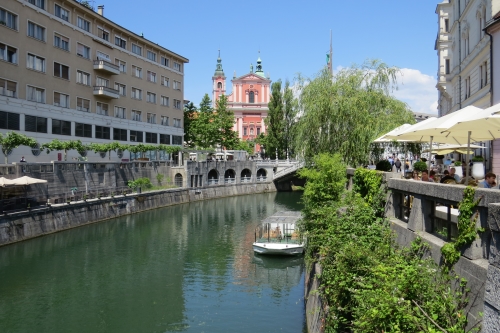 Ljubljanica River riverfront
Jože Plečnik was a Slovene architect who made his most important works in the first half of the 20th century. He is nicknamed "the Gaudí of Ljubljana" for this architectural imprint on the city. I visited Ljubljana in 2014 after a few days checking out (T)WHS by rental car around Slovenia. This site wasn't on the Tentative List at the time, so I had to revisit my photo archive of the day to see if I had visited (photographed) any of his buildings anyway. The city is strong on Art Nouveau as well, and examples of that style stood out more to me in the streets of the Slovenian capital than the works of Plečnik.
I spent most of my time at the embankment of the Ljubljanica River, an area in the city centre with lots of cafés and restaurants. This is already Plečnik Central. He was responsible for the masterplan to redesign the riverfront. It resulted for example in a total makeover of two existing bridges and the addition of a colonnaded market building.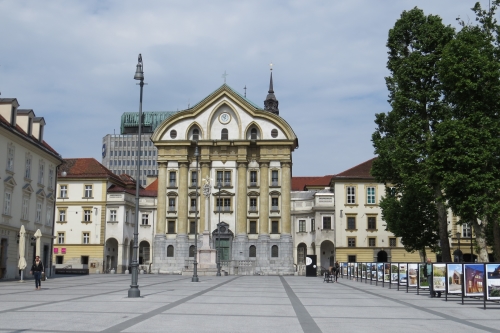 Congress Square, renovated by Plecnik
The nomination will be a serial site of (at least) 4 locations across Ljubljana. Most iconic is the Slovene National and University Library building. It's huge, with a square ground plan "modelled in the manner of the Italian palazzo". Entrance for tourists is limited, but you can visit it on the twice-weekly "Walking Tour of Plečnik's Ljubljana" organized by the Ljubljana Tourism Organisation.
To me, the story of Plečnik and Ljubljana parallels that of Ödön Lechner's Budapest, which I visited and reviewed a few months ago. These architects have had a large impact on country level, but lack the international exposure and following that for example Le Corbusier or Frank Lloyd Wright have had. Neither have they designed single buildings that are so iconic that they could compete in the league of the Sydney Opera House.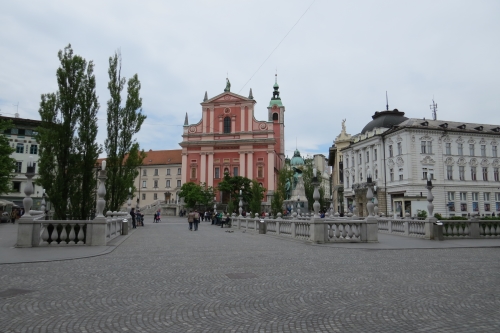 Part of the Three Bridges, designed by Plecnik
The Czechs were dismissed by the Slovenians and will withdraw their tentative site. At the Church of the Most Sacred Heart of Our Lord in Vinohrady, the single location that was proposed in Czechia, they were actually grateful for the outcome. The commitments resulting from a UNESCO listing would be a burden for the parish: "The church, ..., must first remain a church, a sacred space ..., and almost all the profane tourism of today is not very good".
Published 17 February 2018
Leave a comment
Responses to WHC 2019: Plečnik in Ljubljana
Ian Cade (18 January 2038)
Thanks for flagging this up Els, I hadn't realised the Czech location had been dropped.

The church in Vinohrady is a rather peculiar building, worth a quick view if you happen to be in direct area, but not one I would go out of my way to see.

It seemed odd that they didn't include Prague Castle in the proposal as well, as he was the key planner in refurbishing the site, and much of the more subtle aspects of the tourist route through are based on Plečnik's work.

Oh well it removes a potential preemptive tick for me, if it does get inscribed I guess I have more of a reason to finally get to Ljubljana.
---
Blog: The Rebirth of Bodh Gaya
I regularly check Amazon.com for new publications on World Heritage, and I found one at the end of last year that sounded interesting: The Rebirth of Bodh Gaya: Buddhism and the Making of a World Heritage Site
by David Geary. The Mahabodhi Temple Complex in Bodh Gaya, centred around the descendant of a Bodhi tree where the Buddha is said to have attained enlightenment, has been a WHS since 2002. The author (an anthropologist) did extensive fieldwork in Bodh Gaya in the years after the designation, and this publication - written with a general audience in mind – reflects his findings.
The complex history of the Mahabodhi Temple
The book starts with an interesting deep-dive into the site's history, after its 'rediscovery' in the mid-19th century by state-sponsored Burmese pilgrims. At the time it was already an active Hindu pilgrimage site. There were no Buddhist residents in the area. During the 20th century, Buddhist countries and organizations from abroad started to add monasteries, temples and lodges in their own architectural styles to the area around the main temple. To acknowledge the rise in importance for Buddhists, the site has been under joint Hindu-Buddhist management since 1953.
The site got another push after the escape of the 14th Dalai Lama from Tibet to India in 1959. In his footsteps, over 100,000 Tibetan Buddhists moved to India. The Mahabodhi Temple became an important pilgrimage site in their new homeland and the Dalai Lama regularly teaches there.
"Tibetans in exile have lead to the internationalization of Tibetan Buddhism and the revitalization of many Buddhist sites in India."
The implications of having a WHS in your backyard
Bodh Gaya is located in the state of Bihar, which for long has been regarded as one of the most backward, poor, corrupt and unsafe parts of India. Nowadays it markets itself as 'Blissful Bihar', and is actively attracting Western and Asian tourists along its spiritual circuit that also includes Nalanda.
All developments described above – the foreign-owned monasteries, the Tibetan influx, the state government marketing schemes – largely have disregarded the local population. The WH designation, with its need for clearly defined core and buffer zones, is seen as another outside influence that impacts their daily life. It served as an alibi for the authorities to push on with their master plan for beautification and "disguise the messiness of everyday". The locals had to move their shops and have seen a protective wall built to shut them out of the core zone, while foreign Buddhist countries still continue construction in the same area. Geary's proposed solution is to approach the Mahabodhi Temple Complex as a living religious heritage instead of a museum or archaeological site.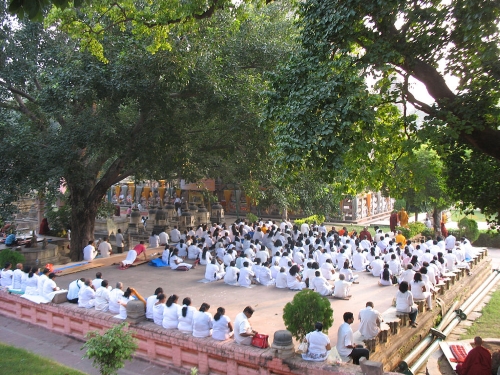 Sri Lankan pilgrims at the site
Readers that are interested in Indian history and current affairs, as well as those curious about the heritage management aspects of a World Heritage designation will surely enjoy this book as much as I did.
Published 10 February 2018
Leave a comment
Responses to The Rebirth of Bodh Gaya
Clyde (18 January 2038)
I really enjoyed my visit in Bodh Gaya even though mostly for intangible heritage. Definitely worth reading even if only for a trip down memory lane!
---
Blog: Tips for travelling to Namibia
In December and January I spent 2.5 weeks in Namibia. I joined a 7 day small group tour to the South, a 7 day tour to the North (both organized by the recommended Wild Dogs Safaris) and had a few days by myself in and around the capital Windhoek. This is a very special country, comparable to few others around the world. Mongolia and Australia's Red Centre come closest.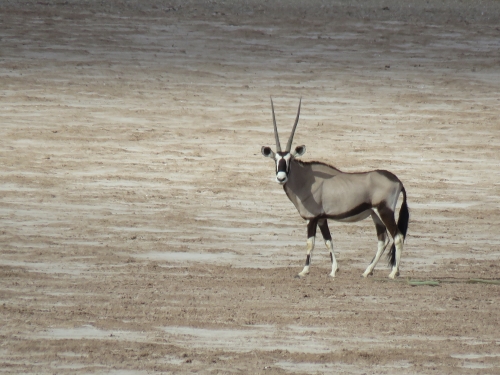 Oryx in the Kalahari desert
1. Do not underestimate Namibia's size
Namibia's land area measures 823,290 square km. This makes it the 34th largest country in the world – larger than Turkey for example, and about the same size as Spain and Germany combined. For a traveller, this means that you will have to cover vast distances. On my 2 week organized tour, we drove over 4,000 km. And this on mostly unpaved roads. Those (gravel) roads often can be quite smooth as they are 'raked' every few weeks. But they can be very bad as well: I especially remember the hard driving in the western part of Etosha National Park and at the over 100km long access road to the Fish River Lodge.
2. Focus on the Tentative List too
Namibia has only 2 WHS to date, and that is far too little for a country of this size and state of preservation. So you should take a good look at its Tentative List for further inspiration. The 3 TWHS that I reviewed (Fish River Canyon, Benguela Current and Etosha Pan) are all worthy of inscription in my opinion. Namibia's Tentative List further includes interesting sites such as the Brandberg and the Succulent Karoo Protected Areas.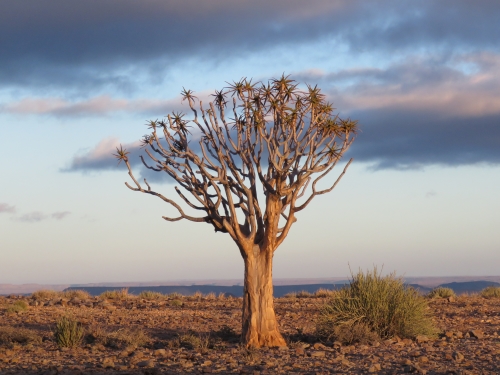 Quiver tree near Fish River Canyon
3. See unique flora and fauna
Namibia's very arid climate is suitable only for specific flora and fauna species. The Welwitischia Mirabilis for example, a plant endemic to the Namib desert that grows so slowly that individual plants can be encountered that are 1,000-2,000 years old. Its habitat is covered by the Welwitschia Plains TWHS. The country's most iconic mammal is the oryx or gemsbok with its spectacular horns. It can rely upon eating wild fruits for its water intake instead of drinking water.
4. Check out 'German' towns and cities
Although Germany colonized these lands only for 31 years, especially in the Namibian towns and cities you can still see reminders of the German past. They say that Lüderitz looks like how Germany was 100 years ago, and that Swakopmund reflects the situation of 50 years ago. I found Lüderitz 'interesting' because of its inhospitable setting. I did not enjoy Swakopmund: too much of a beach destination for elderly Germans. The best 'German' site however is Kolmanskoppe, an abandoned mining town that has been frozen in time.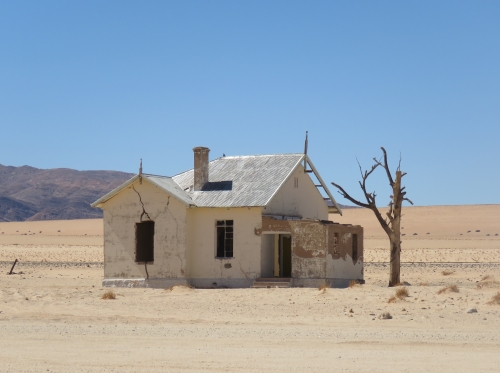 Abandoned railway station near Kolmanskoppe
5. Add a bit of Marxism-Leninism as well
It is worthwhile to look around in Windhoek for a day, as it will give you a better insight into day-to-day life for the Namibians. A good thing to be aware of is that Namibia has only been independent since 1990. A must see therefore is the Independence Memorial Museum, a huge modern structure developed by a North Korean building company. The history on display strongly underlines the dominant political party's SWAPO's communist support base, with some remarkable socialist realist paintings and sculptures.
Published 3 February 2018
Leave a comment
Responses to Tips for travelling to Namibia
Shandos Cleaver (18 January 2038)
Great to read your tips! I've heard so many recommendations about this country and can't wait to visit.
---
Clyde (18 January 2038)
Interesting post! Thanks for sharing, Els.
---
Blog: An improved website
It has taken a while due to travel and day job commitments, but Nan & I now can proudly present the refurbished version of this website. So what's new?
Easier login and subscription
As a registered community member, you can now login via the button at the bottom left of the homepage. After providing your username & password, you will stay logged in as long as you are online. You can add reviews on the go, update your count of visited (T)WHS and rate WHS that you have already visited (see below for more on that).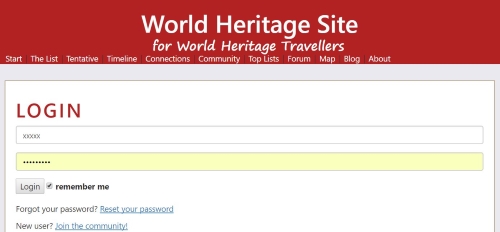 The new and improved login screen
The addition of new members has now been fully automated, and uses e-mail verification. Also, finally a proper 'lost password' function has been introduced. So no more e-mails to me and tricks to perform anymore!
An improved user interface for adding and editing reviews
With the inclusion of a simple content management system, you will be able now to add mark-up to the texts of your reviews – such as turn words into bold or italic, create hyperlinks to other websites or add a paragraph. Also, the photo upload system should be easier to work with than the previous one. You can add a photo in one go while you're writing the review text.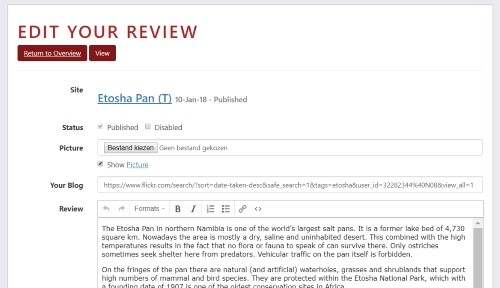 The new editor
Continuous rating system
From now on, subscribed users can also rate their visits to WHS on a scale from 1 to 5 stars. As a starter, I've filled in already a large number of ratings for the sites that I ranked over the years (some 250). I converted the 9's and 10's to 5 stars, 8's to 4 stars, 7's to 3.5 and 6's to 3 et cetera. You can also give 0.5 stars. Maybe you already use your own system. You can also adjust your rating after a revisit.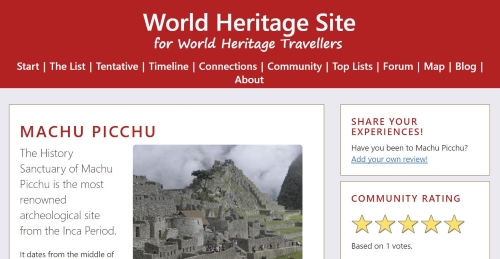 Rate your visit
Some smaller fixes
The explanations for the connections per WHS are visible again on the site page. There's a nice new WHS meetup page. The About-page has been redone and now contains a WH glossary plus links to recent interviews with Philipp Peterer, Atila Ege and me.
Many thanks to Nan, as without him this would not have been possible. We hope you all like it. If you see any bugs, or have ideas for future improvements: add them to this forum post.
Published 27 January 2018
Leave a comment
Responses to An improved website
Nan (18 January 2038)
@Caspar. It's a bug. See the forum. Your rating is very likely in. And starting with the next release (scheduled asap) you can see your ratings on your own profile page.
---
Esteban Cervantes Jiménez (18 January 2038)
Great job, Els and Nan! These changes will certainly add up positively to the experience of this great website
---
Caspar Dechmann (18 January 2038)
That's great, thanks a lot! It seems though that it doesn't save my ratings: If I reopen a page the average rating and mine are always identical. Perhaps it saves the individual ratings invisibly?
---
Colvin (18 January 2038)
Great work, Els and Nan!
---
Nan (18 January 2038)
Finally done :)
---
Clyde (18 January 2038)
Well done to both of you :) Will be fun to rate the WHS I visited.
---
Blog: WHS #653: Robben Island
Robben Island was the penitentiary island where the South African apartheid regime kept its political prisoners between 1962 and 1991. Almost all of the past and current elite of the ANC was imprisoned here, but the cells also held members from the more radical Pan Africanist Congress and the Namibian independence movement SWAPO. The island, which lies in viewing distance from Cape Town, has been in use since the times of the Dutch East India Company (mid-17th century).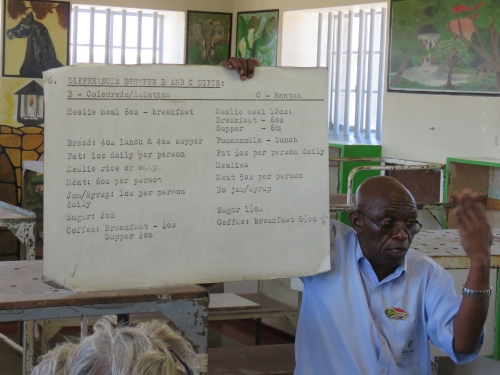 A former prisoner explains
One nowadays can only visit Robben Island on a tightly organized tour. Beforehand I had heard and read a lot about those tours: not a minute of free time to walk around for yourself, unintelligible guides who tell muddled stories, even ferries that get into trouble on the short crossing (60 people had to be rescued from sea in September 2017). But my experience was entirely different: maybe they have taken improvement measures or I caught them on a good day, but the staff on the ferry was very polite, engaging and safety conscious. The personal story of the former prisoner that acted as our guide I found very moving and added value beyond just looking at a bunch of stone prison buildings.
The boat tours depart four times a day from the most touristic part of the port of Cape Town. There, between the expensive restaurants and shops of the V&A Waterfront, lies the 'Nelson Mandela Gateway to Robben Island'. It is an exhibition space (unfortunately closed when I visited), souvenir shop and mooring for ferries. In the store they really sell everything with the image of Mandela on it, even packets of rooibos tea.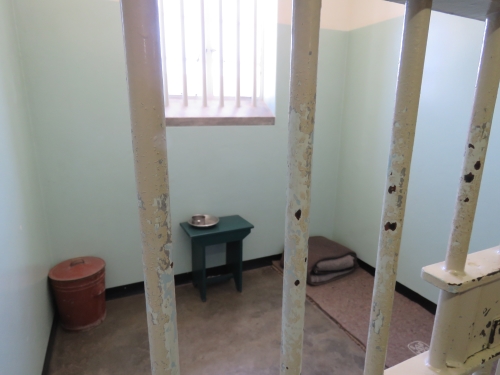 Mandela's cell
The ferry ride takes only half an hour, and from the top deck (be early on board to secure a place there!) you have formidable views of Cape Town with the Table Mountains as its backdrop. We also saw two whales on our way across. Robben Island quickly came into view. I had expected it to be a fairly barren island, but it has a village of considerable size (where the staff of the museum lives), lots of greenery and many former prison buildings.
On arrival we were immediately divided over about five buses, each of which continued on its own route across the island. 'My' bus first went to the prison buildings. The special feature of Robben Island Museum is that former political prisoners who have been detained here have been hired to give the tours. They now live here again on Robben Island, but with their families. Our guide had been living in Johannesburg but could not find work, so he was happy that he had found a job here. I wonder if over the years they've filtered out the ones that did not fit the guiding requirements well, as public speaking isn't for everyone.
Our guide delivered a good and personal story about how he came here and what he did in the 8 years he was imprisoned there (he worked in the kitchen). The only other prisoner who is mentioned over and over here is Nelson Mandela - he already had a special status at that time. Many of the other government leaders of the past 20 years, including the current president Jacob Zuma, have also been detained here. Zuma distinguished himself especially as a football referee. The regime was heavy in the 1960s and 1970s, with little food and ill-treatment. Later on, due to outside pressure the conditions improved and the prison developed into a kind of university for the ANC leadership.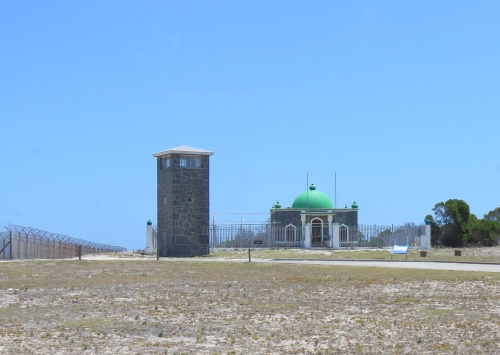 Moturu Kramat
After the prison visit, we were directed back to the bus for a tour of the island. This goes very fast - if you are on the wrong side of the bus to take pictures, you are unlucky (sit on the right!). We see, among other things, the leper cemetery, the village buildings of the former guards, the tomb of a muslim holy man detained by the Dutch East India Company (Moturu Kramat) and the stone quarry where some of the prisoners worked. At the far end of the island we were allowed a break to stretch our legs, buy some drinks at a kiosk or watch penguins. The full tour including ferry crossing eventually took 3.5 hours.
Published 22 January 2018
Leave a comment
Blog: WHS #652: Cape Floral Region
The Cape Floral Region is one of the few WHS solely focused on flora. 'Fynbos' is the key subject here: a diverse shrubland and heathland vegetation with many endemic species. It comes for example in the variation of 'rooibos', that is used for the eponymous tea. Although plants aren't my specific area of interest, I managed to visit Kirstenbosch Botanic Gardens and the Table Mountain National Park during my 4 days in Cape Town. These cover only 1 of the 13 inscribed clusters – the other 12 are located in the Western and Eastern Cape Provinces.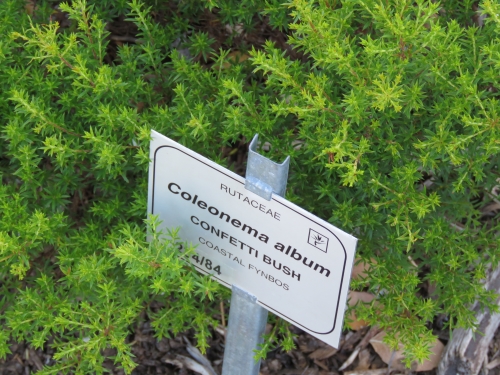 A bit of fynbos
My explorations started at Kirstenbosch gardens. I was staying at a Bed&Breakfast in Klaassens Road, next to Gate no. 3 of the gardens. This whole area is incredibly lush – and wealthy. Properties sell easily for over 1 million EUR. Entering Kirstenbosch via this upper gate leads you directly to the fynbos and the proteas, both almost only to be found in the Cape Floral Region. With the Table Mountain directly in the background, it's all very pleasing to the eye. The lower part, near main entrance no. 1, is a bit more like a landscape garden and hosted lots of picnickers when I was visiting on a Saturday afternoon.
We've discussed before on this website whether it is more important to preserve an iconic and large fauna species such as the giant panda or the mountain gorilla, than for example a mouse or even an ant. This also applies to the flora: we have the giant trees of Redwood and the double 'coco de mer' coconut of Vallée de Mai. The Cape Flora Region's main claim to fame is its fynbos – which essentially is a low and unassuming shrub. I have tried and tried to find anything to love about it, but I can't.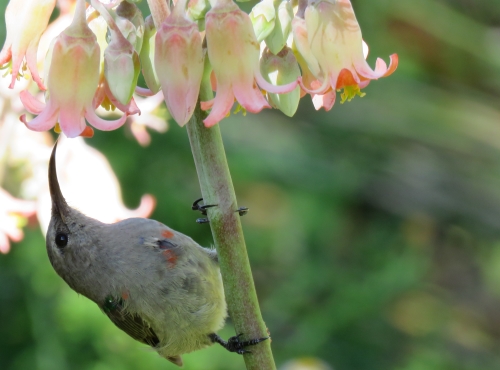 Sugarbird at a protea
I spent 3 hours in Kirstenbosch, which is a pleasure to walk in. Kirstenbosch also has a (rather lame) canopy walkway, a new addition to our connection. More extreme activities can be done from Table Mountain. Getting there involves stepping into a spectacular cable car that rotates 360 degrees during the ride. From the top you can try abseiling, or just watch other people do it.
The remarkable thing about the top surface of the Table Mountain is that it is covered by a great variety of plants. Somehow you would just expect a rocky platform. There are trails to explore the 3km width of the mountain, and it is recommended to go as far from the cable car station as you can – only there you will find some peace and quiet to enjoy the landscape. Yes, Table Mountain is one of our 'one million visitors or more' sites.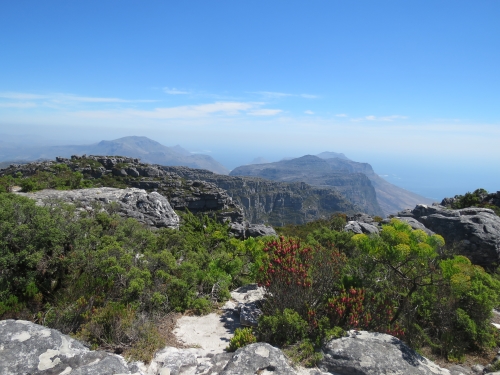 Floral diversity on top of Table Mountain
Kirstenbosch and Table Mountain are two of the obligatory stops on any trip to Cape Town, and they were well worth a visit. They attract lots of people, both locals and tourists: a bit too many for my taste. The diversity in plant life is easy to grasp and certainly a strong point of these two locations. Unfortunately I was too late in season for the blooming of the flowers, so I had to look at a lot of green shrubs.
Published 19 January 2018
Leave a comment
Blog: WHS #651: Twyfelfontein
Twyfelfontein or /Ui-//aes is a rock engraving site in northern Namibia, supposedly the best of its kind in variation and number in Africa below the Equator. My non-Dutch trip mates had already great difficulty in pronouncing 'Twyfelfontein' (which is a perfectly normal word in Afrikaans and Dutch, meaning 'doubtful fountain'). But try its alternative name '/Ui-//aes': the slashes represent two different clicks in the local Damara language.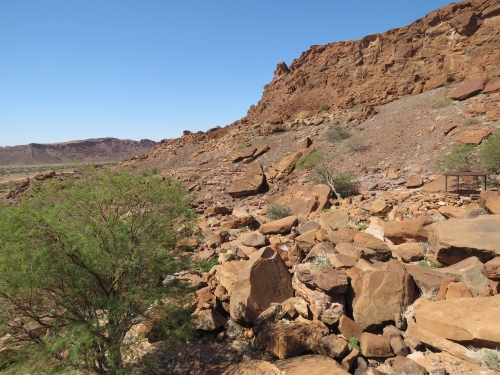 Rocky area near the entrance
The site lies deep into a barren valley, surrounded by pretty rock formations made out of sandstone. All of a sudden you'll end up at a car park and a visitor center – Twyfelfontein caters to 40,000 visitors a year so things are organized quite well. It conveniently lies on the route between Etosha and Swakopmund, and as there is not a lot else to see in the area many tour operators schedule stops here.
We are assigned a guide and after a short walk on the main road in the burning heat, we start our tour at the remains of the house of David Levin. He was a white farmer who settled in the area in 1946 to start a sheep farm. He was the one who named the site 'Twyfelfontein', and up against the rocks this unreliable but still delivering water source can be seen under a shelter. He showed the rock art to an archaeologist, and in 1952 Twyfelfontein already was protected as a monument.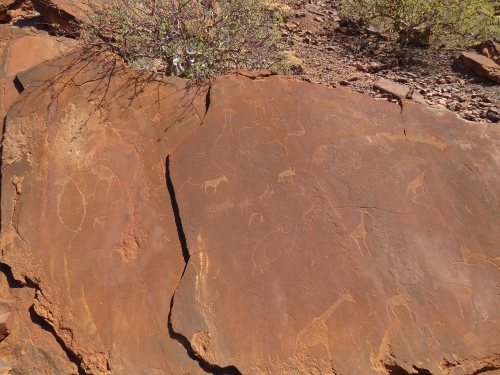 Penguin to the left
The area is covered by two guided circular walks, the Lion Man route and the Dancing Kudu route. The guides seem to randomly do one of those with the group, and ours was the Lion Man route. The routes are equally long (both take about an hour) but do not intersect. The first panel of rock engravings that we are lead to see shows a number of common animals in this region (giraffe, oryx) and their corresponding footprints. A boulder a little further away shows circles: it is assumed that this was a kind of map, indicating the location of the more or less permanent water sources in the area. A second panel depicts the usual animals, plus what appear to be a penguin and a seal.
On most rocks, human footprints are depicted next to the animals. These could be the 'signatures' of the makers of the rock carvings. Elsewhere in the world, you often see human handprints in the prehistoric petroglyphs. It then requires some climbing over the rocks to reach the highlight of this route: the image of the Lion Man. It has the body of a lion and human feet with 5 toes. It is assumed that this drawing had a more ritual significance.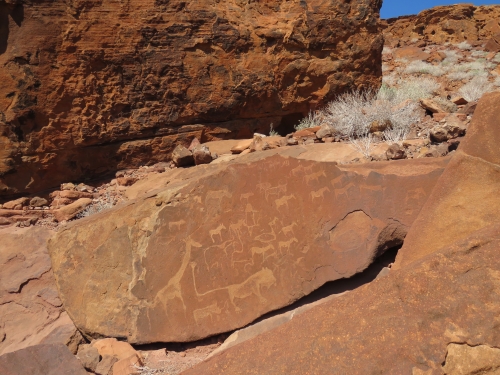 The Lion Man panel
In all, the visit was a bit too short and superficial for me. I read in a guidebook that the guides aren't really motivated, and I wouldn't say that was the case but they just cater to a very generic bunch of tourists passing every day with little or no interest in rock art. To enjoy the area a bit more, I can recommend staying overnight at the pretty spectacular Twyfelfontein Country Lodge. This lies at the other side of the rock and in the buffer zone of the WHS. Its construction made ICOMOS cringe in its evaluation ("severely compromised the integrity of the rock engravings in this area "). It has some rock art as well on its premises.
Published 15 January 2018
Leave a comment
Blog Index
Books
Connections
Countries
Exhibitions
TWHS Visits
WHS Visits
WHS website