Fasil Ghebbi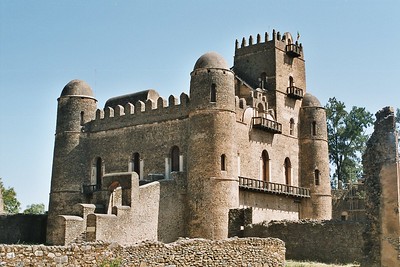 Fasil Ghebbi, Gondar Region, covers the remains of a fortress-city that was the residence of the Ethiopian emperor Fasilides and his successors in the 17th century.
The site comprises the buildings within the fortress and also 7 further monasteries and palaces around the city of Gondar. Fasil Ghebbi's building style became influential in Ethiopian architecture. 
Community Reviews
---
James Larsen
The road from the south from Bahir Dar goes along Lake Tana up to Gondar. Along the way is a heritage site that has ruins left from a 1500's castle with Portuguese influence where you would never expect to see it. Entering Gondar and seeing this magnificent and very much in tact site with many buildings was well worth the trip. And there are otehr things to do around this area including the famed Church with the angel faces.
---
3.50 The Netherlands - 11-Dec-03 -
My first view of Gondar's heydays fell upon Fasiladas Baths. This pool lies in a rustic setting somewhat out of town. Sitting on the steps leading to the water, you can only imagine what it looks like during a major religious festival.
In the center of town, you find the Royal Enclosure. Here four castles and several other buildings from the 17th century remain. Still, the most prominent one is that of King Fasilades himself. Round-shaped towers characterize this European / Moghul-looking castle.
The whole historic area is amazing, and a pleasure to be in. Gondar's modern town is also a nice place to spend a few days.
---
Site Info
Site History
1978

Deferred

Bureau - ICOMOS want more info
Site Links
Unesco Website
Official Website
Visitors
66 Community Members have visited.