Blog TWHS Visits
Volcan Masaya - Exciting or not?
Nicaragua is a land of volcanoes, and the
Volcan Masaya
is the most spectacular of them all. It's an active
complex volcano
with a total of five craters and numerous other volcanic features. Masaya continually emits large amounts of sulfur dioxide gas. The site has been on the Tentative List since 1995, but seems to have never been seriously considered.
Volcan Masaya lies within easy reach of a half-day trip from Managua or Granada. It's a very accessible site with a car/taxi or an organized tour. I visited it on a "Night Tour" from Granada - we were 17 tourists divided over 2 minibuses. After a short visit to the
historic market in Masaya City
, we arrived in this National Park at about 4.30 p.m. Apparently this is the only volcano in the western hemisphere where you are able to drive to the rim. And that's what we did first: stand next to a steaming crater. There was so much smoke that it was not possible to look down to see what's boiling inside. Because of the gases, you're only allowed to stay in this area for 5 minutes. I found it remarkable that you're allowed so close, the only risk mitigation measures are signs with texts like: "In case of expulsions of rocks, protect yourself inside your car".
With dawn approaching, we started the second part of the tour in a different area of the park. This is the part where we had to put on a helmet, fit a gas mask and carry a torch. Trying out the gas mask provided some nervous giggles in the minibus - you look ridiculous, but you want to do it absolutely right for your own safety. We were to visit an underground tunnel which was formed by lava streams and observe (mildly) interesting rock formations. We never got that deep inside that we actually had to use the gas masks, so it was a bit of a hype. Afterwards we walked in a row (donning our gas masks this time!) to a spot nearby to watch bats depart from their caves. Darkness had fallen in the mean time, so the creatures weren't easy to see. We weren't allowed to use the torchlights as those would scare away the bats. I just took some photos with flash, and hoped there was someting visible. And indeed - a few shots included a single bat venturing outside.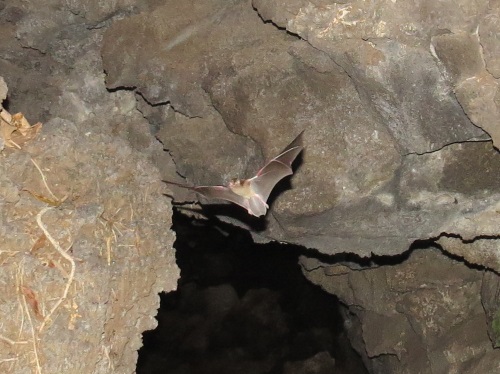 Though this is the closest I have ever been to the crater of an active volcano, I wasn't "blown away" by the experience. Unfortunately we did not see the glowing lava streams that are often visible here at night. I also doubt I will ever be rewarded with a WHS "tick" for Masaya. The number of volcanic sites on the WH List is already long, and according to a
Thematic Study by IUCN
has reached its limits. A few obscure gaps are still there, but Masaya doesn't fill any of them. Still it's a popular outing from Granada and a nice asset for the up-and-coming Nicaraguan tourist trade.
Els - 14 February 2015
Comments
---
Ian Cade 15 February 2015
"In case of expulsions of rocks, protect yourself inside your car"

Well at least they have given it some thought. We were looking into a trip to Nicaragua before deciding on Brazil. It has looked rather interesting from your reviews, especially the roof of Leon cathedral.

@ Paul: "I don't know where he got the bit about my "love of ugly high rise buildings" from!"

Seemed like an odd comment to me as well. Perhaps it is related to your review of the Bauhaus, which was around the same sort of time?
---
Paul Tanner 15 February 2015
"Apparently this is the only volcano in the western hemisphere where you are able to drive to the rim"

There is already inscribed on the WH List a place which claims to be even more than this! Namely "The World's only DRIVE-IN Volcano" - Sulphur Springs in St Lucia which is part of the Pitons Management Area.
When I indicated in my review of that site that I found this claim (and the site itself) to be somewhat excessively hyped I received a certain amount of abuse in replies such as this one from Randy "Mr. tanner it does not claim to be , it is the only drive in valcano. Frankly I am not suprised that you dont appreciate natural beauty, especially when your idea of beauty is ugly high rise buildings." (I don't know where he got the bit about my "love of ugly high rise buildings" from!).
I suspect that both places are a bit overhyped. Like Els, we visited Masaya (back in 1997). We didn't do the "bat cave" and I can't guarantee that we went to the same place for the gases as Els but we took quite a long walk from the car park around the rim and I do remember seeing the signs about protecting oneself from rocks! Here is a photo from the "rim" as we saw it showing the inner crater which was clearly visible through the fumes on the day we were there - I presume you also didn't go down to the inner crater Els? Unfortunately there was no sign of magma when we were there though this Web site shows that there can be (2nd photo) http://www.ucl.ac.uk/vco2/field-sites/Masaya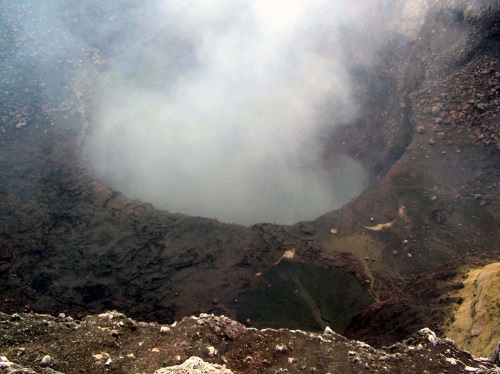 As for "comparison" with Sulphur Springs - well there is none really. Sulphur Springs may technically be a "volcano", being in a collapsed crater from 410000 years ago, but it totally lacks the "volcanic cone" of Masaya and is really just an area of steam fumaroles and mud pots with a hot springs bathing area. We visited as long ago as 1993 and I remember that there was a bit of a hassle as to whether a guide was obligatory or not for so called "safety reasons"(we avoided having one). The visit consisted of following a rather tame marked trail among the fumaroles and the stream which passes through. However it does appear that the site has its dangers as, a couple of years after our visit, one of the guides (!!) fell through the crust in one area and was killed! It appears that the route open to tourists has been significantly curtailed since those days to make it more suitable for Cruise Ship passengers and "Sandals" residents! On the same trip as our visit to Sulphur Springs we made it to little Montserrat and visited a location in the Soufriere Hills where there was a patch of yellow sulphur and a few puffs of "smoke" - no "crater" or anything resembling a classical "Volcano" in sight. All a bit disappointing really! Just 2 years later this unremarkable spot started spewing gases, ash and dust. Two thirds of the island's population had to be evacuated and its capital was abandoned (and still is). So those "puffs" can indeed suddenly turn nasty!
In reality, areas of hot springs are fairy common around the World (we have been to a few including ones in Geysir, Iceland, Yellowstone, US and Rotorua, NZ) and titling the one in St Lucia as a "walk-in volcano" doesn't really alter that fact! But what about other places where one can walk around the rim of a caldera and still see the fumes rising? Well there is Mt Bromo in Indonesia which I remember as worth seeing and was certainly "fuming", though the wider scenery was the main reason for going. Then there is Etna - unfortunately when we visited there was too much snow to get right to the crater itself. Vesuvius has a few puffs from some fumaroles but isn't really worth visiting just to see them -the general view of the Bay of Naples and its historical interest are the main reason! Kilauea on Hawaii was dormant when we were there in 1987 but had a fine overlook which, I understand provides superb views at times of activity. As it is also in the "Western Hemisphere" it certainly calls into question the claim made for Masaya which should really only claim on behalf of the American Continent. I have also driven to the edge of Turrialba Volcano in Costa Rica but it was on a pretty rough road and had no signs of volcanic activity either Has anyone had a good experience of any other genuine "crater rims"?
---