Blog: WHC 2016 – Corbusier's Villa Savoye
Together with Frank Lloyd Wright & Alvar Aalto, Le Corbusier is without a doubt one of the 'missing' modern architects from the WH List. However, the state parties involved have a hard time getting this transboundary serial nomination of Le Corbusier buildings together. After referral in 2009 and deferral in 2011, the revised proposal still is a complex one with 17 sites in 7 countries. The earlier dismissals were mainly about the number and choice of locations, and how they individually show Outstanding Universal Value. The 2016 nomination now also includes Chandigarh (India); they even had President Hollande come over and promote it last month.
After standing in front of closed doors in La Plata (Casa Curutchet), Antwerp (Maison Guiette) and Tokyo (National Museum of Western Art), I longed for a proper visit to one of Le Corbusier's undeniable masterworks. The Villa Savoye et loge du jardinier in Poissy has been part of all 3 Corbusier-nominations and is also among the 3 French sites deemed worthy enough by ICOMOS in 2011 of inscription under their own steam. So that's where I headed!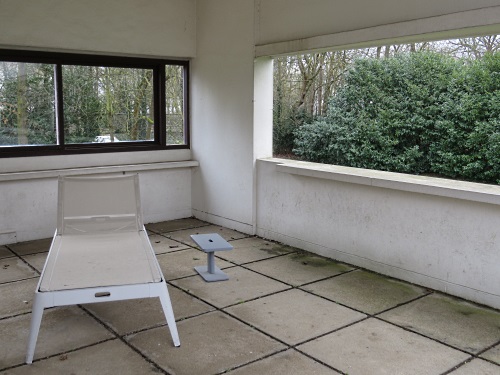 Relaxing in the hanging garden (including horizontal windows)
I left my home at 6.40 in the morning, and drove straight to the site in about 4.5 hours. Poissy is a town some 30km northwest of Paris. Villa Savoye is signposted from the town center, though I failed to notice it on my first approach. It lies behind a wall on a main street, next to a school (with lots of children exiting on Saturday morning!). Somehow I had expected a more suburban setting. I parked my car across the street and entered the gate. There's a sizeable garden around the Villa, in which you can walk freely. The entrance fee of 7.5 EUR only has to be paid when entering the Villa. After that you can go on a self-guided tour of the building. There were about 8 other visitors around when I visited, some French and some Asian. The Poissy municipality envisions opening a Le Corbusier museum nearby in 2018.
The indoor route first leads you via the grey lino ramp in the hallway to the 'hanging garden' at the first floor. This is a large terrace surrounded by walls, where horizontal windows (some with glass and some without) frame the views of the surrounding landscape. One such window frames a view of the Seine – at least it would have done so in the 1930s. Nowadays the local area is very built-up, and there are no unobstructed views anymore.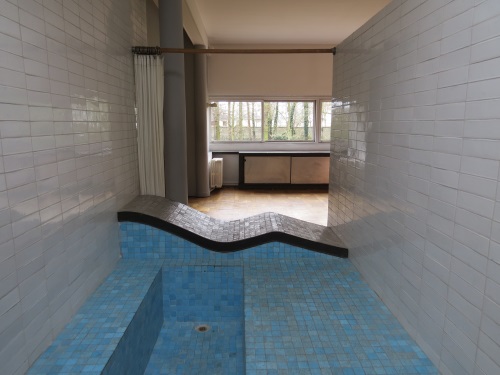 Opulent bathroom
The use of large, horizontal windows is a repeating pattern throughout this villa: one always feels close to the outdoors with views from the toilet, the kitchen, the study, the laundry room. Even the large tiled bathroom next to the parents' room has exterior views, at least when you fold away the curtain that separates it from the bedroom. This bathroom is the most remarkable among the rooms, a sudden explosion of colour and exuberance.
I ended my tour at the Gardener's House, next to the entrance. This is the only remaining pre-War example of the so-called 'Minimum one-family house'. Designed by Le Corbusier in 1929, it was meant to be built quickly and house a family of 3. It is based on the same architectural principles as the main Villa, but additionally shows the architect's ideas on how to provide housing for the lower social classes. The House has been fully restored over recent years, and has reopened last September. Its interior can only be seen on infrequent tours, but one can admire its polychrome exterior from the garden.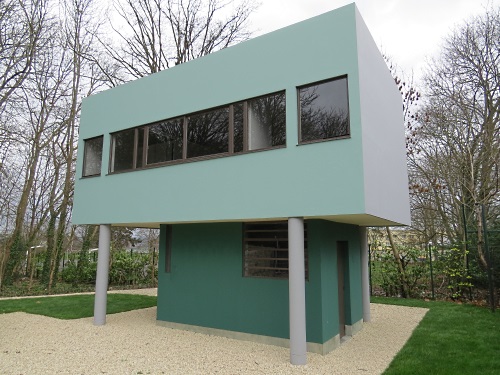 Gardener's house
I found my visit interesting and worthwhile, though I am not sure if I like the Villa that much. It is rather sterile. Maybe it's the overall whiteness, or the lack of furniture. There are many websites and books available that elaborate on the how and why of its construction, and in a way it seems primarily a study object. The WH inscription of the Villa Savoye would give us a nice addition to our connection Buildable in Lego. The Lego Villa even comes with very detailed building instructions for those that are interested in construction technique.
Published 7 February 2016
Leave a comment
Responses to WHC 2016 – Corbusier's Villa Savoye
Els Slots (9 February 2016)
Regarding Chandigarh: it seems only the 3 buildings that comprise the "Capitol Complex" are in the core zone.

See this link.
---
Solivagant (9 February 2016)
Yes, I too had been wondering about the "condition" issue - and noted that Els had made no comment it. I visited Chandigarh and Ronchamp as long ago as 1976 and 1998 respectively. Chandigarh was already in the first stages of decrepitude (despite only becoming the capital 11 years before my visit) - partly the concrete but also the general surroundings - paving etc etc. Its problems since, both interior and exterior, have been well documented.
I can't say I noticed anything "wrong" at Ronchamp but have been surprised to find this relatively recent (Jan 2014) report on its problems - both with crumbling concrete but also with aspects such as vandalism which can't really be laid at the door of Le Corbusier or the construction engineers! See www.theguardian.com/artanddesign/architecture-design-blog/2014/jan/23/vandals-break-in-le-corbusier-ronchamp-chapel-scandal
By the way, does anyone know how much of Chandigarh was nominated? Was it only the 3 main civic buildings (Secretariat, High Court and Assembly) or the "larger" townscape and overall plan. Really only the former would seem relevant to Le Corbusier's oeuvre since he inherited the main aspects of the plan and worked at arms length with a team of senior architects on site who presumably did much of the rest within overall guidelines (no high rise etc). Also, despite his putting a philosphical "meaning" to the overall layout ("Head", "Heart", "Lungs" and "Viscera" etc) much of the rest is rather ordinary.
Regarding Winterkjm's comment about Chandigarh ("Le Corbusier did not adapt his architecture to the locale (example Chandigarh)"). The remit given to Le corbusier by Nehru was rather stark ("a new town, symbolic of the freedom of India, unfettered by the traditions of the past"!)
---
Luis R Domingos (khuft) (8 February 2016)
Thx for this, Els - and thx for the pics! They confirm one of my major concerns with Le Corbusier's (and others') architecture of pure concrete: it doesn't age well. While the Acropolis still looks "nice" after millenia, the concrete floor of Villa Savoye's balcony and even the blue-tiles bathtub look grey, decayed and ugly (at least to me).
---
Kyle (winterkjm) (7 February 2016)
Love the contrast between FLW and Le Corbusier this year. I imagine it might confound Mr. Wright that Le Corbusier would be recognized alongside him as one of the greatest 20th century architects. FLW once called the Notre Dame du Haut, "An angel cake punched full of holes — or should I say a piece of Swiss Cheese?"

Despite their differences, there is certainly some commonalities with "organic architecture" and "The Five Points". They both used horizontal windows, reinforced concrete, open free-flowing interiors. However, one noticeable difference is Le Corbusier did not adapt his architecture to the locale (example Chandigarh), while FLW designs are very influenced by their environment (example - Taliesin & Taliesin West). I've visited dozens of FLW structures, but sadly none by Le Corbusier. Hopefully, I will rectify this in the future!
---