Blog TWHS Visits
WHC 2016: Rediscovering Dosan Seowon
This summer, South Korea's nomination of
nine of its historic "seowons"
will be under scrutiny from the WHC. Seowons were private institutions combining education (in the form of preparation for admission to the national civic service) and Neo-Confucian worship. A serial proposal such as this is always worth checking out in detail, as there may be hidden surprises among the selected locations. Personally I was happy to discover Dosan Seowon among the entries listed, a site that I visited on my Korea trip of 2001.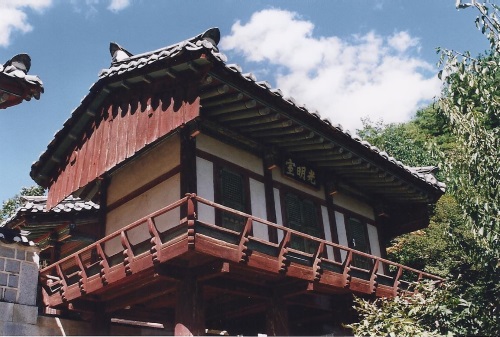 One of the library buildings, elevated to protect against humidity
Dosan Seowon is located not far from
Hahoe WHS
, and I visited both on the same day (I even included a third 'national treasure',
Jebiwon Buddha
). My trip notes about Dosan Seowon are brief: "Idyllic location. Very quiet, only a handful of visitors. Lots of Korean film directors apparently come here for shooting traditional Korean footage.". All memory of my activities of that day have since blurred, and the fact that I had not labelled the photos in my Korea photoalbum does not help either (mind you, 2001 was the pre-digital age). There's a large difference between the way I am visiting (future) WHS nowadays and how I travelled 15 years ago: I now put considerably more effort into arriving prepared. This research has only become possible because there is so much more information readily available. Dosan Seowon for example has a very detailed
official website
, where you can virtually walk through the complex. Each structure is shown and described. Thanks to that I was able to add captions to the 3 photos shown with this post.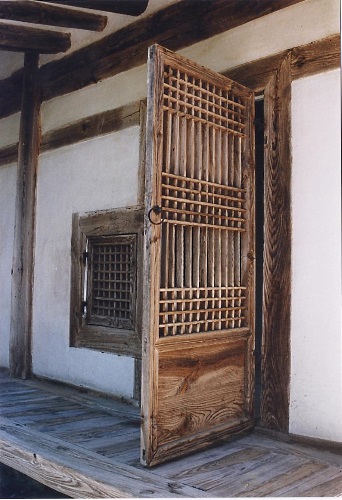 Entrance door to the dormitory
Trying to relive my visit, I found a little lesson on Korean Neo-Confucianism was necessary. Apparently the "Neo" in Neo-Confucianism dates from the 12th century, when in China superstitious and mystical elements of Daoism and Buddhism that had entered the original Confucianism were rejected. Korean scholars visiting China at the time were influenced by this new school of thinking, and brought it back to Korea. During the Joseon Dynasty, that started from the late 14th century, Neo-Confucianism became the Korean state ideology and Buddhism was restricted. Neo-Confucianism had a strong focus on education, and this aspect still remains a vital part of South Korean culture. Dosan Seowon in Andong was established by
Yi Hwang
, one of the most prominent scholars of the Joseon Dynasty. After passing his civil service exams, he worked for the government but left office after becoming disillusioned by the power struggles. In 1560 he built an academy called Dosan Seodang, where he - the author of many books on Confucianism in the Korean language - taught his students. The complex was enlarged and turned into Dosan Seowon by his disciples after his death. Yi Hwang's
spirit tablets
are preserved here too.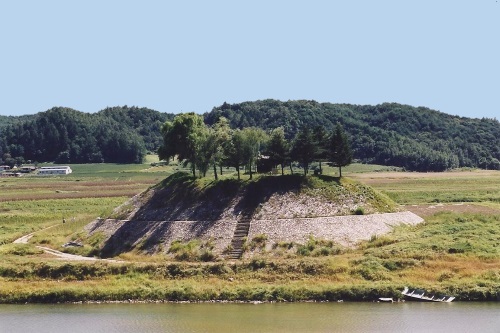 Picturesque location of the Sisadan Stele,
which marks the place of government examinations
So will the Korean Seowons be an asset to the WH List? The Joseon Dynasty is already well-represented among Korea's WHS, with the Jongmyo Shrine, Joseon Tombs, Namhansanseong, Hwaseong Fortress and Hahoe&Yangdong all dating back to the same period. And so are Korean Neo-Confucian sites, with again Jongmyo Shrine and Hahoe&Yangdong. The latter WHS even already contains two out of the nine proposed seowons! I believe these '
Exact locations inscribed twice
' should not be encouraged. The Koreans could have gone for one outstanding Seowon (for which Dosan Seowon might qualify), instead of a series of locations that are mostly covering intangible heritage anyway.
Els - 13 February 2016
Comments
---
Warisan Budaya Indonesia 13 February 2016
It was great to be able to visit your page. The information you presented increasingly expanding my knowledge and insights about the diversity of the world's cultural heritage . warisanbudayaindonesiaonline.com
---
Kyle (winterkjm) 13 February 2016
Thanks for sharing Els! Check out the video I posted in the forum, it highlights some of your pictures as well.
---