Blog WHS Visits
WHS #696: Fujian Tulou
The Fujian Tulou were the last WHS of my 2019 China trip and it undoubtedly was the best sight of them all. They aren't highly visited by our community members (ranked 620th out of 1092), but nowadays these distinct communal housing structures are easy to reach. From Xiamen, the nearest large city, it takes about 3 hours. On my way down I took a fast train to Longyan and a shared taxi from there. For the return trip I caught one of the 3 direct buses per day from Hongkeng to Xiamen.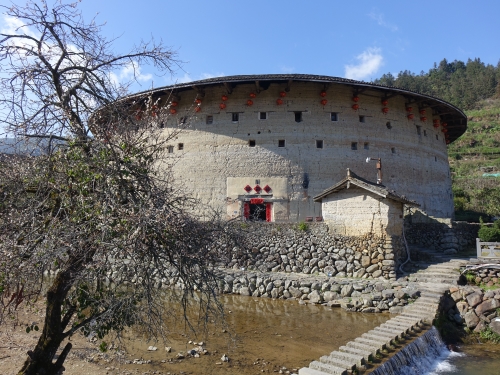 Yuchang Lou
I can really recommend staying overnight in one of the Tulou. I did so at the Changdi Inn in Fuyu Tulou, which lies in the 'folk' village of Hongkeng. The Fuyu Tulou is not round like most, but has a stepped construction (it apparently is "the most famous five-phoenix-style earthen building"). They have a number of rooms here that they rent out to guests; there were 7 other foreign tourists staying overnight during the same weekend as I was. The extended family of the owner lives there also. Together they inhabit a vertical cross section of the Fuyu Tulou, with other families living behind the same front door in other vertical sections.
When you are staying in a tulou you get a good impression of what life in this kind of communal house entails. The doors are always open: that means that everyone walks in all day. It could be the neighbours, a greengrocer or (in this special case) drivers who come to pick up guests. At night all is quiet, you will only be woken up by a crowing rooster at 6 am.
Hongkeng itself is a nice village where many tulou are still standing and are inhabited. It is stretched along a river - 3 km from one end to the other. A common sight in the streets are the vegetables that are being dried. Geese and turkeys are also kept. I visited the town on a Saturday afternoon and expected it to be very busy, but it was wonderfully quiet.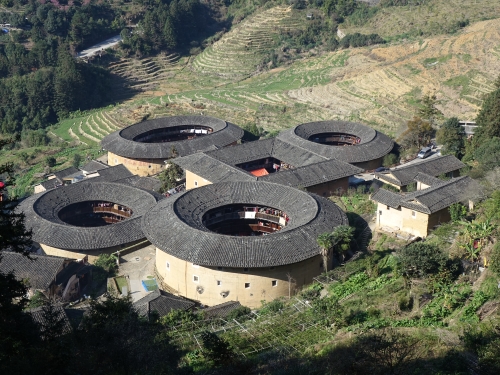 Tianluokeng cluster of 5 tulou
The next day I visited a couple of tulou in other valleys and villages. On the back seat of a motorbike I was first driven 25 km to a very well-known vantage point: that with a view on the Tianluokeng cluster. Here it can be very busy during the day, but when we arrived at 10.30 most day trippers had not arrived. This cluster consists of 1 square, 1 oval and 3 round tulou. These 5 tulou so close together form one cosy village. There was a market going on in one of the streets and the square building was being prepared for a wedding later that day.
With the motorbike we visited some more tulou in this valley. One of the most beautiful ones has a stone temple at the center of the courtyard. It is the Yuchang Lou, also one of the oldest and biggest.
Next to the tulou the local temples are also of interest. We visited for example the Deyuan ancestor temple in Taxia. In front of this basic temple stands a semi-circular row of 10m high stone flag posts. These decorated flag posts were made to remember distinguished members of the family clan.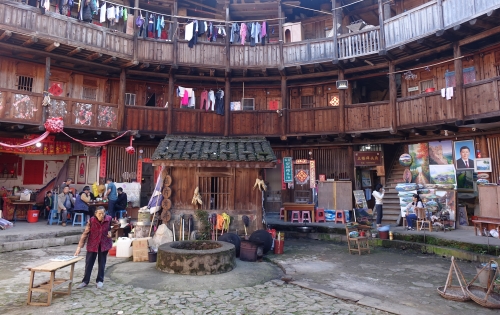 Central courtyard of one of the round tulou
The busiest tulou on the trail is the 'King of the Tulou'. This is a large, round specimen with as distinguishing feature that it consists of 4 concentric rings. When you step inside, you will encounter another ring, and another and finally a little one with a temple in the middle. The inner rings also all contain small rooms, which are for example used as kitchens. This was the only tulou that I visited which felt too commercialized.
In general, tourists pay an entrance fee per village / valley / cluster to see its tulou. This can add up: Hongkeng and Tianluokeng both ask for 90 Yuan (11.60 EUR). In addition, you have to pay 50 Yuan (6.45 EUR) separately for the 'King of the Tulou'. One usually can have a look around freely on the ground floor of any of the tulou in these villages, but you are not allowed to go upstairs to the higher floors where the inhabitants live.
Els - 2 February 2019