Blog: Venice in one day
My first visit to Venice took place in 1987: it was my first holiday abroad without my parents, and I had joined a youth group tour to Slovenia that included a sidetrip to Venice. I remember nothing about what we did that day, and only have a few holiday snaps left of a gondolier in front of some church. So there is reason enough for a return visit to one of the richest cities in Italy in terms of history and art. But again in 2016, I had only one day to spare for Venice. This time I arrived by train from Aquileia via Cervignano.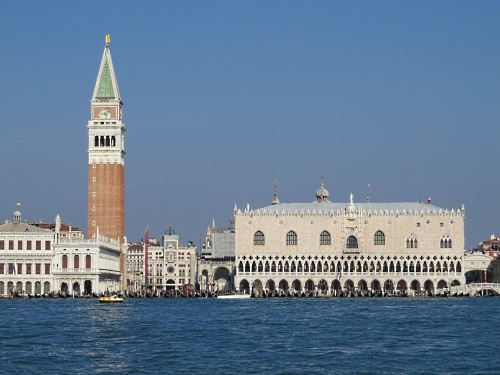 Sea approach to Piazza San Marco
So how much ground can one actually cover in one day? During the train ride I noted down a mix of sights and activities from the 2005 Michelin Green Guide Italy and some ideas copied down beforehand from the internet. This resulted in an all-day itinerary of eight things-to-do: vaporetto to Canal Grande, St. Mark's Basilica, Palazzo Ducale, Sta. Maria della Salute church, Ca d'Oro, I Frari church, Rialto bridge and Scuola di San Rocco.
Unmissable from any day in Venice is a 'cruise' by vaporetto. Waterbus #1 follows the Grand Canal through the city center, but I (accidentally) started with waterbus #2. It also ends at St. Mark's Square, but arrives there via a different route. It takes the long way round, along the railway station, through the lagoon with its islets and in the company of larger ferries and cruise ships. The advantage of this itinerary is that you approach the city from the sea and slowly the most beautiful buildings will appear on the horizon. Especially the Basilica Santa Maria della Salute is impressive. On my way back at the end of the day I used vaporetto number 1: the trip on the Grand Canal across the town center of Venice is the ideal route to take pictures of its villas and public buildings (they usually face the canal with their beautiful side). I liked both boat trips so much that I would advise to do only this when you're short on time in Venice.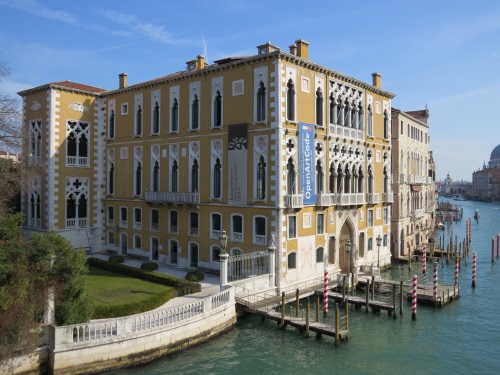 Ventian Gothic Palazzo Cavalli-Franchetti
Like most passengers I disembarked at St. Mark's Square. I had considered skipping this landmark as it is the busiest place of the city (Venice sees an average of 50,000 visitors a day!). The Cathedral and the Doge's Palace are its two biggest draws. As I didn't have the time to enter every single building (not to mention that it adds up greatly in entrance fees), I choose the cathedral above the palace. Most of the cathedral's interior was closed however because of a function that would take til late afternoon. Only the museum and the loggia were open. Climbing the stairs you can still take a peek at the sparkling golden Byzantine wall mosaics in the main church. Taking pictures here is unfortunately banned as in many other Venetian buildings.
From the loggia there's a beautiful view over the busy square. And you are up and close with the various statues that adorn the façade. Most striking of these are the four bronze horses. The originals (probably from Roman times) are preserved a few meters away inside the museum, apparently they're too expensive and fragile to expose to outside weather conditions.
One of the best things I had saved for last: the Scuola di San Rocco. A 'scuola' in 16th century Venice was a kind of assembly hall of an association of citizens (confraternity). This particular society was certainly able to raise serious money, as all walls within their building are covered with paintings of the Venetian master Tintoretto. There are two floors, each consisting of one large and richly decorated hall. It's a rather decadent sight. Besides the paintings I also admired the wooden carvings in the Upper Hall. There were very few other tourists visiting: just as in Florence the masses are concentrated around very few places.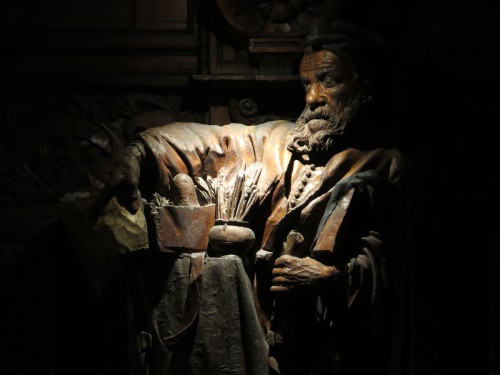 Woodcarving representing the painter Tintoretto
After about six hours strolling through the city, I decided to return to the railway station. Venice isn't very big, but there are no straight walks anywhere so it gets exhausting in a while. There is still much more to see, you definitely need three days for a good visit. A walking tour through the less visited quarters, the art museums and a boat cruise to the outer islands surely would be worthwhile additions. But if you have only one day, it is still worth going. This time around I enjoyed the vaporetto boat rides, the sunny weather and the many beautiful Venetian Gothic façades.
Published 27 February 2016
Leave a comment