Blog WHS Visits
WHS #585: Neusiedlersee
The
Neusiedlersee
(
Fertö tó
in Hungarian) is a saline lake about an hour east of Vienna. It's on the WH List as a cultural landscape. "A combination of stockraising and fishing with viticulture beside a lake" seems to be its core value. This is a fairly well-visited site among WH travellers, and the general public also knows how to find it as shown by an annual visitor count of over 700,000. In preparation of my visit I tried to find some things to see or do that haven't been described on this website before. I will leave the omnipresent vineyards for what they are, but focus on the reed and vernacular architecture.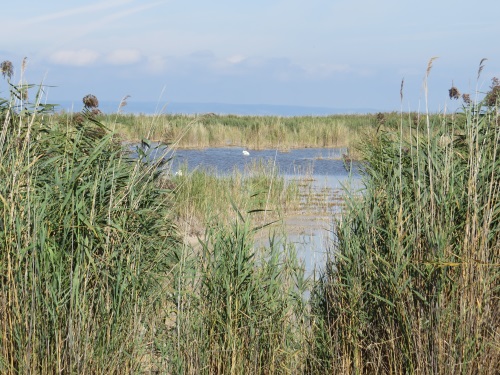 Layers of reed, with some lake in between
I started my visit in the town of Mörbisch, at the west bank of the lake. The nomination file applauds its "characteristic oblong farmsteads and narrow lanes leading down to the Lake". My car navigation however delivered me at a huge parking lot at the "Seebad" (Lakeside Resort), without anything particularly interesting to see en route. I had chosen this town mostly for its
transport link
to the other side of the lake. Every half hour a bike and pedestrian ferry starts the round-trip, and I thought this would be a nice alternative lake cruise. The trip takes only 20 minutes, and most of the action comes from the private sailing yachts navigating the lake. The ferry supposedly drops you off at Illmitz, although the town itself lies a few kilometers inland. Here's where a bike would have come handy, as it would bring both Illmitz and its acclaimed Neusiedler See visitor center within reach. A broad straight road leads out there. I had no other option than to go on foot. Dense reed surrounds this road on either side. Glimpses can be caught of a couple of smaller lakes and channels, with waterfowl species floating around remarkably similar to those in my backyard in Holland. Locals used the reeds in an elaborate fishing method called "Vejsze": a labyrinth of reeds was created to trap the fish. Reed was also used for roof cladding. Although the nomination file suggests that the latter still is a common practice, I saw my only two buildings with thatched roofs near the bird hide on the way to Illmitz. I never made it to the town itself by the way, it's definitely too far to walk in the sun on a boring road.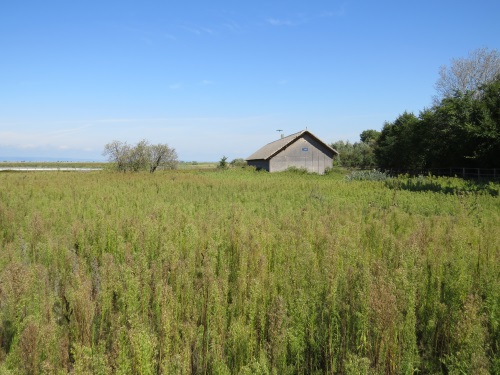 Traditional farm house with thatched roof
After Mörbisch and Illmitz I got back to my rental car and drove on to Rust. This is where the wealthy winemakers lived. Rust's citizens received market rights in 1470 and the privilege to mark the corks of their wine barrels with the famous 'R' brand in 1524. Rust (together with the rest of this 'Burgenland' area) only became part of Austria in 1921: before that this mainly German-speaking region belonged to Hungary. It is a lively (and touristy) town, with a small but neat historic city center. Every other house still seems to be in use as a part of the winemaking industry. The local Fishermen's Church is worth a look for its odd shape, historic altar and murals. The nomination history of Fertö/Neusiedlersee shows a giant U-turn just before inscription in 2001, one that seems hardly possible in these days. It was originally nominated as a mixed site. Its natural values featured prominently in the dossier, but were rejected at the Bureau session. The lake was deemed unique on a European scale, but not globally. Also, the lake regime is somewhat artificial as the water level is controlled by a sluice. The regular use of chemicals in the modern viticulture methods does not help its natural values either.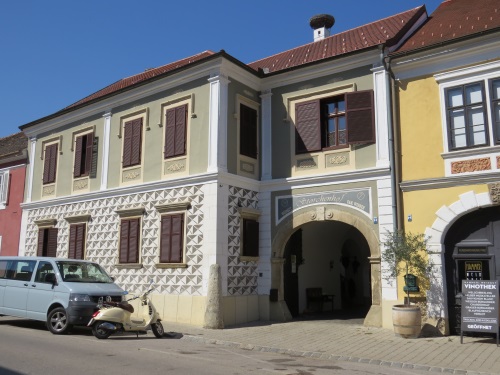 Weingut Storchenhof, Rust
But the Advisory Bodies did see possibilities for a cultural landscape. However, in that case the core zone would have to include the towns surrounding the lake (which were mostly placed in the buffer zone in the first nomination centering on the lake itself). This was changed in the final nomination, though the UNESCO website still shows the old map. Towns such as Mörbisch, Oggau, Donnerskirchen and Purbach with their fields and field systems are now included. Essentially this change has left us with yet another viticulture landscape WHS, which is pleasant enough to visit on a sunny day but will not make a lasting impression on the seasoned traveller.
Els - 13 September 2015