Tassili n'Ajjer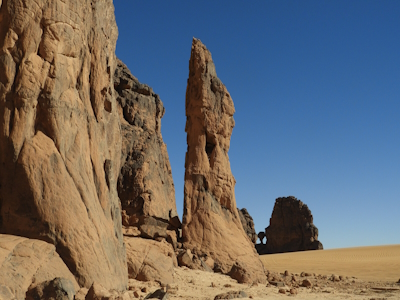 The Tassili n'Ajjer is a mountain range characterized for its impressive rock art and geological formation of sandstone "rock forests".
Erosion in the area has resulted in nearly 300 natural rock arches being formed, along with many other spectacular landforms. It lies in the Sahara desert in southeast Algeria.
Its prehistoric rock paintings and other ancient archaeological sites date from neolithic times when the local climate was much moister, with savannah rather than desert. Over 15,000 rock paintings have been inventarized. They date from five different periods up until the first centuries AD.
Community Reviews
---
3.50 Chinese-Canadian - 30-Mar-22 -
Tassili n'Ajjer is a real gem and I couldn't rate the park less than five stars without an explanation. For now you should know: this place is not to be missed of your bucket list!
One should also know that a) the core zone is not the entire park. It is only the marked rock painting/carving spots and a rather tiny rock forest near Djanet, which is still an impressive sight but pales compared to the natural beauty of the rest the park offers, especially the plateau in the east. b) the park according to Google map is only the rocky areas which doesn't include dunes and is even not stretching into the east. c) according to locals the park even includes Djanet and surrounding villages but I am not sure if that is true.
To reach the park you should fly in with Air Algiera, not a great airline but unfortunately the only option. Once you arrive you will immediately register with the police and they will contact your guide frequently about your location, even if you go hiking on the plateau so the tour will need a satellite phone, not that the police will be able to verify your location but they will know you are safe. After all this is very close to Libya and while no impact fron the civil war is felt here you could get lost or something. Forget about driving all the way south to Djanet. Checkpoints will stop you and unless a guide is with you there is a chance you'll be turned back and enjoy a drive up to Algeries. Also the drive isn't as spectacular as you might think: the desert is trashed and fenced off so you can't exploit resources illegally. The long rides aren't going to be cheaper anyway even with gas prices almost lowest in the world.
Anyhow so your guide picks you up and almost all of them follow standard itineraries. Rock art, visit to nomads, rock forest, "oasis", camping in the desert, one can easily finish the world heritage stuff in two days or even one long one if you don't want to camp in the desert at all.
The rock art you see isn't that great but I assume there is a lot more in this area the guides don't show you - but the art outside the core zone is better than I saw so that is why I'm a little confused at the selective areas. Rock carvings are better: large range of animals that used to live here like elephants and giraffes. The rock forest is a beau and a nice preview for the rest of the park if one should only see that, but what shame because there is so much more.
Outside the core zone to the east lies the plateau adjective to the Libyan site. The border is not really clear but there are 3(!) checkpoints if you take the road and you would have to explain what your plan is as the border is officially closed. Even taking the hiking route isn't that clean as there are two military camps ever since Libya started their civil war. To hike up to the plateau will require a day, and once at the top you can truly appreciate the beauty of the park. The tour around the plateau will require 7 days minimum and it's all camping.
To sum up: park is 5* but core zones 3½ at best, you can tick it off with a 2-day leisure pace trip but if you are serious about sightseeing you should also go east.
There is a huge problem that lately gold has been discovered and illegal mining is taking place. The police have random checkpoint to catch pickups with raw materials but that only means they keep 80% of it and report a small amount to higher authorities, which doesn't defeat the exploitation of the park at all. I even saw a pickup drive precariously odd on the road only to be told the driver is checking ahead if there is a checkpoint because he's obviously got illegally mined gold in the trunk. "Lucky" for him there wasn't any checkpoint that day.
Lastly, Djanet is pretty crappy, don't bother have your guide show you around the "attractions" but the park museum is ok and not very big. If they haven't changed the visitor book you'll also find my greetings in there!
---
5.00 Philippines - 11-Feb-20 -
In the crossroads of modern-day Algeria, Libya and Niger, is the vast, the beautiful Tassili n'Ajjer National Park. I booked a two-hour flight from Algiers to Djanet - a 2200km+ journey that would have taken two full days (with rest and sleep stops) by land.
Mr. Hassani (Tinariwen Tours) welcomed me with a gift - a blue scarf - and instantly got me acquainted with how their group is most popularly described, Tuareg or the blue people. That cool February day, Mr. Hassani's indigo robe shone in the gold sand and brown rock forests.

"In the desert," he said, "the wind is the artist," and showed me curious geologic formations and contoured sand dunes. I went to Djanet in search of prehistoric rock art (see photo), and returned with remembrance of solitude and moments of temporary yet much-needed detachment from the material world.



---
Site Info
Full Name

Tassili n'Ajjer

Unesco ID

Country

Inscribed

Type

Mixed

Criteria

1

3

7

8

Categories

Link
Visitors
15 Community Members have visited.