Blog TWHS Visits
WHC 2015: Singapore Botanic Gardens
Singapore accepted the World Heritage Convention only as recently as 2012, being
one of the last sovereign countries
to do so. Heritage of the tangible kind never has been much of a priority in Singapore. After independence in 1965 the focus has been on economical development against all cost. The recent interest in conserving heritage seems to be stimulated by NGO's such as the
Singapore Heritage Society
that spoke up about the remaking of Chinatown in 1998 and the demolition of the National Library building at Stamford Road in 2001. Heritage however does play an important role in the "invented" Singaporean national identity: "Heritage binds Singapore and sells it
1
. The development of Singapore into Asia's premier "Garden City" for example was initiated in 1963 by
Lee Kuan Yew
himself. In pursuing its first WHS, Singapore puts less emphasis on the tourism functions of World Heritage: the expected political and sociocultural returns appear more important
2
.
The selection process for a possible WHS started already before 2012. In 2010, a study was commissioned by the Ministry of Information, Communications and the Arts to identify potential sites that could fulfill UNESCO's criteria as World Heritage Sites. Sites such as Haw Par Villa, Bukit Timah Nature Reserve and the former Ford Factory,
were considered
. Of the sites identified, the
Singapore Botanic Gardens
proved to be the strongest candidate. To date, it's the country's only TWHS and up for nomination in 2015 (the 50th anniversary of Singapore's independence). The full nomination document
accidentally came into our hands earlier this year
. The site is proposed for inscription under criteria (ii) and (iv), and also as a cultural landscape. Its claim as best preserved British tropical colonial botanic garden landscape is the most convincing argument. It was a site for experiments on crops such as rubber and orchid hybrids, that shaped Singapore's economic development. And: "Between the early 1960s and late 1980s the Botanic Gardens revised its mission and focus from a largely research-oriented organisation to one that would spearhead and be the driving force behind Singapore's "Garden City" vision".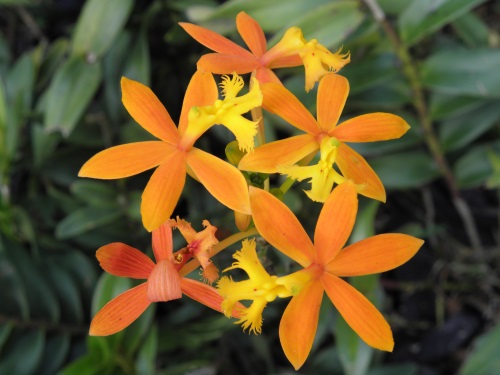 I visited Singapore on my RTW-trip in 2011. I was about 3 months on the road by then, and needed to replace some clothes and technical stuff. So I did mostly practical things during my 5 day stay, and I also went to a swimming pool in a (sufficiently green) residential area. I had expected to like Singapore a lot, as I generally do enjoy big Asian cities that are full of life. Singapore is very westernized and modern however, and rather is a convenient place to live in than an exotic tourist destination. The Singapore Botanic Gardens were one of the few tourist attractions that I visited, and without a doubt the most impressive one. Over 4 million visitors come here annually, making it the most visited Botanic Garden in the world. I remember the
National Orchid Garden
as one of the prettiest parts of the gardens. It's really a big site, a combination of a landscape garden with special interest zones. It amazed me how "wild" it was, with a variety of birds. I even stumbled upon an intriguing snake.
Considering the WHC's current policy to let every country have its WHS, it should be easy to get the Botanical Gardens in for Singapore. There's no other "tropical colonial" Botanical Garden of this size, fame or importance in the world. And the immaculately presented nomination dossier, created by a consultancy firm, will surely help.
Els - 20 December 2014