Blog WHS Visits
WHS #561: León Cathedral
When the
León Cathedral
entered the List in 2011, many will have wondered "Do we really need another cathedral?". After having now visited this Nicaraguan monument, my answer would be: "It's different". It's essentially a Centralamerican structure, not purely Spanish-colonial as so many others (although its construction was started during the late colonial years). Also, it's a Single Monument that carries the weight of being a WHS on its own - not "just" as part of an inscribed city center.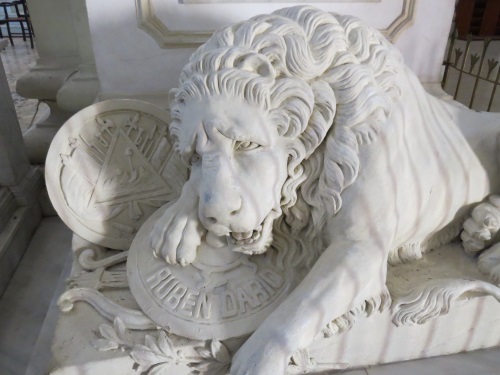 Weeping lion at the tomb of the omnipresent Nicaraguan poet Ruben Dario
León is Nicaragua's second city in size. Its slogan is "Primera Capital de la Revolucion" : here's where the demise of the Somoza regime started. León has been a Sandinista stronghold since. Right next to the cathedral survives a long
political mural from the 1980s
, painted jointly by German and Nicaraguan artists. The cathedral has been used for militairy purposes also in the insurrection of 1979. The cathedral is Leóns pride, and it stands impressively in the center of town. It's so huge and there a so many turrets and domes on its roof, that it is a great landmark to find your way again when you're lost somewhere in the city. They are in the process of repainting the whole structure. The facade is still a bit off-white, but the roof already has been rendered totally snow white.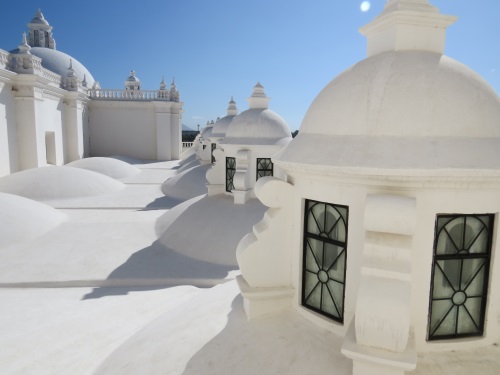 Up on the roof
Visiting this Cathedral isn't as straightforward as with other cathedrals and churches. Of course the main body is open all the time, to give the local people space to pray and contemplate (and they do so in great numbers). Its interior isn't exuberant or otherwise very remarkable. Two of the more interesting aspects can only be visited with a separate ticket: the roof and the cloister. Such a ticket can only be bought during limited opening hours (think: late start, long lunch, early leave) from a small kiosk at the back of the church across from the market. The roof is accessed via another hard-to-find entrance. After climbing a flight of stairs, you're requested to take off your shoes. They clearly want to keep the roof clean and white! The restored roof top and bell tower are impressive. All of it is covered with stucco plaster, making it look like one big birthday cake. Entrance to the cloister known as
Patio del Principe
involves another hurdle: the ticket lady told me I would find a "joven" (young person) in the main church, who would guide me to the Patio. There were lots of jovens inside of course, so I just waved my ticket. A girl approached me, and said: "Go to the front of the church, there will be a girl sitting in a bench reading. She will be your guide." (I now felt that I was on a secret mission). She went to get the key, and together we entered the Patio. After all the trouble, I found it a bit disappointing. The "typical Nicaraguan" aspects were lost on me.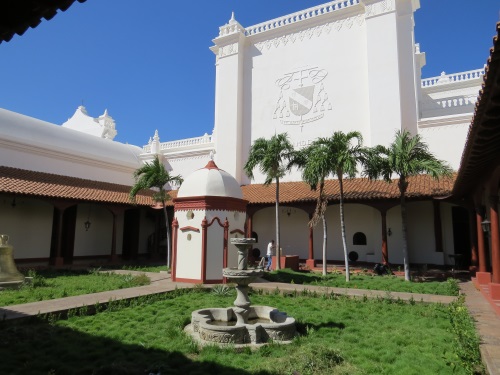 Patio del Principe
The Cathedral also is host to
El Cristo Negro de Pedrarias
, possibly the oldest catholic image in the Americas. I looked for it during my visit, remembering it as being a painting and unsuccesfully asking the guide in the cathedral about it. While re-checking the nomination file later, I noticed it's a wooden statue instead. It was brought from Spain by Pedro Arias de Ávila himself in 1514: first to Panama, and later to Leon Viejo until 1610. So it's one of those rare objects that moved from one WHS to another. The statue has received a hit by a pirate's sabre in 1685, who wanted to be sure that it wasn't made of precious metal.
Els - 6 February 2015