Blog TWHS Visits
WHC 2015: Palermo, Cefalù & Monreale
According to recent
news flashes
, "
Arab-Norman Palermo and the cathedral churches of Cefalù' and Monreale
" will become a WHS this July after receiving a positive ICOMOS evaluation. This Italian site is a serial nomination with 9 components, spread out over 3 towns/cities on the island of Sicily. The monuments date from the period of Norman domination (1061-1194), when a multi-ethnic culture developed integrating Latin, Byzantine and Islamic elements.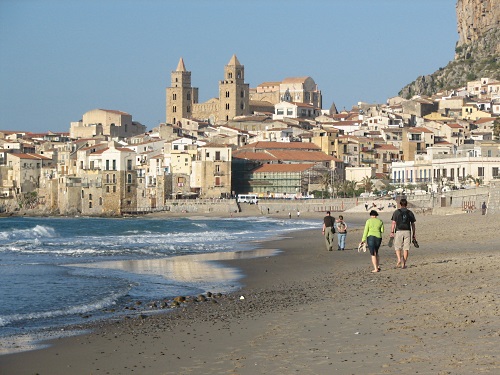 Cefalù and its Cathedral
On my trip to Sicily in 2006, I visited two of the subsites: the cathedrals of Monreale and Cefalù. When I look at the photos of Palermo in the nomination dossier, I regret that I opted out of going there. At the time I thought it would be too much hassle to drive my car into that city. Palermo actually is the main carrier of this nomination. It holds 7 component parts including the
Royal Palace and Palatine Chapel
, which is rated "worth a journey" by the Michelin Green Guide Sicily. I have to rely on my trip notes from my visit to this corner of Sicily, as I don't recall very much. I stayed overnight in the town of Cefalù, located at the northern coast not far from Palermo. Cefalù is dominated by a gigantic rock, against which the houses seem to be plastered. The streets are narrow and the cathedral is huge.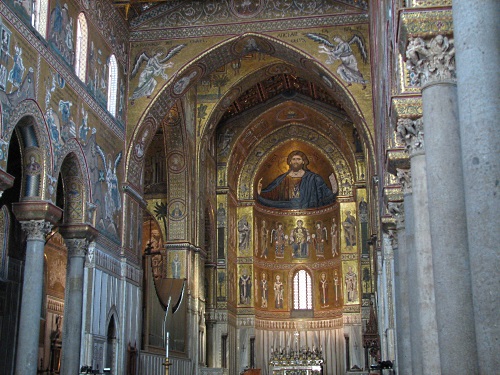 Monreale Cathedral - interior
Monreale is just a short drive away. This cathedral with Arab, Byzantine and Norman influences attracts numerous visitors from afar – it's one of the most popular tourist attractions of the island. Nevertheless, the golden mosaics and icons in the interior are a sight to behold. The Cathedral's more than 6,000 squared metres of mosaic decoration is the largest production in the Mediterranean performed by Byzantine workers. The decorations were crafted in the late 12th and early 13th century, and cover scenes from both the Old and New Testament. Next to the cathedral lie the cloisters, which are inspired by Islamic architecture. They hold no less than 228 columns, all covered with polychrome mosaics and distinctive romanesque capitals. Every column is different. Here the Arab style of decoration clearly shows.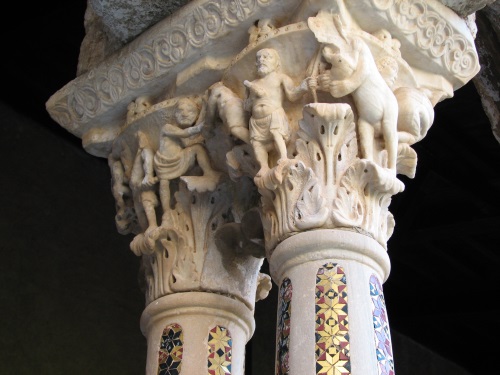 Two of the columns in Monreale's cloister
As we have seen happening quite frequently before, the nomination has undergone some small changes before finalization. In the description of the TWHS 10 locations are mentioned, while the nomination dossier has only 9. Palermo's Cuba Palace has been left out, two other sites have been merged into one and the Admiral's Bridge was added. A longer list of sites from the Norman period is also part of the nomination file, maybe we should be grateful that they've left it at 9 locations in the end. To me, Sicily is one of the most worthwhile travel destinations in Europe. It already has 6 WHS (
Agrigento
,
Val di Noto
,
Villa Romana del Casale
,
Syracuse
,
Isole Eolie
,
Mt. Etna
), but this one covers a whole different side of Sicilian history and makes a great addition.
Els - 9 May 2015
Comments
---
paul 10 May 2015
John Julius Norwich's "Kingdom in the Sun (Normans in Sicily)" and the theme from the Godfather are indispensable in Sicily - one of the best destinations in Europe!
---
Kyle (winterkjm) 9 May 2015
Looks fascinating, ICOMOS really does like these "fusion" nominations.
---
Clyde 9 May 2015
I'll be visiting Sicily next week and I'm looking forward to visit this soon-to-be WHS. I'll be based in Palermo and will dedicate day trips to Cefalu and Monreale. After Agrigento, this new WHS is the site I'm most eager to visit. Will definitely leave a review and a photo of Palermo to cover all parts of this site.
---