Aksum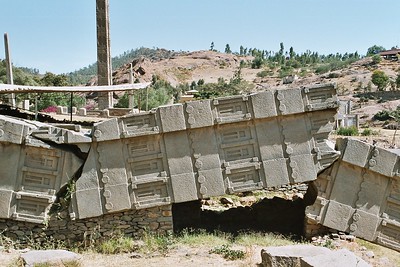 Aksum is an archeological site that covers the remains of an influential city of ancient Ethiopia. The ruins include stelae, tombs, castles and obelisks.
The city was the original capital of the eponymous kingdom of Axum. The kingdom had its own written language called Ge'ez, and also developed a distinctive architecture exemplified by giant obelisks, the oldest of which (though much smaller) date from 5000-2000 BC. This kingdom was at its height under king Ezana, baptized as Abreha, in the 4th century AD (which was also when it officially embraced Christianity).
The Ethiopian Orthodox Church claims that the Church of Our Lady Mary of Zion in Aksum houses the Biblical Ark of the Covenant in which lie the Tablets of Law upon which the Ten Commandments are inscribed. This same church was the site Ethiopian emperors were crowned for centuries until the reign of Fasilides, then again beginning with Yohannes IV until the end of the empire. Axum is considered to be the holiest city in Ethiopia and is an important destination of pilgrimages.
Visit December 2003
The largest standing stele in Aksum I rate definitely as a world class sight. In a way so simple and so pure. But also so mysterious: how is it possible that a civilization existed here 2000 years ago that was capable of constructing such great monuments?
In and around the center of Aksum, many more remains of the Axumite Empire can be found. It's a bit like walking around in Greece - ruins scattered here and there. There is the Queen of Sheba's Bath, King Ezana's stone and King Kalebs Palace.
Another interesting thing to see in Aksum is the old St. Mary of Zion Church. Though not open to women, you can sit in the adjoining park and watch daily religious life go by.
Community Reviews
---
---
---
---
---
Community Rating
Community Rating 3.14. Based on 7 votes.
Site Info
Full name: Aksum
Unesco ID: 15
Inscribed: 1980
Type: Cultural
Criteria: 1 4
Site History
1980 - Inscribed

1979 - Deferred

Bureau meeting - info requested in 78 still not in place

1978 - Deferred

Bureau meeting - info requested
Site Links
Unesco Website
Official Website
Related
In the News
Connections
The site has 14 connections. Show all
Visitors
37 community members have visited Aksum. Show all