Blog WHS Visits
WHS #590: Bwindi
Bwindi Impenetrable National Park
has been made a WHS for its high variety of tree and fern species, whose dense cover of the valley floors has lead to the name 'impenetrable'. It is the remnant of what once was a very large forest. To the general public the park is mostly known as the number 1 place to see mountain gorillas. Bwindi welcomes over 20,000 visitors a year for that purpose.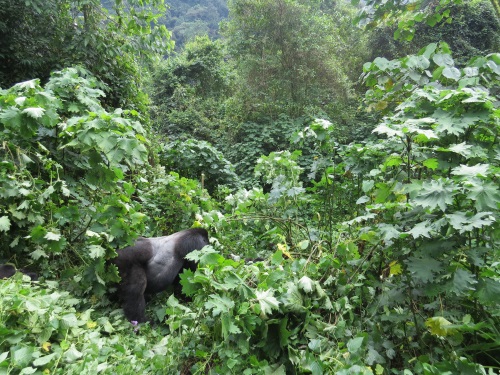 Impenetrable Forest
Although the southern part of Bwindi lies only some 50km north of
Mgahinga NP
and the Virunga Massif, it is a separate mountain range. Both nature reserves were once connected via a corridor, but they got separated some 500 years ago. The mountain gorillas in Bwindi have evolved on their own since, that's why they're sometimes regarded as a different subspecies from the Virungan ones. According to research, they are more likely to feed on fruits, travel longer distances per day and build their nest in trees than their Virungan cousins. As this was my second gorilla tracking after Virunga 5 days before, it is tempting to compare the two experiences. In hindsight I am happy that I choose to put two gorilla visits in my schedule. Actually quite a lot of people do so, often combining Rwanda and Uganda. My two visits complemented each other well: the gorillas in Virunga were extremely calm, just sitting around for 45 minutes so it was easy to take good photos and observe their enormous bodies. The gorillas in Bwindi were very active: climbing trees, tumbling down from the hillside, breaking a tree with bare hands and delivering a mock charge to clear the path from park staff that were in their way.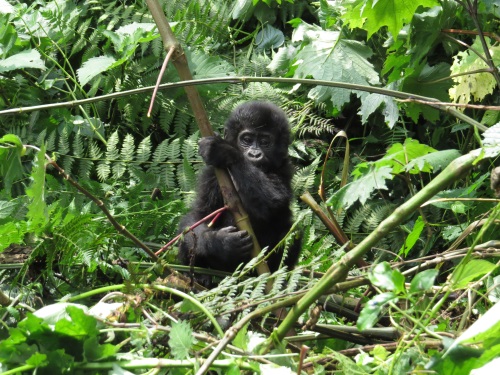 7-month-old baby
The experience in Bwindi was a bit more touristy also. There are porters available here from the village that earn their money by carrying your bag & pulling/pushing you whenever needed - not a bad idea as, according to the Bradt Travel Guide, Nkuringo trailhead is "the most physically challenging of all gorilla tracking locations". It essentially comes down to walking from the ridge to the valley floor, and back up again. At the end you will receive a gorilla certificate to proof that you made it. I had booked my gorilla permit to the Nkuringo family 9 months before, as they're said to sell out quickly. However there were only 5 people in our group for the day (there's a maximum of 8) and one guy even booked only a day in advance. The Nkuringo are one of 12 visitable groups in Bwindi. They became habituated in 2004 after they had been so naughty to destroy crops. Nowadays a buffer zone between them and the local farms has been created via the introduction of tea plantations. This provides some extra jobs for the community, and the gorillas don't venture in there as they don't like the taste of it (in the past gorillas have learned to eat corn, a quite recent addition to the African food chain). Just as in Virunga, the gorillas were easy to find (after a 1.5 hour scramble down from the steep hill).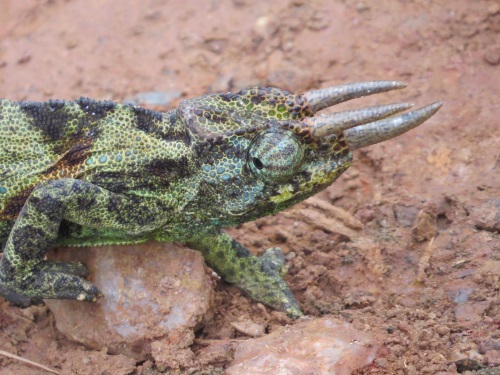 Three-horned chameleon
Bwindi lives up to its 'impenetrable' nickname as it doesn't give away its inner treasures easily: I haven't entered it for more than 10 metres as the gorillas were close to forest edge. I stayed for 3 nights at the
Nkuringo Gorilla Camp
, a friendly and cosy lodge with good food. Besides gorilla tracking, there's no other option to get into the park from there. I filled part of my second day here with some birding and 'chameleon tracking' on the roads surrounding Nkuringo village. From another trailhead, Ruhija, it is possible to do a trek deeper into the park to the Mubwindi Swamp.
Els - 15 January 2016