Blog WHS Visits
WHS #594: Santiago de Compostela
This was my last WHS left 'to do' on mainland Spain: the Old Town of
Santiago de Compostela
. Hidden away in the far west of the country, it's actually better accessible from Portugal than from the main Spanish airports. I visited the city on a day trip by rental car from Oporto, on
Holy Saturday
. (I actually wrote 'Easter Saturday' at first, but in the English language this seems to be reserved for the Saturday
after
Easter Sunday).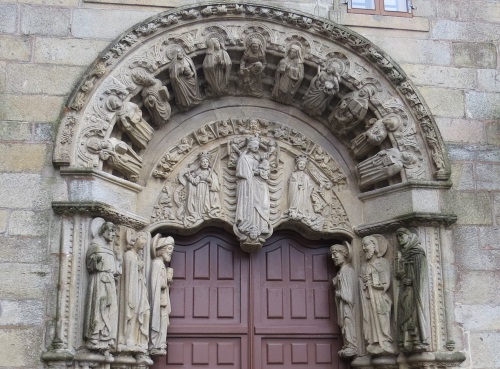 Façade of the Colegio de San Jerónimo
There's an hour time difference between Portugal and Spain, so I did not arrive as early as I had wanted. Most of the religious monuments are only open short hours, with a long lunch break or even no afternoon openings at all. And to make things worse it was raining heavily. I hurried directly to the city's landmark, the Cathedral. Unfortunately its main entrance, the Façade of the Obradoiro with the Pórtico da Gloria, is undergoing restoration at the moment. You now have to enter via a side entrance. The Cathedral is huge and there's a lot to admire - especially if you're a lover of over-the-top baroque. For someone like me, not raised with (Iberian) Catholicism, it feels very kitsch. But to those that come here as a pilgrim, it really is their holy site. I saw people praying at several chapels, lighting candles. I stumbled upon a man in robes inside a wooden box – a fully operational confessional, one of many here. A long queue zigzagged through the church: this consisted of people wanting to enter the narrow passage behind the High Altar, where one can 'embrace Saint James' (one of the many
pilgrim traditions
associated with this Cathedral).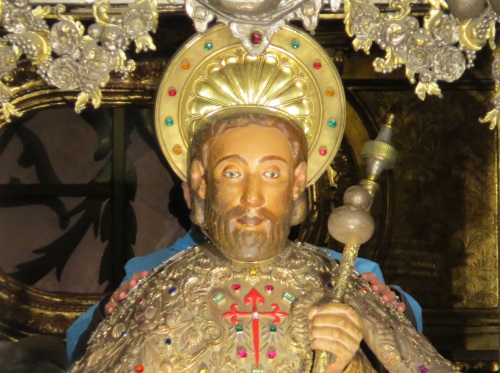 Embrace Saint James
When the clock struck 12, all benches were taken and many congregants were standing to attend Mass. While I whiled away my time as a curious bystander (waiting for the rain to end), I wondered what a high-profile target this place would be for Islamic terrorists. It is one of the prime symbols of Christianity in Europe, and the Cathedral is often packed with people. I noticed no security measures at the door when I entered. Only a few security personnel were moving around inside the Cathedral, observing the crowd. They seemed to be preoccupied though by tourists taking photos with flash, and screaming children disturbing the required silence. Santiago de Compostela is closely associated with the battle between Moors and Christians in the Middle Ages. It suffered from Moorish raids between the 8th and 10th century. One of the (many) legends surrounding Saint James had him miraculously appear during the fictional medieval Battle of Clavijo, where Christians fought Muslims. Nicknamed
Santiago Matamoros
(St. James the Moor-slayer), he appeared as a warrior on the battlefield on a white horse. There's an equestrian statue of him inside the Cathedral, representing this episode.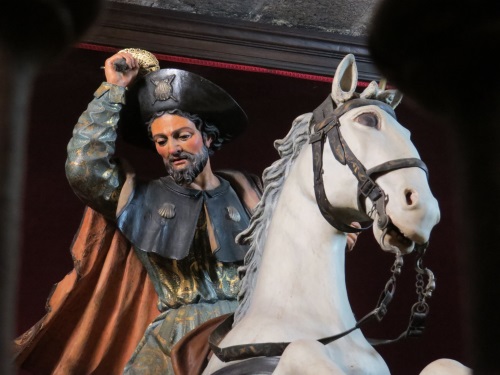 Saint James the Moor-slayer
After Mass I explored the rest of the city center. Santiago isn't too big. I had not expected to see any pilgrims during this time of the year, but there were many around. Maybe they had hiked a short stretch, I can't see anyone starting the Camino from the French border in early March. I had lunch at a typical small restaurant enjoying the regional specialty
Pulpo a la gallega
, and found myself surrounded by female hikers from Northern Europe who could barely get up and walk to the restaurant's toilet.
Els - 26 March 2016