Blog WHS Visits
WHS #584: Gammelstad
The
Church Town of Gammelstad
is a village in the woods some 10 km outside of Lulea in North Sweden. It's hard to imagine nowadays that people used to arrive here by boat. The sea level in the 15th and 16th century, when the town developed, was 10 metres higher than today. By 1649 though, the harbour had become too shallow. Movement of the tectonic plates had caused land elevation. On site you can still see the spot where the old harbour was located: it now is a parking lot for the neighbouring open air museum.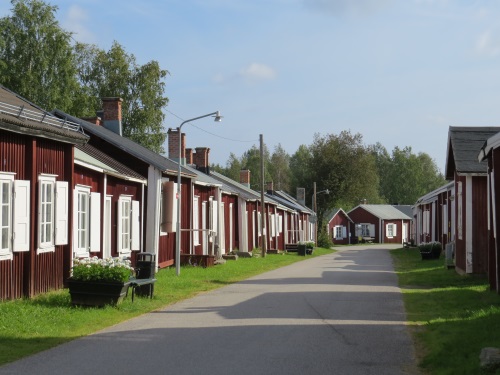 Typical street in Gammelstad
When I arrived in Gammelstad on a Sunday morning at 9 a.m. its streets were empty. Only a fat Garfield-like cat welcomed me, and accompanied me on my walk around town. The trademark
Falun red
wooden houses give the town center a coherent architectural feel, though there are more modern houses on the outskirts of town too. I found the town lay-out remarkable: it seems completely haphazard. The cottages were added gradually and as needed. Once all the streets were lined with houses, the land between the roads was filled by more buildings. They now all lie very close next to or behind each other. At first sight the wooden houses are tiny – of course people did not need much space for just a day in a week here. But not all houses were small: there's also a more luxurious quarter in town. Here for example lies the mayor's house. It is also made out of wood and red in colour, but it's a fairly sizeable farm house decorated to impress.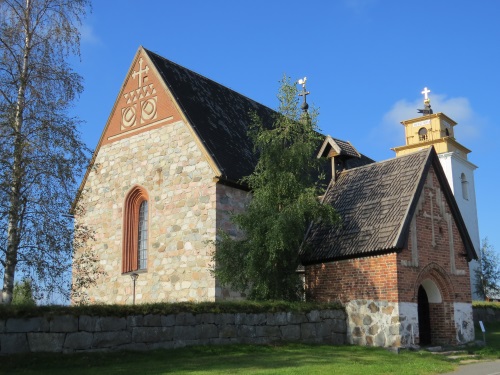 Nederlulea Church
The town got busier from 10 a.m. on. Mass in church on Sunday starts at 11 a.m., so the locals were slowly waking up and opening their doors. Also several other tourists showed up, Germans and Chinese among them. A big touring car from Germany even arrived when I left. The town gets 100,000 visitors a year, which isn't bad for a village. The interior of the big Nederlulea church should not be missed. The church was consecrated in the auspicious year 1492. It has groups of frescoes around the altar, it reportedly is the "northernmost church with medieval frescoes". Other notable ornaments include the baroque pulpit and a 16th century altarpiece from Antwerp. During the Reformation, this area (and this church) turned from Catholic to Protestant around 1590.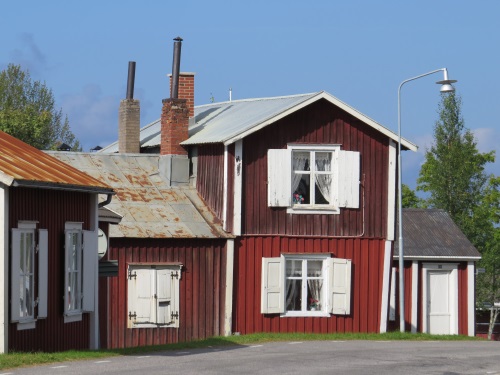 The houses are built almost on top of each other
Despite Gammelstad's cuteness, it will be hard to spend more than 1.5 hours here. I walked the town twice, had a look inside the only house open for visitors, explored the visitor center and had coffee and homemade cake next door at Ullas Café. It's very much a normal town, the cottages are not taken over by souvenir shops as they would be elsewhere in the world. My final verdict would be: nice enough for a detour, but it would not be part of my Top 200 WHS.
Els - 19 August 2015