Darien National Park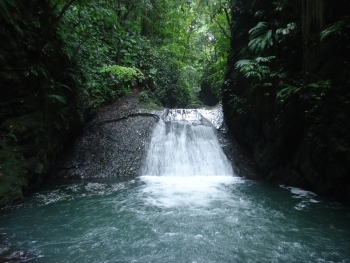 Darién National Park is a mostly undisturbed tropical rainforest that forms a bridge between two continents, which is reflected in its biodiversity.
It is crossed by many rivers that provide the main infrastructure for people and animals. A stretch of Pacific Coast with beaches, mangroves and swamps also belongs to the designated area. The park's fauna is rich and diverse, with 169 documented mammal species including Jaguar, Giant Anteater and Central American Tapir. Over 500 bird species have been recorded, most notably a large population of Harpy Eagles.
Community Perspective: a permit is needed to be allowed into the park. Jarek managed to visit Rancho Frio inside the park under his own steam, while Albert describes how he regularly visits the same ranch with groups of entomologists: "Getting there reminds me of a National Geographic video every time we go."

Community Reviews
---
Albert214
I have been taking groups of Entomologists and Photographers to Darien National Park and Rancho Frio since July 2013, probably visiting there at least 10 times, usually spending a week at the camp. You can get an idea of what is involved in getting there by reading another review by Jarek Pokrzwynicki that pretty much covers it.
We have rental SUV's and trucks to haul the massive amount of equipment it takes for an Entomology research trip there, and it usually takes the better part of 2 days from the time we leave Panama City until we get to the camp at Rancho Frio.
I usually go there for 6 to 8 nights with groups from 6 to 14 entomologists. We bring all of the food needed for a week stay there along with several coolers with perishable food and ice (the park guards can obtain small blocks of ice, and some basic food items, from the village of EL Real if needed).
As of early 2018 there is a large chest freezer that runs on propane. You should buy a fresh tank when you go to the camp to insure you have cold storage while there. Another propane tank is used for the stove for cooking your meals so you might want to get one for the stove, too. They are not too expensive ($10-$15).
I bring several 2000w generators, fuel cans, bright Mercury Vapor lights, dozens of extension cords, and small electric fans for each person on the trip. They are worth their weight in gold there and provide a welcome relief to the oppressive heat and humidity. The "dry" season usually runs from December through April, but rain can be frequent and heavy there, and visiting there between May and November could be a rainy experience you won't forget.
The little river that runs next to the camp can be used for bathing or cooling off. They do have a basic shower (cold water) and a couple toilets that are supplied by river water. We usually bring 6 large 2 or 3 liter bottles of water and water filters (like Katadyn) to keep providing drinking water for our week there.
The Environmental Ministry (Mi Ambiente) has a small 2-story bunkhouse with 4 sets of bunkbeds on each floor, each with a mattress. You must bring your own sheets, pillows, pillow cases, towels, etc to this location.
I cannot emphasize how important prior planning is for visiting this location for more than a day or two. The Mi Ambiente guards working at Rancho Frio are very friendly and interested in the insects, moths, butterflies and beetles that we collect there. The entomologists I bring from various museums and universities from all over the world have discovered several new species of butterflies and beetles in the area, and we probably have some undescribed moths that need to be worked on by specialists. It's destination that many "bug nerds", as my wife calls us, want to go to but the planning and logistics of making it happen require months of planning.
Luckily I am assisted by a professor at the University of Panama who helps me obtain the proper permits, and a fantastic Embrerá Indian guide, Luis, who lives in EL Real, near Darien National Park, and arranges for the boat rides from  Yaviza to El Real and back, the trucks to haul our equipment and us from the river to the trailhead, and for the dozen or so pack horses to carry our equipment (and a few people) into the park boundary. Getting there reminds me of a National Geographic video every time we go. 
---
Finally visited in November 2017. Quite difficult to reach but doable with some preparation.
Of course it is not the place you can go on your own. There are number of dangers that are real (smugglers, narcotraffickers, guerillas, paramilitares), presence of many armed representatives of Panamanian police (Senafront) only acknowledge that. But all the efforts and difficulties are rewarded with what you finally see in Darien. Untouched rainforest, pristine rivers, diverse wildlife, endemic species –everything you will find there.
With no doubt the most efficient (and expensive) way is to go there with an organized trip. There are several agencies specializing in making Darien tours. The majority of them offer multi-day trips with everything well organized (food, accommodation, transportation including stay within national park boundaries) but most of them avoid November as it is treated as wet period. Anyway searching before travel there I found several agencies that - despite rainy season – were eager to organize individual trips there but apart from costs they were stressing on staying more days in Darien (minimum 5 days altogether). If interested let me know and I will send details of what I found out.
Knowing that I tried to organize trip for myself. Bus from Panama City Albrook Terminal to Meteti (9 USD per person) than changes to minivan Meteti – Yaviza (5 USD per person), if you start journey in the morning (Panama) you should arrive to Yaviza late afternoon. On a way there are 2 check-points – all tourists are registered (you should name all the destinations that are planned to be visited) but no permits are required at this time.
Depending on your arrival time to Yaviza you can try to arrange necessary permits and documents the same day (or the following), there is very descent hostel close to Yaviza port as well as reasonably priced restaurants. Darien National Park office is located nearby some 600 m from the centre (ask locals for Mi Ambiente oficina).
To receive permit for Darien National Park it is necessary to have a guide (local or official one) as his name is stated in the permit. If you don't have a guide usually the park officials may help in finding someone but you should negotiate the price first (usually depends on places to be seen and days spend in Darien). Permit costs 5 USD per person and includes places to be visited / days spend within the boundaries of Darien National Park and guide name. At the park office you can also pay your accommodation fee – 15 USD per person / per day.
I was lucky to have a official National Park guide - local person, speaks good English (and Spanish of course) with good knowlege of local fauna, plants and area, I can recommend him - if interested let me know so I can send contact details.
Once you get permit you should check at local police station (Senafront, located close to National Park office). This is usually done by your guide. After that you can try to arrange next steps – food and all the meals for stay in the Park (there are good shops near the port). Buy everything what you will need at this point. Afterwards you should organize a boat from Yaviza to El Real. Fee for foreign tourist is 10 USD per person (one way) – locals pay half of this price (e.g your guide) but you are a foreign tourist. The trip to El Real usually takes around 40 minutes. In El Real there are 2 more check-points (one just close to the port, another one in the village centre) where your documents are carefully viewed but usually that does not take much time.
From El Real there is an unsealed road to Pijibasal Indian Village (15 km). Officially there is a public transport (4x4WD, 2 USD per person, one way) but foreign tourists pay full price per car (25 - 30 USD, one way, sometimes it is more, depending on your negotiation skills). It can also be taken by foot but after 5-6 km there is a big river (I haven't noticed any bridge nor any place that can be passed by pedestrian) good enough for a car but difficult for a hiker. 4x4 goes to Pijibasal but you get off some 500 m before the village where the path to Rancho Frio in Darien National park begins. That part can be done only on foot. The track is well marked but during rainy season it can be difficult to walk (huge mud and occasional streams). Although it is around 3 km it took around 1,5 hours to reached Park border (there are signposts) and around 2 hours to get to Rancho Frio which is located inside Darien National Park.
Rancho Frio is more a ranger station than a campground. Tourist facilities are very basic (including kitchen – gas or stove, some cutlery, plates, pots, one toilet, one shower (but don't count on hot water as it is taken from a nearby river) and a place to sleep (separate building with bunk beds) – you should have your own bedding and mosquito net.
There is a nice trek around Rancho Frio (2-3 hours) but visit to local Perresenico waterfall requires at least 200 meters to go inside the stream – be prepared for that as nothing dries in Darien due to high humidity. Anyway even if it looks as marked I would not dare to go without a guide due to occasional landslides or fallen trees.
During night you should have a torch as there is light only at rangers place (generator that works only if there is enough petrol, but usually not after 9.00 – 10.00 PM). Mind that you are in the middle of a jungle and any light in the night attracts plenty of insects.
On a way back it is possible to visit Pijibasal local Indian Wounaan community – it is also possible to spend a night there – there is a hostel in the centre of the village – sleep in hammocks – and explore area towards Dos Bocas (3 hours trek to Dos Bocas waterfall).
From Pijibasal there is well known transport to El Real, same prices as previously stated, El Real – Yaviza part is done exactly the same – it is advised to reach El Real sufficiently early because in the afternoon there could be no boats to Yaviza (you will be forced to spend the night in El Real – not recommended by Lonely Planet).
---
Site Info
Full Name

Darien National Park

Unesco ID

Country

Inscribed

Type

Natural

Criteria

7

9

10

Categories

Link
Site Links
Unesco Website
Official Website
Visitors
15 Community Members have visited.