Blog WHS website
An improved website
It has taken a while due to travel and day job commitments, but Nan & I now can proudly present the refurbished version of this website. So what's new?
Easier login and subscription
As a registered community member, you can now login via the button at the bottom left of the homepage. After providing your username & password, you will stay logged in as long as you are online. You can add reviews on the go, update your count of visited (T)WHS and rate WHS that you have already visited (see below for more on that).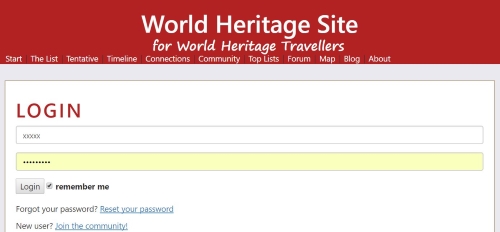 The new and improved login screen
The addition of new members has now been fully automated, and uses e-mail verification. Also, finally a proper 'lost password' function has been introduced. So no more e-mails to me and tricks to perform anymore!
An improved user interface for adding and editing reviews
With the inclusion of a simple content management system, you will be able now to add mark-up to the texts of your reviews – such as turn words into bold or italic, create hyperlinks to other websites or add a paragraph. Also, the photo upload system should be easier to work with than the previous one. You can add a photo in one go while you're writing the review text.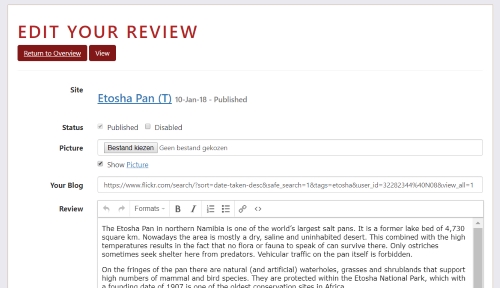 The new editor
Continuous rating system
From now on, subscribed users can also rate their visits to WHS on a scale from 1 to 5 stars. As a starter, I've filled in already a large number of ratings for the sites that I ranked over the years (some 250). I converted the 9's and 10's to 5 stars, 8's to 4 stars, 7's to 3.5 and 6's to 3 et cetera. You can also give 0.5 stars. Maybe you already use your own system. You can also adjust your rating after a revisit.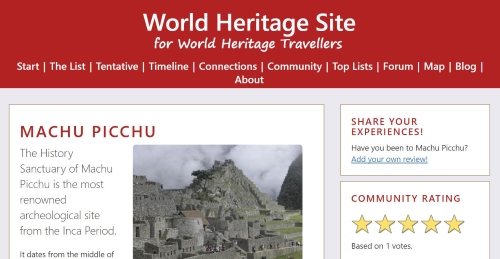 Rate your visit
Some smaller fixes
The explanations for the connections per WHS are visible again on the site page. There's a nice new WHS meetup page. The About-page has been redone and now contains a WH glossary plus links to recent interviews with Philipp Peterer, Atila Ege and me. Many thanks to Nan, as without him this would not have been possible. We hope you all like it. If you see any bugs, or have ideas for future improvements: add them to this forum post.
Els - 27 January 2018
Comments
---
Nan 18 January 2038
@Caspar. It's a bug. See the forum. Your rating is very likely in. And starting with the next release (scheduled asap) you can see your ratings on your own profile page.
---
Esteban Cervantes Jiménez 18 January 2038
Great job, Els and Nan! These changes will certainly add up positively to the experience of this great website
---
That's great, thanks a lot! It seems though that it doesn't save my ratings: If I reopen a page the average rating and mine are always identical. Perhaps it saves the individual ratings invisibly?
---
Colvin 18 January 2038
Great work, Els and Nan!
---
Nan 18 January 2038
Finally done :)
---
Clyde 18 January 2038
Well done to both of you :) Will be fun to rate the WHS I visited.
---