Blog WHS Visits
WHS #595: Rock Art of the Coa Valley
I almost failed twice in visiting the
Coa Valley Rock Art WHS
. In 2002 I was all set to go with a confirmed tour booking, the only way to get into the WHS core zone, when I received an e-mail a few days beforehand that the site had been flooded. All visits were cancelled. On my next try, in March 2016, I enquired about a tour a week before and was told that those on Saturday were fully booked! The
PAVC
gave me a list of private tour companies that also arrange visits (at considerable cost I am afraid). Fortunately I was able to change to Sunday, and they had spaces left for that day. Phew. I could not imagine having to travel to this corner of Portugal for a third time just to see one left-over WHS!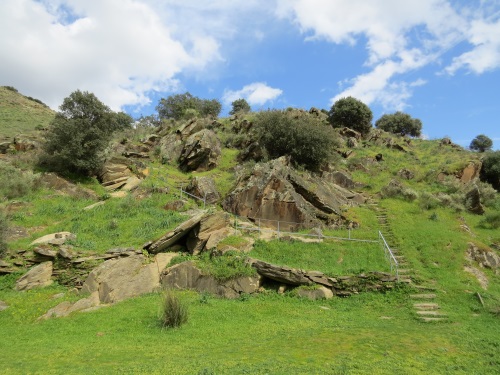 Rock formations at Penascosa
In hindsight this one day delay proved to be a blessing during the Easter weekend: Sunday was the only bright day between two days full of rain. So I drove happily for 2.5 hours to this far corner of Portugal, once again passing the
Alto Douro WHS
which I had already 'ticked off' in 2002. I had planned a couple of stops to improve the photos of that WHS on the website, but there's hardly anywhere to stop along the way. I arrived at the Côa Museum about noon. One wonders what lay behind the decision to build such a huge modernist structure for what probably always will be a minor tourist attraction. Having found my way to the reception in what appears to be a dark and moist basement, I was happy to discover my name on the list for the tour that afternoon. Nothing could go wrong now! First I explored the museum, which does a good job to explain the basics about the rock art of this region. They also display several replicas and colourful wall panels. The restaurant downstairs seems to be more popular among locals than the museum. Numerous extended families were celebrating their Easter lunch here. It is a bit upmarket (it certainly feels that way), but at 13-14 EUR for a main dish the prices are reasonable. I had
bacalhau
(cod), the staple of Portuguese cuisine. From the restaurant's garden there are great views over the Coa Valley, which I found more spectacular than the Alto Douro Valley.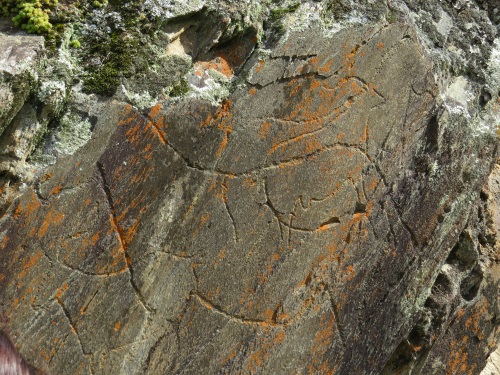 A large horse, with other animals carved on top of it
For my encounter with the actual rock engravings I had a booking for the Penascosa tour at 14.30. This starts from the village of Castelo Melhor, some 15 minutes further into the valley. Driving there the scenery gets more and more impressive along the way. Castelo Melhor itself is cute too, you can easily spend half an hour or so here before the tour starts. Penascosa is one of the 16 inscribed Portuguese locations comprising this WHS. It was created 25,000 – 17,000 years before present. The site has 10 engraved rocks, which are only covered with animal figures. Together with 7 other participants (all Portuguese), a guide took me down on a bumpy ride in a 4x4 to the Coa River. I must commend this female guide that she kept on explaining everything in both Portuguese and English during the whole 1.5 hour tour. It might have been the soft Spring sunshine or the excellently chosen timing of the guided tour, but to my surprise the engravings were clearly visible (and even photographable). They're found on rocks close to the river, there's another group of rock art across the water - it is said that the location was kind of a valley entrance. The guide also had brought a book from where she could show the individual carvings, separated from each other. On many rocks the carvings are made on top of each other so it is sometimes difficult to see which limb belongs to what animal. Some carvings also supposedly show movement of animals: a horse with 3 heads is explained this way.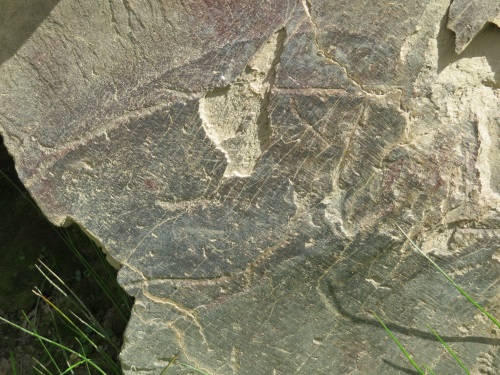 This represents a fish
I truly enjoyed my afternoon in the Côa Valley. This is a really well-kept WHS. The Portuguese have installed 24 hours a day (human) site surveillance at each of the separate locations. This upkeep comes with a cost, to which visitors only attribute 10% (the government has to chip in for 83% of the budget). 41,087 people reportedly came last year, but that may be the visitor number of the museum (the guided tours seem to attract a lot less attention). It also is a remarkable WHS as it is one of the most ancient man-made sites on the list: Côa has the oldest petroglyphs discovered in the world so far and is just slightly younger than the Altamira Cave (which contains rock paintings/pictographs).
Els - 2 April 2016