Blog: WHS #555: Gomera's Garajonay
Spain's Garajonay National Park only has a small footprint on the web. In preparation of my visit, I had been looking for a few extra links to upgrade the site's page on this website. But not many people seem to go there or at least write about it. It's not popular among World Heritage lovers either: it's ranked 409th out of 481 European WHS in our listings. The park covers the central part of the Canary Island of La Gomera, which is the neighbouring island to Tenerife. Tenerife's prominent WHS Teide volcano can be seen well from the Garajonay.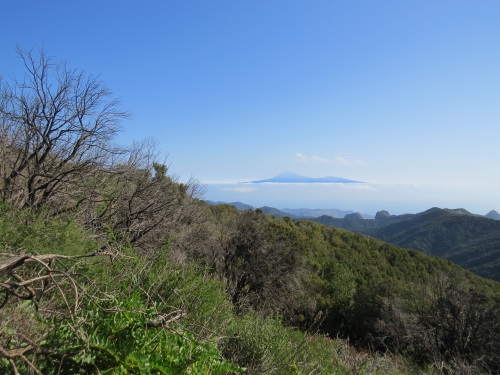 Garajonay's claim to fame is its laurel forest. At its inscription as a WHS in 1986, this Spanish national park was seen as the best preserved stretch of laurisilva that once covered all Canary Islands and Madeira. 13 years later the similar Laurisilva of Madeira was admitted to the WH list. Its nomination document goes a long way to describe the differences: the Madeira laurel forest WHS is about 5 times larger than the one on Gomera, and the forest "is in general more luxuriant than the Canarian forest, being taller, wetter and cooler." They claim that the Madeiran forest was just lesser known and written about in the 1980s than the Canarian ones. So maybe Garajonay's value isn't that outstanding after all.
Interisland rivalry aside, something with an enormous impact happened to Garajonay in 2012: a forest fire burned 3,000 hectares (20%) of this national park. During my visit two years later, the effects were still very prominent. I started with an ascend to the top of Garajonay mountain, and noticed blackened trees all around the summit. An information panel at the top describes how succesful the conservation in this national park has been in the 1980s, by eradicating all foreign trees (such as eucalyptus). A final note has been added about the fires: optimistically they point out to see and look how quickly the forest recovers. My eyes however tell me that tree heath regrows much quicker than laurel forest.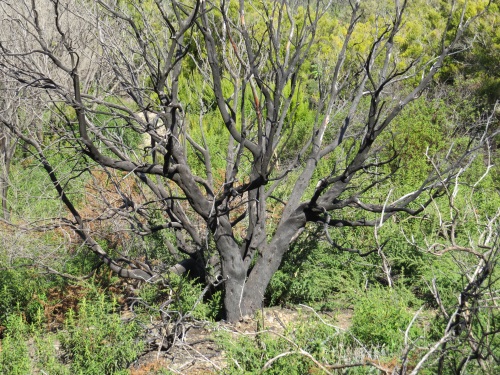 To see as much as possible of Garajonay National Park in one day, I hiked for 10km along its "roof top", a circular walk from Laguna Grande to the top of Garajonay. The mountain top itself is a popular tourist stop, a 30-minute uphill walk from the main road. Here you can find the great views on the surrounding islands such as Tenerife and Gran Canaria.
The rest of the hike fortunately was much more quiet. I had prepared for a cool cloud forest, packing a sweater and a soft shell jacket. But due to the fires, the paths now lie out in the open. Even in late December the sun in this part of the world is strong. Also there seems to have been little rain recently. Only during the last 2 kilometers of my hike, near Laguna Grande, I saw some of the features that I had anticipated: lush vegetation, mosses and lichens. Still much less of those than I saw on (the wetter) Madeira and certainly on the ultimate wet forest Yakushima.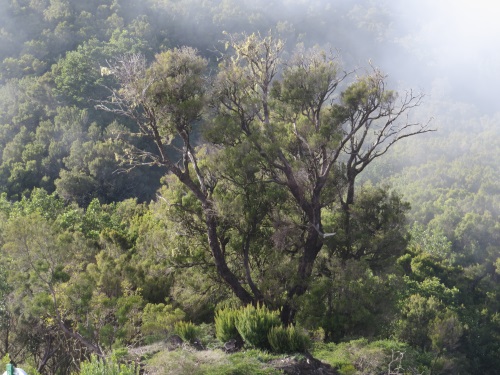 Although La Gomera sees its fair share of tourists, it still is somewhat of an adventure to get to Garajonay. There are only a handful of buses a day, and on "my" bus people were left at the bus station of San Sebastian de la Gomera because the bus was full. And when you finish your visit, you can only hope there will be a return bus. Otherwise you'll have to hitchhike. I missed my return bus too, and got picked up by a shark-like taxi driver who cruised past the bus stop just after the bus had left.
Published 29 December 2014
Leave a comment