Blog WHS Visits
WHS #582: Wooden Tserkvas
The
Wooden Tserkvas of the Carpathian Region
are 16 wooden churches in the border region of Poland and Ukraine. There are 8 inscribed churches in each country. During my long weekend in southeastern Poland I focused on the Polish ones. Beforehand I plotted them all on a map, and as you can see in the figure below it will take a long drive to cover them all. Two tserkvas straddle the Ukranian border below
Zamosc
, and I was tempted to drive even further north to include that WHS also. But it still is a 1.5 hour drive from Radruz. Daytrips to
L'viv
in Ukraine are also advertised from the larger cities in this region, so this is a true hotspot.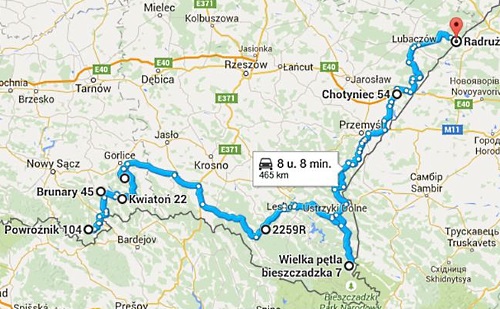 The 8 bigger white dots represent the Tserkvas in Poland
In the end I only had time for the 6 in southern Poland, those that lie near the border with Slovakia. Most of the previous reviewers seem to have visited the cluster of 4 below Gorlice, although
John Booth
of course made it even to the most remote ones by public transport! 'Tserkva' means 'church' in the Ukrainian language. Most of these churches were built for the Ukrainian Greek Catholic Church, an
Eastern Rite Catholic church
(sharing traditions with the orthodox churches but acting in full communion with the Holy See). Since the Ukrainian population left the area after WWII almost all tserkvas in Poland have come into use as Roman Catholic churches. They have retained their traditionial (orthodox) iconostases, and the catholic service is performed in front of those. This mix of the Orthodox and Catholic branches of Christianity is one of the more interesting features of this set of wooden churches.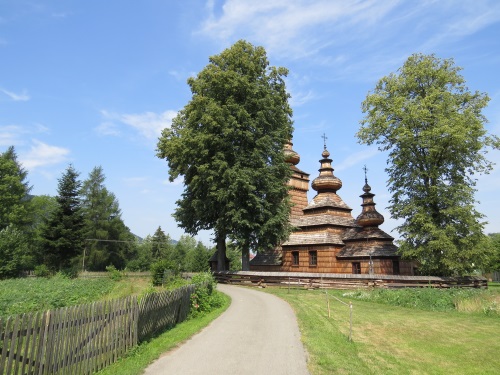 Kwiatoń, Tserkva of Saint Paraskeva
I drove around in this region on a Sunday, and met many churchgoers on foot. The designated churches certainly aren't the only interesting wooden churches in this area: some more recent ones are still heavily used, with people even standing outside to attend the service. Only one of the 6 tserkvas on my list was in use for a service, but I encountered visitors at all of them – mostly Polish tourists. The region felt less remote and 'backward' than I had imagined . There are villages everywhere, and supermarkets and gas stations were open on Sundays. My favourites among the 6 churches were the ones in Kwiation and Turzansk. The last one is special because it nowadays is in use as an Orthodox church, not a Roman Catholic one. Unfortunately I couldn't get in, but with its 5 metallic domes plus a separate bell tower it is picture perfect. It also looks much bigger than the other ones, maybe because it lies in an open field.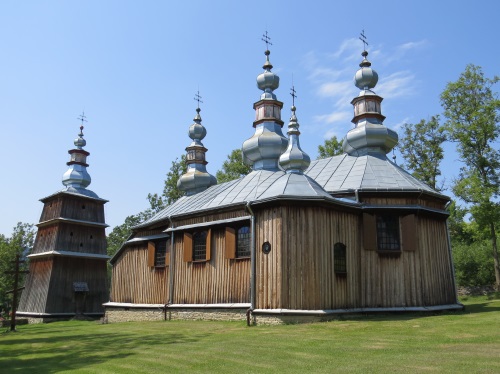 Turzańsk, Tserkva of Saint Michael the Archangel
The sixth and final church of my tour lies in the extreme southeastern tip of Poland, a few kilometers from the Ukrainian border. I added it to my route because it seemed so remote: the village of Smolnik to which it belongs has only 182 inhabitants. But on arrival it turned out to be the busiest of them all! There were already a few cars in the parking lot, and a couple arrived by bike. The church was open. Here no special murals or glossy iconostasis: the decor consists of deer antlers! They cover the walls and even the
chandeliers
are made out of them.
Els - 1 August 2015