Blog Exhibitions
Rome. Emperor Constantine's dream.
De Nieuwe Kerk
in Amsterdam lies just outside the core zone of the
Amsterdam Canal Ring WHS
, but is a monumental building in its own right. It's a former church dating from the 15th century and a bit of a national burial site with tombs of Dutch historical figures such as
Michiel de Ruijter
,
Nicolaes Tulp
(surgeon of Rembrandt fame) and
Joost van den Vondel
. It currently hosts artifacts on loan from several Vatican Museums concerning the period that Rome transformed into a papal center dominated by Churches with crosses. This exhibition will run til 7 February 2016.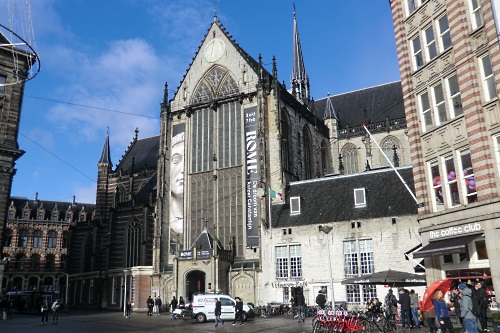 De Nieuwe Kerk Amsterdam
Rome. Emperor Constantine's dream
shines a light on Constantine the Great, Roman Emperor from 306 to 337. He allegedly was the first Roman emperor to convert to Christianity. He stopped Christian persecutions and legalised Christianity along with all other religions and cults in the Roman Empire. Until today we can see the results of his policies in the many basilicas of Rome, and also abroad. His most famous building projects include the (original) Church of the Holy Sepulchre and the Old Saint Peter's Basilica. After entering through a copy of the
Arch of Constantine
, the first exhibition room holds artifacts that show the mix of religions and cultures that were present in Rome in Constantine's period. I found this the most interesting part of the exhibition. There's a sculpture showing the Egyptian goddess Isis breastfeeding her child, just as Maria is depicted often in Christian iconography. And an inscription with a combination of text in Greek and Jewish symbols such as the menora. Mystery cults such as those of
Mithras, Jupiter Dolichenus and Sol
are represented by images of their deities.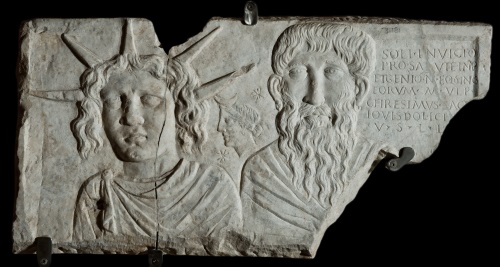 Relïef with Jupiter Dolichenus and Sol
Rome, late 2nd – 3rd century
Marble, 41 x 84 x 7 cm
Rome, Museo Nazionale Romano, Terme di Diocleziano
The subsequent rooms show burial traditions (sarcophagi with Christian subjects carved in Classical Greek ornamental styles), mediëval books and Renaissance paintings - all with reference to Constantine or his period of Christian emancipation. To me it felt as a somewhat haphazard 'mix and match' of objects. I spent about an hour at the exhibition, and that mostly because the audioguide slowed my pace. The stories told by 4 more or less prominent Dutch are quite tedious, and I wonder what foreign visitors think of for example the private insights of TV host Nelleke van der Krogt. As with most Amsterdam museums,
De Nieuwe Kerk
has become quite a commercial affair. Entrance costs 16 EUR and photography is not allowed. But if you have an hour to spare on a rainy day, the exhibition is still worth a visit. There were no queues when I visited on a Sunday morning. The tour ends at one of the highlights: the gigantic sculpture of the right hand of the
Colossus of Constantine
.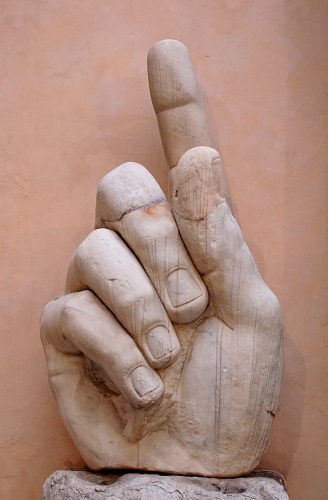 Right hand of the Colossus of Constantine
Els - 22 November 2015