Blog WHS Visits
WHS #596: Walled City of Baku
Azerbaijan isn't exactly a tourist magnet, but it does try really hard to reach out to the world. In a few weeks time it will stage its first Formula One race (on a street circuit just like Monaco!), and it has been host to the European Games and Eurovision Song Contest in recent years. Its capital Baku houses half of the country's inhabitants, and is a sight to behold. A relatively small part of it, the
Walled City of Baku with the Shirvanshah's Palace and Maiden Tower
, has been designated as a world heritage site.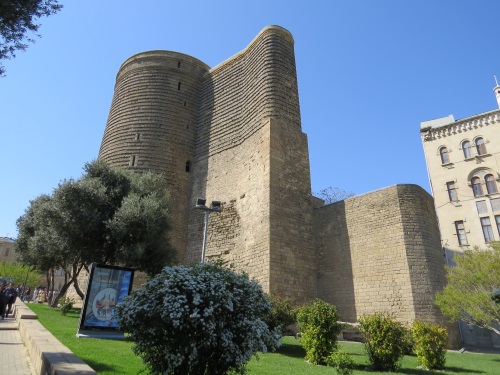 The Maiden Tower
Despite the "Walled" epithet, the medieval city center isn't fully enclosed anymore. Only the western and northern side still are fortified. In our timeline we put '12th century' as the age of this WHS, derived from the construction date of the landmark Maiden Tower. This tower lies on the edge of the old town, at a stretch without a continuing wall. It has a peculiar cylindrical shape, with a rectangle brick structure attached for additional stability necessary in this earthquake-prone region. It is climbable via an inner staircase, you'll see that there's a cistern hidden inside. The whole site is easily walkable and low on traffic. There are many restaurants on hand for a tea break or a kebab, and there is outdoor art (some of it Soviet-style). Somehow I had expected more of a 'medieval town center'-atmosphere, but most of the buildings are from a much later date and/or don't have their original purpose anymore. In this way Azerbaijan has similar 'problems' as the Gulf States – while now they have the funds and self-consciousness to celebrate and preserve their ways of the past, most of these have been demolished or died out. The core zone for example has several hammams, but none is in use anymore ("All the houses have bathrooms now!", exclaimed our over-enthusiastic guide). When you use your imagination (a lot), you can see there's a hint of Silk Road cities like Bukhara here. But especially the long Russian dominance has erased a lot.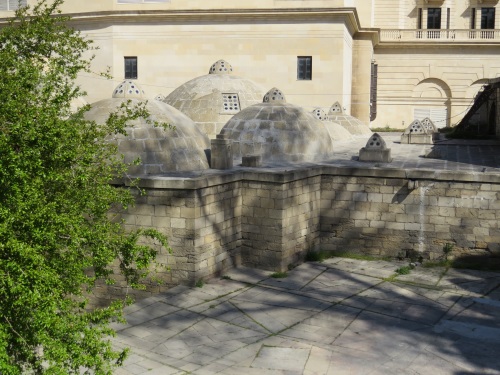 A former hammam in the Old City
Probably also a result of Soviet times is the low-key existence of mosques. The call-to-prayer has been forbidden in Baku for example (although I heard it during my stay). While the old Uzbek cities are full of ostentatious religious monuments, Baku's old town Friday Mosque is easily overlooked. The second main monument inside the walls, the Shirvanshah's Palace, housed the rulers of medieval Azerbaijan when they moved their capital to Baku in the 15th century. The complex consists of several elements, including its own mosque plus minaret and mausolea. The main residential palace can be visited but is rather bare. Its façade is covered with bullet holes stemming from "soldiers shooting training", or the inter-ethnic conflict in 1918 known as
March Days
/ Azeri genocide by the hands of Armenians (all depending on who you ask).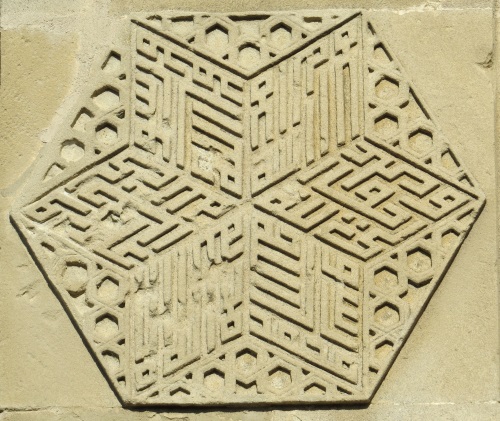 A fine example of Square Kufic at the Palace
During my visit I came exactly to the same conclusion about Baku as
Solivagant
did more than 10 years before: while the walled city center is worth a visit, the real attraction of the Azeri capital lies in the 'modern' town. There you can find many monumental late 19th century constructions in (mostly) neoclassical style, testimony to an earlier oil-boom. These buildings have found new functions and are well-cared for, especially the facades are splendid. The Azeri's also use this succesful window-dressing technique to hide uglier building fronts from the Soviet-period. Devotees to modern architecture will find in Baku a masterpiece like the
Heydar Aliyev cultural center
, done by the recently deceased Zaha Hadid. And the three elegant Flame Towers will draw your attention from afar, especially when illuminated in the evening in yellow & red. Both constructions were only finished in 2012, and these are just two of the highlights. More are on their way - until the natural gas & oil money runs out I guess.
Els - 29 April 2016
Comments
---
Solivagant 28 April 2016
I came exactly to the same conclusion about Baku as Solivagant did more than 10 years before:
16 years ago I am afraid!
---