Blog WHS Visits
WHS #600: Armenian Monastic Ensembles
The
Armenian monastic ensembles
comprise two monasteries and a church belonging to the Armenian Apostolic Church of Iran. This was probably the WHS I was most looking forward to in preparation of my recent tour of Azerbaijan & Northern Iran. Since it has been added to the List, I've always wondered why a Shiite theocracy would nominate a purely Christian pilgrimage site. Also, remote monasteries belong to my favourite types of WHS.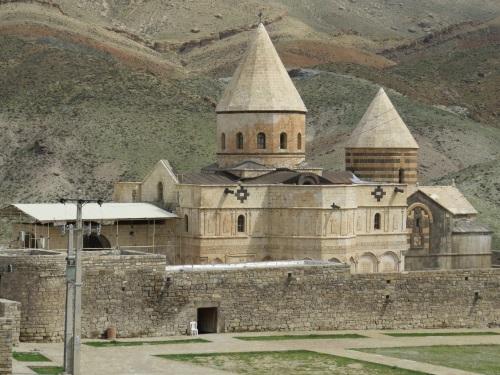 St. Thaddeus Monastery
Out of the inscribed locations I only visited the St. Thaddeus monastery, which is considered the main site. Legend has it that the apostle St. Thaddeus brought Christianity to Armenia, and this spot (now located on Iranian soil) was the place where he died. Sometime between the 7th and 10th century, the St. Thaddeus Monastery was founded here. It developed into a place of pilgrimage for Armenians from Iran and neighbouring countries. Annually in summer a big festival is held in the vicinity of the monastery, with thousands of pilgrims staying in tents. From 1930 to 1947, the monastery was the seat of the Catholicos (spiritual leader) of the Armenian church. As befits any good monastery, it lies in a very remote spot. The day before my visit I overhead our Iranian guide and Dutch tour leader in fierce debate about how far the drive from Tabriz is and whether it is worthwhile to make a day trip. Neither of them had ever been there, or possessed reliable information about the distance and road conditions. Is it a 240 km drive one way or return for example? At 7 o'clock next morning we left with 75% of the tour group towards the east, to the extreme northwest tip of Iran. St. Thaddeus Monastery is located near the border with Azerbaijan and (obviously) Armenia. Landscape-wise this is the best part of Iran I'd seen so far, with views on numerous snowy peaks. The monastery itself lies in a barren area. You can see its two white, typical Armenian conical towers from afar. It's not a completely uninhabited area though: next door lies a poor Kurdish village.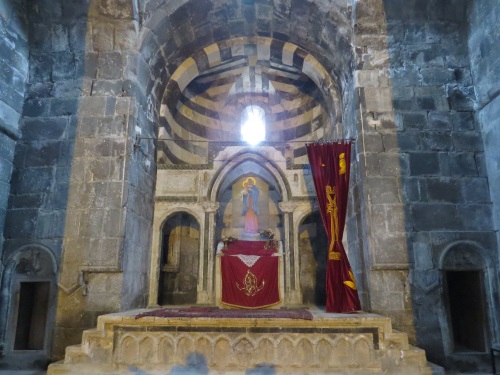 Black Church altar
From a distance, the church seems to be intact and in good shape. Up and close though you can see that a lot of props are needed to keep it upright. Cracks in the walls caused by various earthquakes are clearly visible. The church interior feels sober because of the gray / black walls made out of tuff, just as the churches in the motherland Armenia (hence the nickname 'Black Church'). Texts in Armenian script and simple crosses are carved into the stone. The exterior is much more decorated. Most of these decorations date from the 19th century, when an additional (white) part was added to the church due to more and more pilgrims arriving. At different heights sculpted reliefs were added, representing the 12 Apostles, local kings and less recognizable individuals from the Iranian folklore. You really need to take your time circumnavigating the church to take it all in. I even went back for a second time when I found a series of images in the UNESCO nomination file which I had not spotted on site.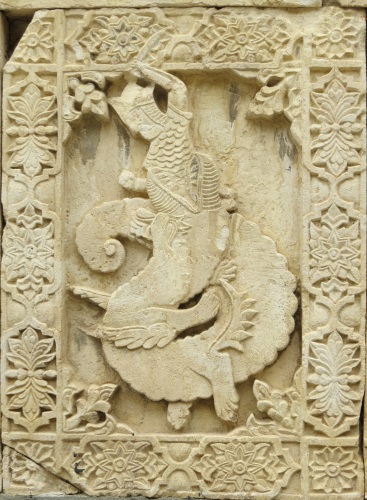 Relief of mythical hero Amirani
Afterwards, I heard no complaints from my 12 fellow travellers (not afflicted with the WH virus) about the 2x 4 hour-drive 'only' to see a small church. It's a fascinating work of architecture and important piece of regional (religious) history. The final question to be answered remains: why has the Islamic Republic of Iran chosen this Christian site to represent the country? The fact is that the Iranian government does have a selective tolerance for certain religious groups or ethnicities (they don't seem to mind the Kurds or Zoroastrians either). The Armenians, beloved by few in the wider region, somehow are Iran's favourites. According to Wiki: "The Armenians remain the most powerful religious minority in Iran. They are appointed five seats in the Iranian Parliament (the most within the Religious minority branch) and are the only minority with official Observing Status in the Guardian and Expediency Discernment Councils." In all major cities of Iran one can find active Armenian Apostolic congregations. On my last day in Teheran I attended a mass in a prominent church, where some 60 churchgoers showed up. The existence of this kind of pluriformity in Iran is one of the main lessons I learned from this trip. Unfortunately, this 'tolerance' does not extend to other groups such as the Bahá'í (who are actively persecuted) or to allowing conversion from Islam to Christianity.
Els - 14 May 2016
Comments
---
Els Slots 17 May 2016
Thanks!
I thought of bringing a jubilatory "600"-sign, but decided against it.

By the way, for those who want to go there: the distance is 246km one way from Tabriz (so almost 500km for a return trip).
---
Ian Cade 17 May 2016
I just noticed that it is a milestone visit, congratulations on reaching 600+ sites! (I just checked and you were on 115 visits when I first encountered the site so good going for the intervening years)

I also like your reference to other non WHS obsessives thinking that it was a worthwhile trip, it is always useful to gain some non biased feedback on the sites we spend so much time travelling to.
---