Comoé National Park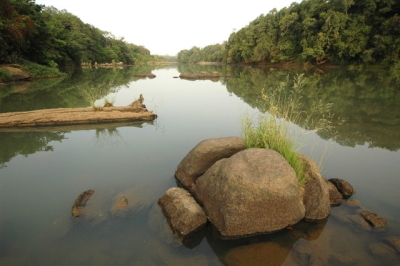 Comoé National Park centered around the Comoé River has a high diversity of plant and bird life.
The park is one of the largest protected areas in West Africa and covers a transitional zone between the forest and the savanna, with habitats such as fluvial forests and riparian grasslands. It is home to a wide diversity of wildlife, including 500 bird species, three species of crocodiles, plus chimpanzee, African wild dog and elephant.
Community Perspective: "a site only for the very committed wild-life fan (or the WHS completist)". Iain visited in 1995 and found neither the landscape nor the vegetation particularly attractive. Anthony had a disappointing visit in 2017: he found a shut-down ranger station and swarms of tse tse flies, and the chimps hadn't been seen in a decade.

Community Reviews
---
Comoe is said to be the biggest National Park in West Africa (at least it was when I visited in February 1995) but despite its size I did not find it easy to get to and even more difficult to travel in. I crossed the border from Ghana near Bondoukou and made my way slowly by local transport to Kakpin on the southern boundary of the park where I stayed at le campement.
Any hopes I might have had about informative tours of the park led by well informed Rangers were soon dashed but eventually I did join an expat Frenchman in his 4x4 for a quick whizz round some of the southern parts of the park.
In truth neither the landscape nor the vegetation was particularly attractive and in general, it seems, parks in West Africa do not compare well with those in East Africa as far as the number and diversity of wildlife is concerned.
I saw no lions, giraffes or elephants but there were warthogs, hippos, antelope, monkeys and birds with black and white hornbills prominent amongst them. The scenery was mostly scrubby trees and termite mounds though there were stretches of forest along the Comoe river.
I do not know if conditions in the park deteriorated further after I was there or if what I saw was already bad enough for it to be put on the WHS In Danger list.
I think it is probably a site only for the very committed wild-life fan (or the WHS completist I guess) and then it would be much easier to have your own transport. But for those who relish the challenges and surprises that travel by public transport in off-the-beaten-track West Africa brings then getting there and away is at least half the fun.
---
Anthony Sun
In January 2017, I decided to visit several sites in West Africa. Two things to consider are safety and travel hardship. Cote d'ivoire has both issues.
In March of 2016, terrorist from Mali killed 18 people on the beach in Grand Bassam. This incident has damaged tourism to the country and when we had our lunch on the beach in Grand Bassam, I noticed that the hotels were very empty, which may be a good thing as not to attract another incident. Also two days before our arrival in Abidjan, the army of the country decided to mutiny and block all the roads because they have not been paid their promised bonus since the civil war ended in 2011. Fortunately a deal was negotiated and the army returned to their barracks. Nonetheless the situation is always fragile.
Secondly, travel in West Africa is hard. Most of the roads are very bad with huge pot holes or incredibly bad if dirt roads. It makes for travel long and very uncomfortable. The hotels out of the major cities are rudimentary and some do not have water or electricity. Travel by public transport is only if you can tolerate a lot of hardship and have a lot of time.
I decided to hire my own car and driver and even that was an ordeal.
So after 10 hours of rough ride from Yamoussoukro to Kong and dirt road to Comoe, we checked into the best accommodation near the park, Kafolo Safari Lodge on the Northern border of Comoe. This is a very nice lodge with 40 individual rooms run by a French expat and the grounds were a mini zoo. The lodge also has the permit to drive their vehicle into the park. Otherwise there is no easy way as the park rangers are no where to be found and the ranger station is shut down. The next morning we drove into the park for a safari. The first thing I was told is to keep the windows tightly shut. The reason was obvious because the moment we entered the park, the vehicle was swarmed with tse tse flies. The flies would swarm all over the car for the duration of the journey. We spent 6 hours that day driving in the park through dry savannah bush and ended at the Hippo viewing site on the Comoe River. For 6 hours, I saw one warthog in the horizon and one small monkey in a distant tree. At the Comoe river (which was quite scenic) the moment we stepped out to look for hippos, the tse tse flies were all over you biting any exposed skin. I lasted all of five minutes and did not see any hippos as I assume they stay underwater to avoid the flies. When I asked what happened to all the animals, the only response was that they have all been poached out. Perhaps
the lone warthog survived because the population are muslim in the north and don't eat warthogs. Its even eerier because there were no birds for the whole time. I asked about Chimps and the response was they have not seen any in a decade.
Should this be a site in danger? I think its too late for that. Perhaps in a couple of generations when the country can protect the animals, they can be re-introduced?
On the other hand the Kafolo Lodge had a mini zoo and I enjoyed walking around seeing the animals. There was a pair of striped hyenas, really pretty up close. In another enclosure was a herd of bushbucks and duikers. There were crocs, a maribou stork, many peacocks flying around. The highlight was a pair of African Crested Crane. They were tame enough for us to walk up and take photos. They are the national birds of Uganda and the last time we saw them in Uganda was at quite a distance. Up close they were just beautiful. All this was a consolation for a disappointing WHS of tse tse flies.
---
Site Info
Full Name

Comoé National Park

Unesco ID

Country

Inscribed

Type

Natural

Criteria

9

10

Categories

Link
Site History
2017

Removed from Danger list
2003

In Danger

Civil unrest, poaching and lack of effective management mechanisms
Site Links
Unesco Website
Official Website
Related
In the News
Visitors
5 Community Members have visited.