Blog WHS Visits
WHS #610: Piedmont Vineyards
I'm down to 3 in my quest to 'complete' Italy: Mt. Etna on Sicily and Su Nuraxi di Barumini on Sardinia are still beckoning. Interesting sites, but a bit too far away for a weekend trip. So (with a little reluctance) I settled for the 3rd remaining WHS: the
Vineyard Landscape of Piedmont
. This is a serial nomination of 6 sites in Northern Italy, situated east and south of Turin. Within this group, I focused on the wine growing area of Nizza Monferrato.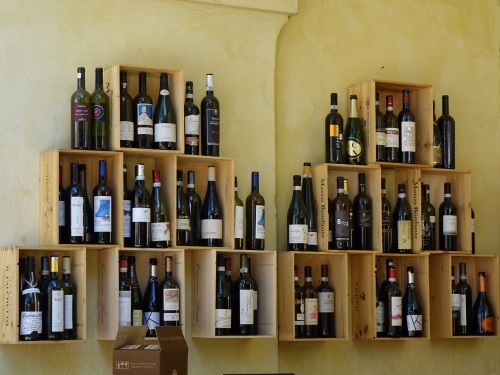 Wines for sale at Palazzo Crova
Nizza Monferrato is the namesake of Nice in the Provence (called Nizza or Nizza Marittima in Italian): both once belonged to Duchy of Savoy and got their suffixes to distinguish between the two. I travelled to the Italian Nizza by a combination of train and bus from Turin. The trip takes about 1.5 hours, and a transfer is needed in Asti. From that point on the flat surroundings of the northern industrial cities are replaced by a landscape of cultivated hills. That's where the WH area begins. The bus travels via one or two interesting hillside villages such as Mongiardina. I expected Nizza Monferrato to be something similar, but this is a fairly large town of over 10,000 inhabitants. In the nomination dossier it is highlighted as the best example of a
vilanova
: a medieval settlement with a main, arch-lined street and a market square for the sale of local products.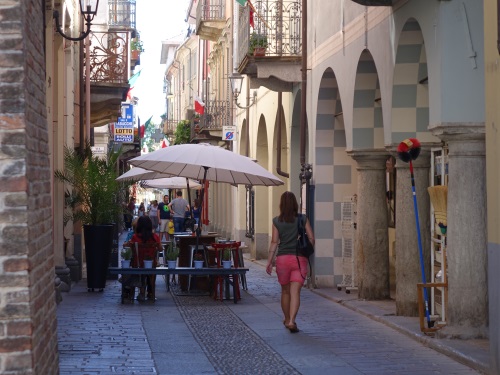 The typical arch-lined main street in Nizza Monferrato
So there I was, in the city center. But what's to see? I had noted down a few sights that are named in the nomination dossier: there should be a market, 19th century 'devanture displays' like a bottle resting on a wine glass, a Museum of Taste and an Etnographical Museum. On my first round of the center however I only encountered locals enjoying their first coffee of the day and chatting with their neighbours. Signs to city attractions are seriously lacking, and I only had a basic map. I eventually found my way to the Palazzo Crova. This 18th century villa nowadays houses a wine bar & shop, plus the Museum of Taste. Noone was around though and the doors to the Museum were closed. I was similarly unlucky with the Museo Bersano, the etnographical museum. This lies just across the street from the train station. They have an outdoor exhibition of tools used in the wine industry. It sounded as the most interesting thing to see in Nizza Monferrato, but I encountered another closed door. The museum is only open between 9 and 11 on weekdays! This must be a recent change, as the hours advertised on the internet are much longer and include weekends. I had to console myself with looking at some of the exhibits through the closed iron gates.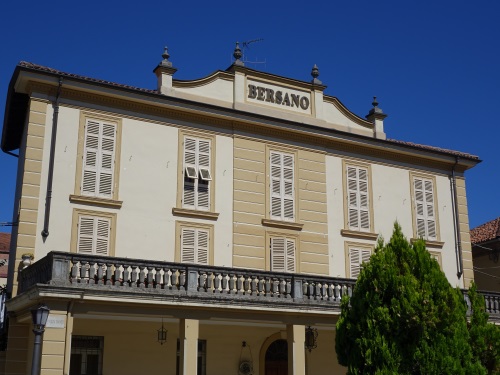 Part of Bersano winery
Rather desperate now I tried to find another mysterious sight described in the nomination dossier: "a multi-storey residential building, from the early twentieth century, richly decorated with graffiti representing bunches of grapes placed in vertical ornamental stringcourse". Could
this be the one
? By 'graffiti' they probably meant 'sgraffito' and not the spray paint type. My expectations of this WHS weren't already high beforehand, but this visit was totally underwhelming. And although vineyard landscape aren't among my favourite kind of WHS, I have spent some pleasant days in Lavaux, St. Emillion and Champagne. This part of the Piedmont though is very built-up and winemaking is big business.
Els - 6 August 2016