Blog WHS Visits
WHS #586: Wachau
The
Wachau
is a riverine landscape in Northeast Austria. Here the Danube flows for 36km through a fertile valley, that has been used since the Middle Ages for growing apricots and grapes - yes, this is another
viticulture WHS
. Fortunately they have thrown in a number of palaces, castles and picturesque historic town centres to enhance the visitor experience. A wealth of individual monuments and places has been highlighted in the nomination file.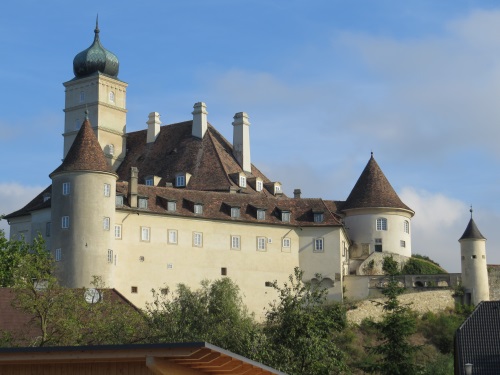 Schloss Schönbühel
I visited on a Sunday, and thought it would be a nice idea to start the day with a hike enjoying the river views. I parked my rental car in Schönbühel, a small town east of Melk. An oversized palace dominates its town center. It provided a tantalizing start, though you cannot get in because it's in private use. Just as in
Neusiedl
, which I visited the day before, cycling is very popular here: one can traverse the entire Danube valley on a smooth bike path. Unfortunately there is no separate trail for hikers, and there's a lot of noise from car traffic on the parallel road. Hiking by far turned out less pleasant than I had imagined. When I also could not find the follow-up signs for my planned 2 hour 'Steinwandweg' walk, I decided just to push straight on for 5 km to the city of Melk. I had planned to visit it later in the day, now I arrived already at 10. Melk is a major crossroads in the Wachau: it holds one of the few bridges across the Danube in this area, and also is connected via an intricate road network to the highway to Vienna. Its historic center does have a few notable buildings, but the overall atmosphere was a bit too old fashioned for me. Only the murals on the exterior of the 16th century former clergy house could hold my attention for a while.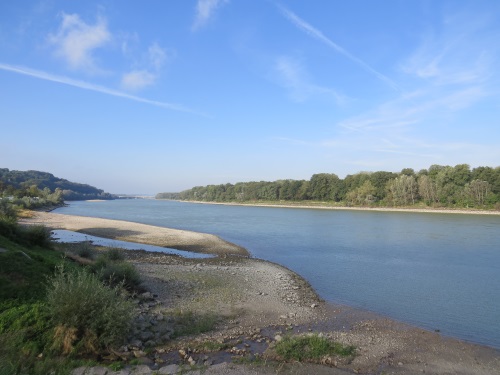 Danube
Melk is famous for its great Abbey. Each year, it is visited by more than half a million tourists. On this early Sunday morning the courtyard was already filled with groups of visitors. The Americans and Asians evidently know how to find it on their beaten path through Europe. I joined a German-language tour through the Abbey for 12 EUR (you can also visit on your own, then it costs 2 EUR less). The Abbey is still used by Benedictine monks, and has an active highschool with 900 pupils. It is a huge complex, the wealth from the past is visible all around. The interior is not as interesting as the exterior would suggest, with the sole exception of an ingenious spiral staircase. After a filling & cheap lunch at a
Mexican/Greek/Italian restaurant
I was ready for the walk back to Schönbühel. There's a 2 hour route signposted from the Abbey, so I tried that one. I can be brief about the outcome: this alternative route was even more boring than the one in the morning. The outskirts of this town really aren't pretty.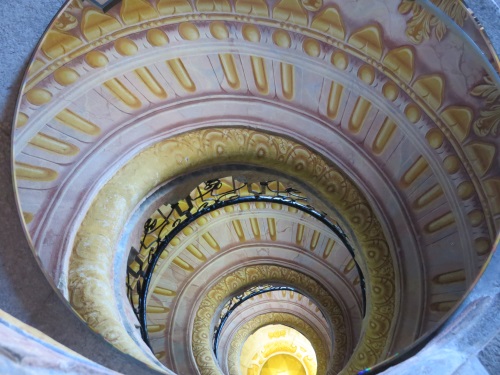 Melk Abbey staircase
There's much more to see in this region than can be covered in one day. I was intrigued by the
Gozzoburg in Krems
for example, which can only be visited once a day during the summer months. I believe that you'd need to find a quiet time in the year to really enjoy the Wachau – although due to its proximity to Vienna, I am afraid the tourism business here seldom is slow. With this trip, I have for now 'completed' Austria (a total of 9 WHS). Looking back at these visits, the common factor among them is that I found all Austrian WHS over-touristy. Tourism has a long history in this country and its main sites are very accessible. WHS hunting here rarely leads you to undiscovered destinations or surprising discoveries.
Els - 19 September 2015
Comments
---
Els 22 September 2015
oops -- changed it to NE!
---
Klaus Freisinger 21 September 2015
Sorry to be picky, but the Wachau is in the northeast of Austria. It's just to the northwest of Vienna :)
---
Jarek Pokrzywnicki 20 September 2015
Less touristic are for sure areas outside cities. There are plenty of small, beautifully situated villages with wineyards like Willendorf (where the famous statue was found), Spitz, Sankt Michael (my favourite as it contains some 5 houses and the church) as well as Durnstein. For me Wachau resemles very much Upper Middle Rhein Valley.
---