Blog: WHS #647: Bourges Cathedral
Bourges Cathedral was meant to be my 650th visited WHS – but after my biggest WH travel mistake ever I had to rearrange my 5-day trip to south-central France. I had planned to visit my last 4 remaining WHS on the French mainland plus 1 TWHS within that time-frame. The route involved quite a bit of driving, but it would all still be doable. My chances turned instantly when I discovered at the car rental counter of Clermont-Ferrand airport that I had left my driver's license at home. No license = no rental car = no remote WHS visits. The Vézère Valley and the Pont d'Arc Cave would have to wait, and even reaching Saint-Savin sur Gartempe now would involve a minor expedition.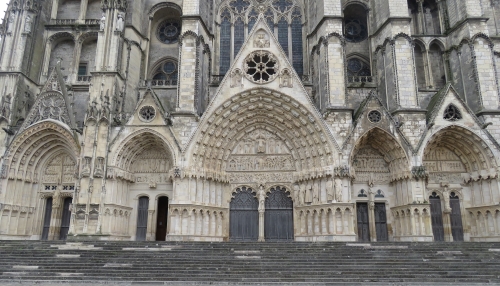 The west façade with its five portals
So I eventually ended up on a train from Clermont-Ferrand to Bourges. This area of France is not well-covered by public transport, and I had to wait a few hours to take the first train north. I arrived in the mid-sized city of Bourges in the early evening. The streets in the town centre were deserted, and the inhabitants seemed to be in some kind of voluntary lock-down: no lights visible from the streets, gates and shutters closed. After dropping off my luggage at the hotel, I went directly to the cathedral for a first look. It was beautifully lit.
The next morning I did a proper cathedral visit. I started with its exterior. You cannot fully circle it, but at the north and east wing there are two chapels that are worth a look for their sculpted decorations. The best decorations however are at the front (the western entrance). Its 5 portals are framed with all kinds of biblical and regional-historical scenes. These 5 entrances are in itself one of the special things of this cathedral: a 'normal' gothic cathedral of that period has only 3. I especially liked the heaven versus hell scene above the main door. Hell is portrayed particularly nasty, with little devils pushing unfortunate human beings into a flame-spewing mouth.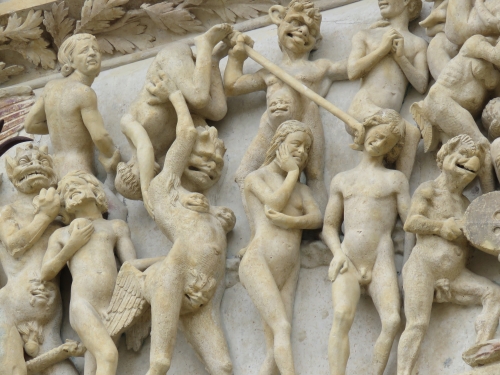 Into hell
The cathedral's interior already is open from 9 a.m., and entrance is free. Only the tower and crypt have more limited opening hours (French office hours with a long lunch break) and require a fee. I wasn't keen on climbing the tower, and the crypt was closed for the morning due to a private function. So I just 'did' the main cathedral.
Right near the entrance stands an historical astronomical clock. It still ticks and chimes nicely.
The stained-glass windows however are the main attraction. The cathedral has 3 rows of windows above each other, and all those windows are painted. At the back, in the choir, the oldest windows can be found. These are the 13th century originals. They let through little light and are mostly done in red and blue. The 'newer' (still as early as the 15th century) stained glass windows are lighter in colour and more translucent. Despite all these windows I found the cathedral still quite dark inside.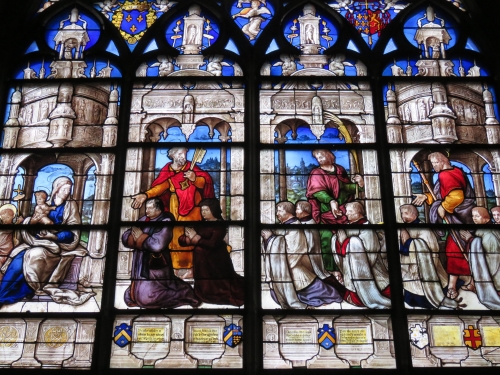 15th century stained glass
The original 1992 site description mentions that the designated area also includes "… a 13th century tithe barn, those elements of the 17th century Bishop's Palace which survive as the Hotel de Ville, and the cathedral gardens in classical French style." However this is not reflected in the official map, where the core zone only consists of the cathedral. As these additional elements are situated next to the cathedral I had a look at them anyway. The gardens are a good spot to take photos of the cathedral building as a whole – very hard to do otherwise. And the tithe barn is an interesting timber-framed storage or granary. In the Middle Ages it was used to store the church tributary (one-tenth of a farmers produce).
Published 4 November 2017
Leave a comment
Responses to WHS #647: Bourges Cathedral
Jay T (5 November 2017)
That's terrible, but at least it sounds like you were able to take lemons and make lemonade so that your trip to France wasn't a total loss. I hope it won't be too long until you can finish your last sites in France.
---